The One Big Program of Prime Minister Modi that Will Transform India
Jan 25, 2019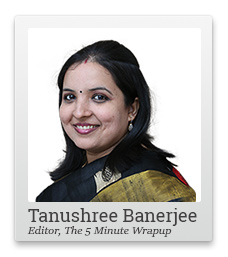 2018 was a dramatic year for India's banking system.
Corporate governance issues
The piling up of bad loans
Differences of opinion between the RBI and the government
These were just some of the pain points. There is no denying these challenges.
Yet, if you look at the bigger picture, these are just hiccups, in the long term.
Ultimately, a well-functioning and inclusive banking system is crucial for the health of our economy.
The 2 key points I'm watching closely are:
The growth in savings
Financial inclusion
Why these 2 points?
These are among the 50 irreversible trends I've identified in the Rebirth of India.
You see, as more people are included in the banking system, the number savings and current accounts - along with the money in them - will increase significantly.
This is critical for the Rebirth of India because the growth in savings will be used to fund investments that will propel our economy to a higher growth rate.
--- Advertisement ---
Tanushree is Trending on Google!
We are not surprised.

Senior Analyst and our Co-head of Research Tanushree Banerjee's big call that the Sensex will hit 100,000 has taken the internet by storm…

Her latest piece on this was trending on Google this morning.

Now, here's something you should know…

Tanushree's big call is based on an irreversible trend that she has discovered…she calls it the Rebirth of India.

And if you are only just finding out about this…you are still not too late.

You see, Tanushree has prepared a detailed report on the Rebirth of India opportunity…

And she is holding a MEGA SUMMIT to share full details shortly…

If you act right now, you can still get in and claim these benefits…



Rebirth of India
Download the Report & Block Your Seat Now. It's Free.


------------------------------
But for that to happen, a lot of households will need to gain access to the banking system.
This is something the newly elected Narendra Modi government realised in 2014, when it came to power.
Indeed, in August 2014, the Indian Prime Minister launched an ambitious financial inclusion programme called the Pradhan Mantri Jan-Dhan Yojana (P.M.J.D.Y).
This programme aimed at bringing 75 million low-income households in to the banking system.
As of 27 May 2018, 316 million Jandhan accounts have been opened. The amount deposited in them: More than Rs 812 billion!
As a result, millions of poor people now have access to debit cards, loans, insurance, and even pension.
This has opened new opportunities for them they didn't have before.
Just to give you a perspective of how important financial inclusion is, here is a statement from the World Bank:
Since 2010, more than 55 countries have made commitments to financial inclusion, and more than 60 have either launched or are developing a national strategy. Our research indicates that when countries institute a national financial inclusion strategy, they increase the pace and impact of reforms.
I am certain that our Jandhan accounts too will bring about financial inclusion and help to put the Indian economy in overdrive.
It is indeed a big, irreversible trend that will give a boost to India's economic growth in the years ahead.
But it is not the only one, dear reader.
I have uncovered 50 irreversible trends that will completely transform our economy.
This transformation is what I'm calling - Rebirth of India.
The Rebirth of India is also at the heart of my big prediction: Sensex 100,000.
As I have written to you over the past many days, this is a once in a lifetime opportunity - that you simply cannot afford to miss - to buy multibagger stocks.
--- Advertisement ---


7,020 Indians Have Already Got This FREE Report (Will You?)

7,020 Indians have already grabbed a copy of our latest special report…



"Rebirth of India: The First Step to
The Biggest Investment Opportunity of Your Lifetime"


And hundreds more are rushing to claim it.

So, what's so special about this report and why should you get it right now?

Two things:

#1 – It is perhaps the most important work we have published ever.

#2 - This report reveals details of an irreversible trend which could potentially create massive wealth…lasting generations to come.

That's why you absolutely must claim your copy of the report…now!

As soon as you claim this special free report today, We will also automatically save a FREE seat for you at our first ever Rebirth of India MEGA SUMMIT on 31st Jan.

At the Summit, Senior Analyst and Co-Head of Research, Tanushree Banerjee will give full details about Rebirth of India…and share specific ideas on how you could profit BIG from it.

We have never ever done something like this in the last 24 years.

But you must hurry…as we have limited capacity for this event.



Download Your FREE Report Now – In Just 1-Click!
(Plus automatically get a free seat in Rebirth of India MEGA SUMMIT)


------------------------------
I won't hesitate to repeat the following, dear reader.
This great transformation will happen only once. You're in the right place at the right time. Therefore, you must make the most of it now.
Why now?
Because the huge opportunity provided by the Rebirth of India will become obvious to everyone in the years ahead.
And if you wait for that moment to invest, you will miss out on the opportunity.
The market will not wait to take stocks up to new heights.
The stocks that will benefit from the Rebirth of India are cheap today but they will be out of reach when the market understands the scale of this transformation.
That's why you must download and read the special report I've prepared for you - Rebirth of India.
When you do, you will be registered for my free online summit on Thursday, 31 January where I'll tell you exactly how you can profit from the Rebirth of India.
This is a historic opportunity. Join me and create wealth for yourself that will last generations.
Chart of the Day
Financial inclusion is an important element of economic growth because it enables individuals and businesses to access financial products that meet their needs.
As mentioned earlier, the reform that the Prime Minister Modi introduced - the opening of Jandhan accounts - was a big positive for India.
The opening of these accounts helped increase the number of savings and current accounts in the country.
And this trend is not done. It will play out in the coming years too.
Financial Inclusion Will Be a Big Growth Driver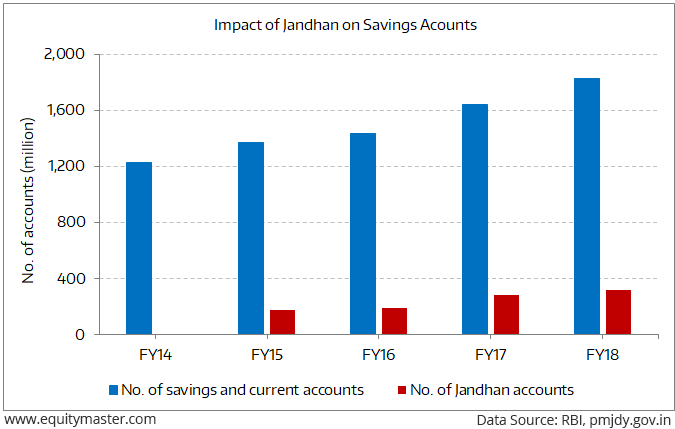 Warm regards,



Tanushree Banerjee (Research Analyst)
Editor, The 5 Minute WrapUp
PS: We have just published - Rebirth of India: The First Step to the Biggest Investment Opportunity of Your Lifetime. I strongly urge you to download it and read it right away. It has the potential to dramatically change your life for the better. When you download it, you will automatically get a seat at the Rebirth of India MEGA SUMMIT where Tanushree will reveal full details about the Rebirth of India.
Recent Articles