Here's Why We Are Bullish on the Nifty
Jan 28, 2017
In this issue:

» India's High Debt to GDP Ratio
» A Roundup of World Markets
» ...and more!
Last time, I presented my thoughts on Equitymaster's view of a 70% surge in the markets. My views were based on charts, which are as objective and rational as the Equitymaster research team's views.
I also showed you this one-year Nifty price chart. It had moved from the February 2016 low of 6,825 to the September 2016 high of 8,968. This rally was worth 2,143 points (8,968 - 6,825). Half of this is nearly 1,070 points.
Markets never move in a straight line. They rise, fall, and then rise again. The intermediate drops are crucial from a long-term perspective. They provide a much-needed breather.
Even in healthy bull phases, its normal for markets to give up 50% of their recent up moves. Which is exactly what the Nifty did from 6,825 to 8,968. You get a price level of 7,896 when you deduct 1,070 from the high of 8,968. The Nifty has bounced back twice from the same levels.
One Year Price Chart of Nifty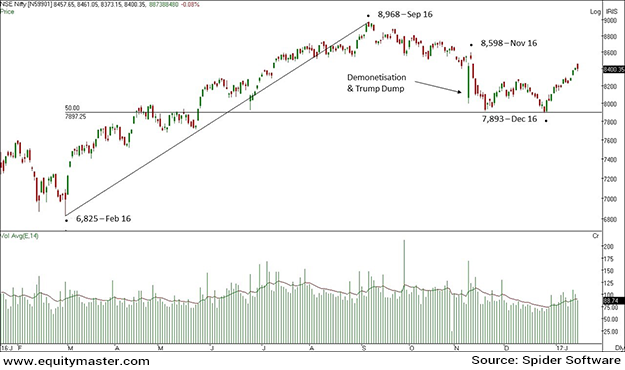 Looking at this one-year chart was sufficient to conclude that our market was in a healthy bull phase. But that's not the way a trader analyses markets or charts.
Traders always look at multiple time frames and indicators and challenge their views. Only when we get confirming signals from other time frames and indicators can we say with conviction our views are based on solid research.
So today I want to drill down further and show you three charts on different time frames along with an indicator that supports my view. I showed these three charts at the Equitymaster Conference and wrote about them in the Research Digest (requires subscription) earlier this week.
Here's an excerpt...
My top trading idea for year 2017 is the Nifty. Let me take you through the long-term chart.
The Big Picture
Over the last ten years, the Nifty has gone through three bear markets. The first was in 2008 when it dropped 64% in ten months. The second was in 2011 when it dropped 28% in fourteen months. And the most recent was in 2015 when it dropped 25% in twelve months.

This means that the three most recent bear market corrections have lasted anywhere between nine and fourteen months and wiped at least 20% off the index.
Four Year Cycle
Markets, like the seasons of the year, move through phases - accumulation, uptrend, distribution, and downtrend.

Bottom to bottom, a cycle generally lasts anywhere between three to four years. The most recent bottom was in February 2016. This is marked as the accumulation phase in bold in the above chart.

This means that the next bear market could still be at least two years away. The recent fall in the last four months of 2016, which wiped off 12% from the highs, is just a normal intermediate correction and shouldn't concern anyone with a long-term view.
Stock Participation in Nifty
In a bull market, most stocks trade above their 200-day moving average (DMA). In a bear market, only a few stocks trade above their 200 DMA. I have plotted the percentage of Nifty stocks trading above their 200 DMA as an indicator in red along with the Nifty price chart. This is a very good indicator of the overall participation in a rally or decline. It also helps us identify key reversal points. Extreme readings in the percentage indicate an exhaustion of the ongoing trend and possibly a reversal. A reading of 20% or lower indicates oversold conditions, while a reading of 80% or higher indicates overbought conditions.

After topping out near 90% in September 2016, this indicator hit a low of 27%, which was just short of oversold. The Nifty then bounced back and resumed its uptrend, just as it has after similar intermediate corrections in the past. This suggests there is still some room for many stocks to play catch up and lead in the next advance.

Most of our indicators suggest the recent fall was just an intermediate correction. Obviously, this does not mean that the Nifty will immediately head northwards. And some indicators, such as fund flows by FII's in the cash market, remain negative and could keep bullish hopes under check. But overall, the long-term trend is intact.
So that's how I build a view based on multiple time frames and indicators. At the conference, I spoke about a few more indicators I use. I will take you through them soon. Until then, you can subscribe to our newsletter to get regular updates from us.
03:20

Chart of the Day

It's the weekend before the budget. Speculation is on in full swing. What will Jaitley do? Will taxes by cut for the common man? What about corporate India? Will the rich get taxed more? What new subsidy scheme will be launched?

In this din of analysis, it's easy to forget that what should not be done is as important as what should be. Yesterday Tanushree wrote to you about what we believe, the FM should not do in this Budget.

Here's Tanushree,
Subsidies are not the only populist policies in the Budget that worry us. Schemes like the Mahatma Gandhi National Rural Employment Guarantee Scheme (MGNREGS) could be equally damaging. The outlay under this scheme could touch a record of Rs 580 billion this fiscal. Even after accounting for spillovers, this is the highest spend under the program since its inception.

To keep schemes like MGNREGS going, the government will have to wade into the credit market. It will have to binge-borrow and suck up liquidity. It could force the heavyweight public sector banks to subscribe to its bonds. And it could crowd out the private sector by making the cost of credit too high.

Private sector investments are already at decade lows. Further resistance to borrow could choke the flow of credit in the banking system.

Housing credit and retail borrowing by people like you and me can only add a speck of optimism. In the absence of demand for credit from corporates, the earnings revival is not turning.

So the Budget could either offer the private sector better reasons to set up new businesses and grow existing ones. This could include making it easier to do business, providing a more conducive tax structure.

Or it could continue to find ways to spend taxpayer money on schemes that have minimal impact on real GDP.
You see, India's problem is debt. The government's borrowings over the years have grown by leaps and bounds. The borrowing has increased the amount of interest the government has to pay on the outstanding debt every year. Today's chart tells us why Jaitley may not have much room spend extravagantly.
High Debt is a Constraint to Growth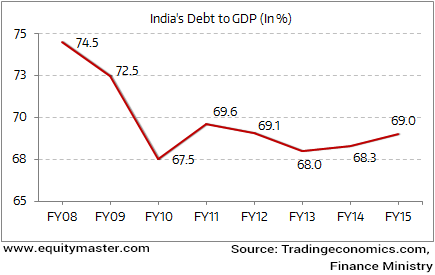 India's Debt to GDP ratio has been at elevated levels for the last decade or so. The final number for FY16 is expected to be around 66%. The Indian government spends about 30% of its revenue on interest payments. This doesn't leave any room for the government to spend on productive purposes.
Unless this structural issue is addressed, the debt will be a big overhang on growth and India's credit rating won't improve.
Global markets ended the week on a strong note with most of the markets ending in the positive territory. Brazil and Indian markets were biggest gainers, with gains of 3.3% and 3.1% respectively. However, the UK and France markets were marginally down by 0.3% and 0.2% respectively.
During the week, President Donald Trump formally withdrew the US out of the 12 nation Trans-Pacific Partnership (TPP) trade deal, thereby distancing the US from Asian allies.
The TPP is a trade agreement signed (but not yet ratified) by twelve countries accounting for 40% of global GDP and 33% of global trade. The landmark deal was slated to reduce tariffs and boost trade among the signatories. Unfortunately, neither China - hailed as the global factory - nor India, are part of it.
With this move Trump aims to move US towards an era of bilateral trade. Instead of signing as a multi-lateral pact, Trump intends one-on-one trade deals with the countries. That would allow the US to quickly terminate the deal if the deals were to harm US in any manner.
In other news, Trump said that he will renegotiate North American Free Trade Agreement (NAFTA) at appropriate time. NAFTA enacts a free trade zone between the US, Canada, and Mexico. Trump said that he would move to withdraw NAFTA if no "fair deal" is forthcoming. He pledged to stop trade deals that harmed American workers. The US markets were up 1.8% for the week gone by.
Back home, the Indian indices ended their weekly session on a strong note. The BSE Sensex was up 3.13% for the week, while the NSE Nifty was up 3.50%. The market stood strong throughout the week with market participants looking forward for a supportive Union Budget 2017. The market is expected to be volatile as budget comes within months of demonetisation and market participants are wondering what measures the government will take to stimulate the beaten up economy.
Performance During the Week Ended 28th January, 2017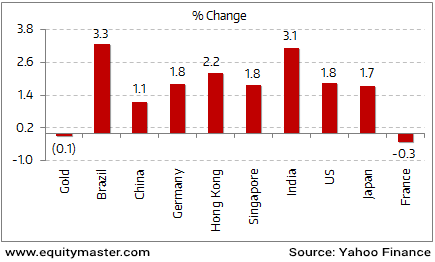 04:55

Today's Investing Mantra

"Be fearful when others are greedy, be greedy when others are fearful." - Warren Buffett

This edition of The 5 Minute WrapUp is authored by Apurva Sheth (Research Analyst).
Today's Premium Edition.
Today being a Saturday, there is no Premium edition being published. But you can always read our most recent issue here...
Recent Articles