Soros Loses a Billion Dollars Doing Something You Should Never Do...
Jan 30, 2017
In this issue:

» How will markets behave post the Union Budget 2017-18?
» Will technology put the theme 'Make in India' out of context?
» Market roundup
» ...and more!
For many investors, Donald Trump symbolises widespread fear, uncertainty, even madness...the very elements that stock markets hate. It does seem logical, then...in theory at least...that Trump's election would have led to a flight of capital out of the US. The US stock markets should have crashed the very day Trump's surprise win was made known.
Billionaire hedge fund investor George Soros believed in this theory and made a huge bet on a stock market crash. He thought the markets would agree with him the way they had in 1992 when he went short on the British pound and earned US$1 billion in a single day and the title 'the man who broke the Bank of England'.
But this time was different. The markets disagreed with him. Since Trump's victory, all US indices have gone in only one direction - sharply up - and Soros has lost nearly all of his gains from '92.
Now, we're not saying George Soros is a fool...that he shouldn't have made the bet. He's a shrewd top-down speculator who's got many macro calls right. He's built a fortune betting on big events. But the Trump rally and Soros' consequent billion-dollar loss shows that even people who have been so spectacularly right have their own blind spots that can lead to disastrous investment results.
If you remember, Trump's surprise victory in November 2016 coincided with a shocking event in India - demonetisation (notebandi).
In the days and the weeks following the demonetisation announcement, there was widespread panic. Indian stock markets tanked. The BSE Sensex shed more than 1,800 points (~7%) in two weeks. Foreign investors were dumping Indian equities and debt instruments. There were fears of severe economic disruptions...job losses...crop failure. And mind you, these were not empty concerns. They're still very real.
But look where the markets are now. In less than three months, the BSE Sensex has recouped its losses and is already above the pre-demonetisation levels.
If you exited stocks in the post-demonetisation panic, you're probably kicking yourself now.
If you read the same news that everybody does, and believe that you know better than the rest, it's a fallacy. Markets simply do not follow a simplistic, linear logic. And betting on big events is a very speculative, high-risk zone best left to the likes of George Soros (at least he can afford to lose a billion dollars!).
I'm sure many of you are waiting for the Union Budget 2017-18 on 1 February 2017. You're probably wondering which way the Indian stock markets will head after the announcement.
Some market commentators believe that finance minister Arun Jaitley's upcoming budget will be focused on sops, subsidies, stimulus packages and tax reliefs. In other words, more government spending...all in a bid to revive economic activity and public sentiments post the demonetisation woes. And this, the commentators believe, is expected to cheer the Indian stock markets as well.
However, some say the markets have already priced in the expected stimulus.
Some have suggested buying the pre-budget rally and selling after it is announced.
Some argue the government's fiscal situation does not leave much room for largesse in the budget, so the markets will be disappointed when the budget doesn't meet expectations.
Others are looking at historical stock market trends around the time of the budget (for more on this, see today's chart of the day).
So there are many narratives about how markets are going to behave after the budget.
Which one is correct?
To be frank, we don't care. We find this whole event-based prediction game pointless, and dangerous.
Here's something pertinent Warren Buffett has to say about the fallacy of stock market predictions:
A prediction about the direction of the stock market tells you nothing about where stocks are headed, but a whole lot about the person doing the predicting.
We like to listen to Buffett's advice and stick to the bottom-up style of stock-picking. Our beat is simple: Understand businesses, analyse their fundamentals and management quality, evaluate their true intrinsic value, and decide if they're available at bargain prices on the stock exchanges.
So...irrespective of whether Trump's manning the world's economic and military powerhouse...whether a country decides to leave an economic zone...or whether Jaitley announces a populist budget...we will continue to do what we do best.
And we would like to offer you the same lesson: The best time to invest in the Indian stock markets is when you find value. Whether you find that before the budget or after, it doesn't matter.
--- Advertisement ---
Exclusive Book Claim Your Copy...Virtually Free!

This is urgent...

You have less than 48 hours left to claim your copy of Equitymaster's Secrets.

It's a 220-page hardbound book that reveals some of the biggest lessons from our entire 20-year investing journey.

It's not available in any bookstore...And it's published Exclusively for our readers....

And the best news is...

If you act today, you can claim your copy... Virtually Free.

So, don't delay....

Hundreds of our valued readers have already claimed their book over the past week!

Click here to claim your book (Special Extension Offer...Ending Soon).
------------------------------
02:30

Chart of the Day

Like we just said, the Union Budget 2017-18 is less than 48 hours away. And just like always, there is no dearth of speculators trying to predict the possible announcements and expected market moves. As you can see from the chart, there is no clear trend when it comes to market movements pre and post budget.
Short term Impact of Budget on Stock Markets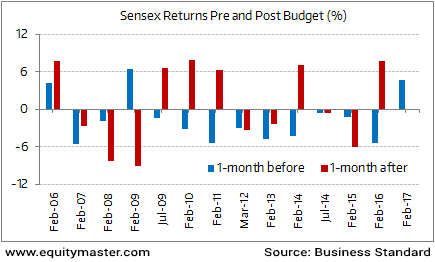 Note: Pre-budget data is until the previous day's closing. Post budget includes Sensex close on the budget day. Data for 2017 is from January 2 to January 8.
If history is anything to go by, all this speculation will go in vain. And while big players can get away with their failed speculative bets, it is the individual investor that will be worst trapped.
One of our subscribers recently wrote to us seeking stock recommendations that could benefit from the budget.
I'll repeat a gist of our response for your benefit...
We're sorry, we don't have any speculative 'tips' based on budget expectations. Don't get us wrong. We closely monitor the outcome of the budget. And we will certainly be assessing its impact on various sectors and companies. So stay tuned. And rest assured that we will keep recommending stocks whenever we see value.
'India Collapsing?' - was the theme of Equitymaster Conference 2017 at the Taj, Colaba. It was a privilege to listen to the esteemed speakers from India and abroad. What I found striking was that each of them had a slide talking about the rise of technology and robotics, and its impact on economy and jobs.
We have been writing to you about the increasing penetration of robotics and automation and its probable impact on the job situation. The threat of job losses due to technology is not limited to the manufacturing sector alone. Robots are likely to do the transactions and be at welcome desk at banks. In IT sector, layoffs and the automation of entry level tasks is already a reality. Terms like 3D printing, humanoids are not met with awe but are in common parlance now.
As per an International Labour Organization report - ASEAN in Transformation that covers five export-oriented sectors - automotive and auto parts, electricals and electronics, textile, clothing and footwear and BPO and retail services, 60% - 80% workers in South East Asian nations face a threat of job loss in different sectors.
The issue with such a significant leap of technology is that the Indian economy does not have enough time to adapt to this trend. In the survival of the fittest, machine has taken a huge lead over men. And the latter has been rendered unfit with outdated skills. And with no time to adapt to the new normal. Amid all this, the much hyped 'Make in India' seems irrelevant and out of context.
At Equitymaster, we're doing our best to find investment opportunities where companies are ahead of the curve when it comes to integrating the advancements in technology. In fact, a tech savvy company that we recommended last year is already up 63% and still remains a Buy.
After opening the day flat, the Indian share markets have continued to trade on a dull note and are currently trading marginally below the dotted line. Sectoral indices are trading mixed, with stocks in the realty sector and the capital goods sector witnessing maximum buying interest. Stocks in the consumer durables and the auto sector are trading in the red.
Both the BSE Sensex and the NSE Nifty are trading flat with a negative bias. Meanwhile, the BSE Mid Cap index is trading up by 0.3%, while the BSE Small Cap index is trading flat.
04:55

Today's Investing Mantra

"Predicting rain doesn't count. Building arks does." - Warren Buffett

This edition of The 5 Minute WrapUp is authored by Ankit Shah (Research Analyst) and Richa Agarwal (Research Analyst).
Today's Premium Edition.
Capturing Value Migration in India's Motorcycle Market
Decoding and profiting changing trends in India's Two-wheeler market.
Read On... | Get Access
Recent Articles