The Most Important Thing in the Budget for the Rebirth of India
Jan 30, 2020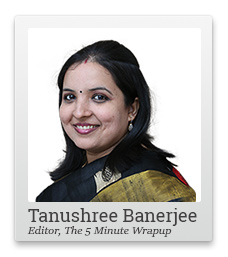 An unpleasant sight greets you every time you land at Mumbai airport: Rows of slums.
And each year, the number only seems to be growing.
It always gets me thinking... why are these people living in such cramped spaces?
Ask any autowala in Mumbai about how they ended up here. Most of them will point to the lack of opportunities in their hometown. In fact, many would prefer being in their hometown if they had similar opportunities.
So this begs the question...
Why do only 3 to 4 states create most of the jobs in India?
In other words, why should only Mumbai, Delhi, Bengaluru and few others be seen as dream cities?
Why can't we have more examples like say Jamshedpur: a city built from scratch? It's a city that ranks high on every metric related to standard of living.
With the Union Budget just around the corner, I will be keenly glued to one important thing.
I strongly believe this is one thing that will give a much-needed boost to the Indian economy.
Building new cities.
--- Advertisement ---
3 Stocks for Potentially Massive Gains

COVID-19 has triggered a fundamental shift in the global economic and geopolitical map.

This reshuffling of the geopolitical map is just ONE of the forces fuelling the great Indian revival.

A revival that will restore the power, wealth, and influence we once enjoyed.

And, those who invest in the companies at the heart of this revival could turn a small stake into generational wealth.

Our co-head of research, Tanushree Banerjee, has narrowed down on 3 specific stocks.

She strongly believes, these 3 "revival stocks" could potentially offer massive gains.

Click here to learn more about this mega opportunity
------------------------------
Why this one thing?
Of course, there will be many important points to discuss when the Finance Minister is done with her speech on Saturday.
But I would like to hear her taking decisions towards greater urbanisation. Close to 600 million people will be living in urban areas by 2030. The urgent need is to build spaces for these people.
This one step also has a potential to set-off a chain of events. These steps are likely to revive the Indian economy.
How?
Building for so many people will need large-scale investments. This opportunity is likely to attract huge public and private interest.
Pulling off such large-scale projects also needs a lot of labor. Huge employment opportunities will be created.
Now, these projects will need a lot of money too. Otherwise, these plans will remain on paper. Banks and NBFCs will come into the picture. The demand for credit will mean ample lending opportunities for them.
And what happens when large numbers of people come to town?
Apart from jobs, they want restaurants, malls, schools, hospitals... you get the idea.
New business opportunities open up. You will have eateries and cafes in malls, residential areas, and around offices.
In short, I've just visualised a city with huge consumption potential.
In the smartphone age, e-commerce players will sense a huge opportunity. They will need logistics firms to supply their goods. New job opportunities will be created here as well.
If we do hear announcements on creating new cities or even upgrading existing ones, the big question is...
How can you make money out of it?
If you are looking for one-day budget gains, the government announcement related to building cities might not help much.
But, if you're aim is to build long-term wealth; this move will surely help in a big way.
Urbanisation is one of the 50 megatrends I track for my Rebirth of India project. My focus is on businesses that will be big beneficiaries urbanisation and growth big beneficiaries of urbanisation and the growth.
If I see this intent in the budget this time, we'll soon be talking about more Jamshedpur stories.
Chart of the Day
Real Estate - The Sector to Bet on After the Budget?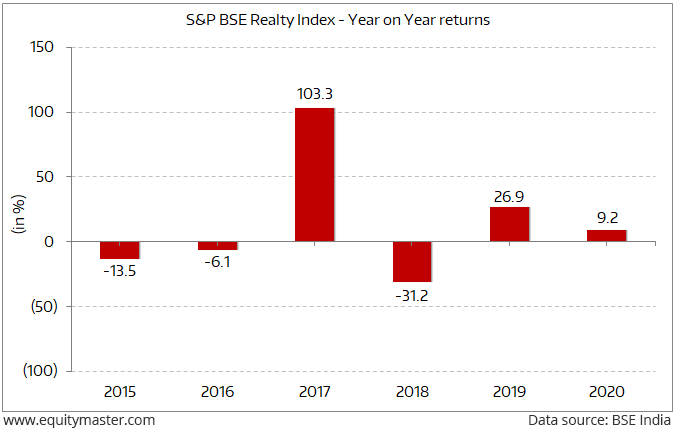 There are various things written in the media about the upcoming budget. Some want income tax cuts to revive the economy. Some want other freebies to revive consumption.
All these are good but short-term solutions in my view. If the government could focus on one thing, it should be the real estate sector.
Demonetisation, RERA, and the IL&FS crisis have hit the sector hard.
The BSE Realty Index has had a tough time in the last few years.
But there are signs of a turnaround. The government's Rs 250 billion package was a much need boost for the sector and homebuyers.
A real estate revival is important for the steel, cement, and many other sectors. It is also an important job creator for India's young population.
A strong focus on reviving real estate will provide a much-needed boost for the Indian economy.
Warm regards,

Tanushree Banerjee
Editor, The 5 Minute WrapUp
Equitymaster Agora Research Private Limited (Research Analyst)
PS: Whatever happens in the budget, for solid, long-term gains, you can act on my top 7 Rebirth of India stock recommendations.
Recent Articles