How To Act On the Trump Crash In IT Stocks?
Feb 3, 2017
In this issue:

» Did you hear of the stock market Jallikattu?
» Will India be able to achieve debt to GDP target?
» Update on the markets
» ...and more!
12 April 2013. Infosys corrected by a remarkable 22%, wiping off Rs 357 billion in investor wealth. The reason: disappointing revenue guidance.
17 October 2014. Tata Consultancy Services (TCS) corrected by 8.5% in a single session. The reason: disappointing revenue guidance.
In Trump's first month as president, Infosys and TCS corrected by 8% and 7% respectively. The reason: prospects of disappointing revenue guidance.
Do you see a pattern?
The recent correction of IT majors, though substantial, is nothing new for the sector. Nor is the reason for the correction.
The world is speculating on a Trump crash. So naturally, every correction to Indian IT is branded as a fallout from the Trump crash.
But is this so-called Trump crash a reason to act on Indian IT stocks? Of course, the answer does not depend only on stock prices. Other factors are relevant.
So we put three key questions to our in-house IT sector expert. Incidentally, they're the same three questions we asked in 2013 and 2014.
Is the business model affected?

The immigration bill seeks to double the minimum salary for IT hires to US$1,30,000 from the current US$60,000. It also seeks to make a master's degree compulsory, among other requirements. And of course, the cost of the visa would go up.

Now, unlike what Trump would like to believe, Indian IT firms are no longer just back-offices to the world. Higher-value contracts have been critical to companies for several years now. And changing the mix of employees to comply with the requirements does no permanent damage to their business model.

Can the risk be hedged?

Companies would need to adopt various counter measures, like hiring more locals, getting more work done from India or other offshore locations, cutting down on low-margin clients, and stepping up automation.

None of this is impossible to execute. And if done with long-term interests in mind, the onetime effort may be well worth it. So perhaps what some now perceive as a negative development will actually be a boon for certain Indian IT players.

What's the actual impact on fundamentals?

If passed into law, the bill would put pressure on Indian IT firm margins inFY18. The actual impact, however, may differ from company to company. Several of them have reduced their exposure to the US in recent years. And even the companies that would hit hardest likely have enough cash on their books to recover from the shock.
So our conclusion this time is the same as it was in 2013 and 2014...
Indian IT companies will need to rise to Trump's challenges. But fortunately, most were already gearing up for this. Trump may have only accelerated their defence.
So as long as you aren't worried about the revenue guidance in the coming quarters, you need to do just one thing: Stay vigil on valuations.
And you never know, the Trump crash may be an opportunity to act on not just IT but lots of other safe stocks as well.
--- Advertisement ---
You Could be Missing Out on This Opportunity...

You could be missing out on some of the most lucrative and high-potential money-making opportunities in the stock market...

We are talking about businesses which are small and almost unknown today...

But hold the potential to become the blue chips of tomorrow.

Now, finding such companies is not an easy task.

However, we've been doing it for over 8 years now...

Click here to find out how we've done so far and how you could benefit from our experience...
------------------------------
03:10

Chart of the Day

Large Indian IT companies, on an average generate more than 50% of their revenues from the US clients. They have built a strong client base over the years in the US market. If the suggested changes for immigration get cleared, the cost component for the Indian IT companies will go up. The need to reduce their US exposure and move to other geographies is a given.
Will Trump Mania Impact IT Companies Revenues from US?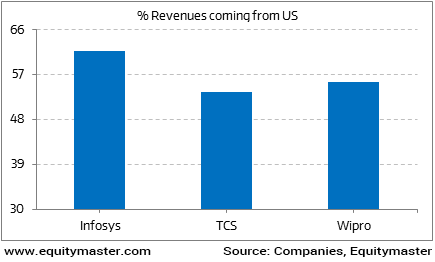 But we believe that it is unlikely that the companies will substantially bring down their focus on the US. Instead companies may look out for other means to reduce costs or protect margins.
Jallikattu. There has been a big controversy around this traditional bull-taming sport from Tamil Nadu. I'm going to steer clear of its political and legal aspects. That's not my beat. I was just curious to know about jallikattu. And when I read about it, I found compelling parallels between this ancient tradition and what Rahul Shah has been up to the past eighteen months.
Before I tell you about that, here's some background on jallikattu...
This over 2,500 years-old tradition involves releasing a bull into an open area where participants try to grab and hold the bull's hump until it comes to a stop. In some cases, participants must ride long enough to remove the token cloth tied in the bull's horns and collect it as a prize.
I'm sure you see this is no sport for the fragile or fainthearted. You're not trying to condition a dull, stationary, predictable bull. And you're competing with hundreds of other participants.
Everything happens very fast. Most participants hit the dirt. Some get injured. It is only the best of the best players who are able to grasp the bull's hump, ride it, tame it, and win a prize.
The question is: How do you grab, ride, and tame a raging bull?
Think about it. You can't approach the bull from the front. It will toss you with its horns. And if you attempt to grab it from behind, you'll surely get kicked. That leaves you with one option - approach it from the side and grab the hump.
But that requires both skill and strategy. You have to be agile and fast. And most importantly, you need an intelligent strategy to outsmart the bull.
Now what if I were to tell you that you have a chance to win the stock market Jallikattu?
Yes, you read that right.
If you have been with us for long, you know that we have played the gentleman's game of value investing...and we have a solid track record of success there.
But you pay a price for this gentlemanly approach to investing. You have to patiently wait for the bulls to come to you. And you have to let go of many fast, raging bulls.
So how do you overcome these challenges?
For more than eighteen months, my colleague Rahul Shah and his team have been building this immensely powerful system to win the stock market jallikattu. Make sure you get all the details soon.
Substantial part of the of central government expenditures are undertaken by state and local governments. Most states in India like the Centre run budgets where expenditure is higher than revenue, leading to deficits.
As reported in today's Business Standard, the fiscal responsibility and budget management (FRBM) review committee believes India's debt to GDP ratio will be 60% in 2023. This comprises 40% for the Centre and the balance 20% for state governments. As per the current available data, the outstanding debt positions of the Centre and state governments show the combined liabilities at 69.5%.
So containing this burgeoning debt is certainly a tall task for the government.
Generally, when the country's growth is soaring, some portions of debt gets reduced. But that is not exactly the case for FY17-18. The economy may continue to see impact of demonetization for months to come. Thus the nominal GDP growth may actually be much lesser than the projected by the government at 11.75%.
The Budget has laid down large allocations towards social welfare. But it is important for the government to realize that while public spending is necessary, it will be important to keep its borrowings in check. Even the RBI has warned the government about this.
In the meanwhile, after opening the day on a flat note, the Indian share markets have continued to trade on a weak note and are trading marginally below the dotted line. Sectoral indices are trading on a mixed note with stocks in the pharma sector and realty sector witnessing maximum buying interest. Auto stocks are trading in the red. At the time of writing, the BSE Sensex was trading down 68 points (down 0.2%) and the NSE Nifty was trading down 24 points (down 0.3%). BSE Mid Cap index was trading up by 0.6%, while the BSE Small Cap index was trading up by 0.8%.
04:50

Investing mantra

"Over the long term, the stock market news will be good. In the 20th century, the United States endured two world wars and other traumatic and expensive military conflicts; the Depression; a dozen or so recessions and financial panics; oil shocks; a fly epidemic; and the resignation of a disgraced president. Yet the Dow rose from 66 to 11,497". - Warren Buffett

This edition of The 5 Minute WrapUp is authored by Tanushree Banerjee (Research Analyst).
Today's Premium Edition.
H1B Visas and IT Stocks
How serious is the treat of the new US Immigration Bill to the Indian IT industry.
Read On... | Get Access
Recent Articles