An 'Idea' That Snubs Minority Shareholders
Feb 6, 2017
In this issue:

» India's corporate governance - a disturbing trend for minority shareholders
» Our brand new smart system
» Should private sector incur capex on government's directive?
» ...and more!
Apart from the Budget, every business headline last week was focused on the stock of Idea Cellular. The stock gained 25% on the proposed merger with Vodafone.
Newspapers doled out the rationale for the merger. They said it would consolidate the sector. It would create India's largest telecom company. One that would have a formidable market share of 43%. Airtel and Reliance Jio, the distant second and third players, would also benefit from the merger. Spectrums could get cheaper. And the companies may finally have some pricing power.
But most headlines conveniently skipped an important piece of information about Idea Cellular's parent company.
Pilani Investments and Industries Corp is an investment arm of Idea's parent company, Aditya Birla Group. The firm acquired 8.1 million shares of Idea Cellular through bulk deals just days prior to the merger announcement with Vodafone. You can therefore guess who benefitted the most from the 25% gain in the stock.
We are not sure if this could amount to a breach of insider trading guidelines. And we are not making any allegations here. But in our view and according to the available information, it appears that the management might have snubbed minority shareholders yet again.**
Less than six months back, we told subscribers how the Aditya Birla Group's restructuring plan for Grasim Industries had disappointed us.
We even published a special note, Grasim Mega Merger: A Strange Hodgepodge. This explained why this was simply a case of promoters overriding the interests of the minority shareholders.
It would have been a different matter if the merger allowed for some kind of forward or backward integration. Or if there was some synergy between the businesses. But what relation does telecom have with cement? What is the synergy between textiles and financial services? Ankit, who tracks cement stocks for us, pointed out that the merger would disrupt Grasim's strong cash flow generating business.
The so-called 'restructuring' of Grasim made absolutely no sense to us. Except for the fact that the promoters made a neat profit from it.
Indirectly increasing stakes in Idea Cellular before announcing the merger is just another instance of the management's disregard for minority shareholders.
We believe such episodes have important lessons.
Investors are often in awe of big corporates and conglomerates. Especially groups that have been around for decades. Many investors, and even analysts, will tell you that the Ambani or Tata or Birla groups could do no wrong. And even if they do, they are here to stay. Nothing could be further from the truth.
Such blind faith in big bluechips has never enticed us. Rather we have often recommended subscribers to avoid stocks with poor management credibility.
Have you ever wondered why many Sensex and Nifty stocks never become StockSelect recommendations? Now you have the answer.
--- Advertisement ---
You Could be Missing Out on This Opportunity...

You could be missing out on some of the most lucrative and high-potential money-making opportunities in the stock market...

We are talking about businesses which are small and almost unknown today...

But hold the potential to become the blue chips of tomorrow.

Now, finding such companies is not an easy task.

However, we've been doing it for over 8 years now...

Click here to find out how we've done so far and how you could benefit from our experience...
------------------------------
03:10

Chart of the Day

Minority shareholders, by virtue of their low bargaining power, often find themselves getting a raw deal. And such cases are not unique to India. But instances of exploitation of minority shareholders in India seems to have increased over the years.

According to the IMF, India's corporate governance standards have actually fallen over past eight years. This is despite the fact that the regulator SEBI, has been taking various measures to control the malpractices.
India's Deteriorating Corporate Governance Standards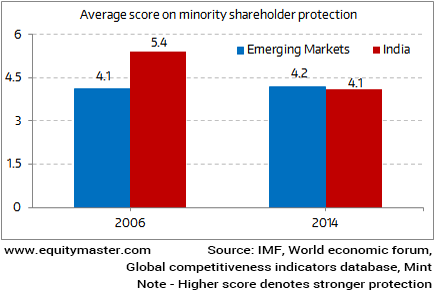 India has often been criticized for poor corporate governance and lack of enough regulations to protect minority shareholders' interest. In extreme cases, promoter's greed has broken all boundaries leading to a scam big enough to set an example and inspire new governance codes . Most of us remember Satyam Computers as the epitome of such scam.
Empowering minority shareholders is the only way to tighten the lid on unfair practices and make managements accountable.
Business Standard reports that Arun Jaitley recently directed private sector companies to incur capex. He contended that both state and central government have done their share of capex. And even foreign companies are falling in line. So there is little reason for the private sector to defer their investments any longer.
Now let us remind you, there is no dearth of corporates currently facing overcapacity issues. Capacity utilization was low since the start of the current fiscal. And demand has completely dried up post demonetization. So companies will have to see some profits from their existing capacities before investing further.
Here is what we wrote in a recent edition of The 5 Minute Wrapup.
If we look at the capex spending of India's 200 largest companies from the Equitymaster Stock Market Yearbook, 50% of the incremental capex in the last ten years was incurred in FY13 and FY14. And just nine companies accounted for 50% of that.

Since those nine companies are among the largest players in the sector, their capacity utilisation will determine the sector's growth and profitability over next three years. Weak demand for their products could be a drag for not just these players; it could negatively impact volumes and realisations for the entire industry.
Going by Jaitley's directive, some companies may be forced to increase capacities. But we will be wary of such businesses.
And banks that are hoping to lend to companies with poor capacity utilization, will warrant even more caution.
The track record of Microcap Millionaires has reinforced our belief in smart systems. Give me a smart system with a proven track record and sound logic over an 'investment strategy' any day.
Which is why we are launching a brand new smart system, Profit Velocity.
Profit Velocity looks to exploit the market anomaly known as momentum - the tendency of the best performing stocks to go even higher before their reversal begins.
We have designed the system in such a way that our subscribers get to ride the upward trend to the max and then exit just when the reversal is about to commence.
The trend will of course be based on strong underlying fundamentals and not speculation.
We are therefore going to supplement momentum with a detailed study of the stock's fundamentals and recommend stocks only when we are convinced about both parameters.
To know more about service, do log in to our Q&A session with Rahul Shah
After opening the day on a positive note, the Indian stock markets sustained momentum and the key indices are presently trading in the green. Sectoral indices are trading on a positive note with stocks in the realty sector and healthcare sector witnessing maximum buying interest. At the time of writing, BSE Sensex was trading up 230 points (up 0.8%) and the NSE Nifty was trading up 67 points (up 0.7%). The BSE Mid Cap index was trading up by 0.9%, while the BSE Small Cap index was trading up by 1%.
4.50

Investing mantra

"Whether we're talking about socks or stocks, I like buying quality merchandise when it is marked down" - Warren Buffett

** Please note our view above is based on publicly available information and company websites. Equitymaster will not be liable for any action taken/or not taken based on the information provided herein.

This edition of The 5 Minute WrapUp is authored by Tanushree Banerjee (Research Analyst) and Bhavita Nagrani (Research Analyst).
Today's Premium Edition.
The Ideal Earnings Multiple for Buying Stocks
Decoding the Valuation conundrum while evaluating quality stocks.
Read On... | Get Access
Recent Articles