No Change in My Long-Term View on the Rebirth of India Stocks
Feb 6, 2020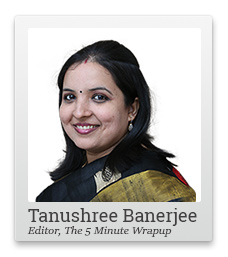 I love watching movies.
It's a great stress buster. You sit in a theatre and are taken to a different world. Catch a good movie, and your three hours are well spent.
On the other hand, if you watch a bad movie, you'll feel you've wasted both time and money. More so if the movie is hyped a lot.
You love the trailer. It has a great star cast. The director's previous movies have all been blockbusters. You build up great expectations.
But by the end of it, you're disappointed. You feel cheated, duped. You were promised something spectacular.
But the result was disappointing.
This was the reaction of most people to Finance Minister Nirmala Sitharaman's budget.
The hype built up for months. The expectations from the budget were sky-high. Everyone wanted some kind of tax relief.
But most investors were disappointed as she finished her speech. It was like a hyped up movie, which failed to deliver. It was almost as long as a Hindi movie too stretching to nearly three hours.
Investors expressed their disappointment in the share market. The BSE Sensex was down nearly 1,000 points.
But that is in the past. The market recovered soon enough.
So what does all this volatility mean for the Rebirth of India stocks?
The budget does not change India's long-term story. The long-term megatrends driving the Rebirth of India are as strong as ever.
--- Advertisement ---
The Smallcap Revival Summit

Join us on the evening of 20th May to learn,

• Why despite rallying over 100% since March-2020 lows... small-cap stocks are set for a massive rally over the coming months and years
• Details of our top 3 stocks to capture potentially huge gains from this upcoming small-cap rally
• And how to spot opportunities, even in the current market, with the potential to generate 200%, 400%, and even 900% long-term gains

Plus, there is a lot more that we are going to cover.

The summit is free to attend for Equitymaster readers.

But since there are limited seats, we would recommend you to register at the earliest.

Grab your spot for the Summit here. It's free.
------------------------------
A few thoughts...
Does India have a young demographic with increasing spending potential?
Yes.
Is smartphone usage and discretionary consumption showing and increasing trend?
Yes.
Are major reforms happening under the radar and away from news headlines? These are reforms with the potential to transform the Indian economy.
Yes, they are.
Will any of this change post the budget?
No. I don't think so.
The India story is here to stay and as it plays out, there will be multiple wealth creating opportunities all along the way.
So how do you participate in the wealth creation?
As I always say to my readers - ignore the short-term noise. You can never control short-term events and its impact.
Is predicting a pre or post budget market rally or crash in your control?
No.
On the other hand, think long-term. That is the only thing in your control.
Think about the stock you have bought. Will it benefit from the India story? Will the business benefit when the megatrends of the Rebirth of India play out over the next decade?
If the answer is yes, then you have a winning long-term stock on your hands.
These are exactly the kind of businesses I am looking at right now. Businesses that have a decade long potential ahead them.
In fact, I like short-term pessimism of the kind we saw on budget day. It gives us a great opportunity to buy high-quality stocks.
You should buy such stocks when they are out of favor. That's when I like to recommend them to my StockSelect subscribers.
And I'm seeing such an opportunity for investors right now. An opportunity to load up on 7 long-term wealth creating stocks.
Unlike a hyped-up movie, I am sure the top 7 Rebirth of India stocks won't disappoint my subscribers in the long-run.
Warm regards,

Tanushree Banerjee
Editor, The 5 Minute WrapUp
Equitymaster Agora Research Private Limited (Research Analyst)
PS: I believe NOW is the right time to buy the best 7 stocks in the market. Read more about my top 7 stock picks...
Recent Articles