How to Profit by Controlling Your Owner's Instinct
Feb 7, 2017
In this issue:

» Will India's GDP Grow at 7%?
» What to Expect from the RBI tomorrow?
» ...and more!
Yesterday was a tiring day. I didn't get home till 10pm. My neighbour caught me at the stairs.
After the formal greetings, this is how our conversation went...
Neighbour: I see your motorcycle in the backyard. I haven't seen you ride it for two years. Are you interested in selling?

Me: Umm... Uncle, I have been occupied all this while. But I love riding. Can you give me some time to think it over?
I came to Mumbai two years ago. My passion for equities brought me here. But I am also a bike lover. So I brought my bike along. I thought I'd use for my commute...
Unfortunately, I've hardly done that. The traffic and hectic office schedules make it very difficult to ride. All I've done is pay for a monthly parking slot.
So, even though my asset is currently idle and depreciating, I still don't want to sell it. Why? This is 'owner's instinct' at work.
Owner's instinct is when you can't bear to part with something you own even though the original purpose for owning it is no longer valid.
In investing, owner's instinct seems to be even stronger.
My colleague Rahul Shah recently explained this in the Research Digest...
If I were to make a list of the investor's worst enemies, I would put the inability to sell - even when the facts scream you should - somewhere near the top.

Some investors are just plain reluctant to part with their stocks even though they have lost a lot of money and have no real chance of getting it back. Unbeknownst to them, their ownership instinct is influencing their decision, completely blocking a rational approach.

Fortunately, it's possible to counter this natural instinct. And one of the most potent ways is with a definite exit plan. Even before you buy a stock, you should write down on a piece of paper or in your tablet or wherever when you're going to sell the stock.

It can be a specific stock price target or can be dependent on the underlying fundamentals of the business. Whatever it is, you need to be absolutely clear about your exit strategy.

Trust me, the importance of having a clear-cut exit strategy cannot be emphasised enough. In fact, I'd say the real test of any investment strategy is whether it has a clear-cut exit plan.

If your plan is hazy, you're leaving a huge opening for the ownership instinct to come in and take total control over your decision making. And this is not a good situation to be in. Having a definite exit plan gives a sense of control. It helps one deal with stock price volatility calmly and without too much stress.
However, this is easier said than done. Our natural human biases make us victim to owner's instinct. The simple fact that we own something makes it difficult for us to part with it.
Rahul understands human biases very well. That's why believes in strict process-based investment strategies and systems.
And after eighteen months of rigorous research and backtesting, Rahul has devised a system that provides a solution to these biases. Not surprisingly, the system - over the ten year backtest period - beat the benchmark index 5:1.
Rahul calls his new system Profit Velocity. It's a system that incorporates a definite entry and exit plan to overcomes human biases. It's an intelligent system, driven by sound logic, designed to create value.
By the way, our Founder Member Offer for Profit Velocity offers a whopping 60% discount on the normal subscription fees.
And this offer is set to end in just a few more days...at midnight of Friday, 10 February 2017!
So hurry...
Rahul Shah is convinced the earliest group of Profit Velocity subscribers could benefit the most. And the first issue of Profit Velocity also releases on 10 February 2017!
So become a Founder Member of Profit Velocity today. Click here...
--- Advertisement ---
You Could be Missing Out on This Opportunity...

You could be missing out on some of the most lucrative and high-potential money-making opportunities in the stock market...

We are talking about businesses which are small and almost unknown today...

But hold the potential to become the blue chips of tomorrow.

Now, finding such companies is not an easy task.

However, we've been doing it for over 8 years now...

Click here to find out how we've done so far and how you could benefit from our experience...
------------------------------
Will India grow at 7%? The government and the RBI still think so. Regular readers know our view on this.
We think the 'official' GDP forecasts must be taken with a pinch of salt. The fact is that government does not know how much of an impact demonetisation had on the economy. Yet the official estimate of GDP growth is 7.1% for FY17.
The RBI's two-day monetary policy meeting is under way. Expectations are that the RBI will officially lower its growth estimate. This wouldn't surprise or worry us.
We would be more interested in what the RBI will do tomorrow on the policy front now that it has the data from the demonetisation exercise.
Remember that banks did cut rates when they received a flood of demonetised notes. They are highly unlikely to cut rates without a repo rate cut from the RBI. Stay tuned for our analysis on the policy tomorrow.
04:15

Chart of the Day

Speaking of the monetary policy, everyone and their uncle seem to be expecting a rate cut tomorrow. But no one seems to in agreement about the amount.

The repo rate (i.e. the rate at which the RBI lends to banks) stands at 6.25%. This level is quite reasonable we believe.

However, corporate India does not think so. As always before any RBI policy meeting, they have started clamoring for a rate cut. We even read a suggestion for a 0.75% reduction!

As today's chart shows, the repo rate has fluctuated in a range over the last six years. It is back to where it was in November 2010. The last change was a cut to 6.25% last October.
Repo Rate is Trending Down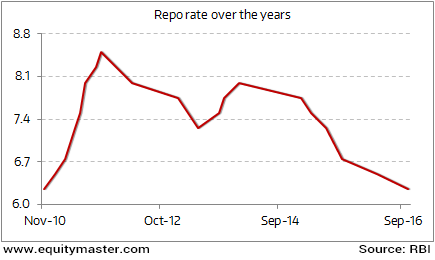 So where to from here? It is entirely possible the RBI could reduce the rate a bit more. However, it cannot lose focus on inflation. With commodity prices showing signs of moving higher, the central bank will have to walk a fine balancing act without giving in to the whims of corporate India.
After opening the day flat, the Indian share markets traded on a negative note. Sectoral indices are also trading on a negative note with stocks in the metal sector witnessing maximum selling pressure.
The BSE Sensex is trading down 134 points (down 0.5%) and the NSE Nifty is trading down 38 points (down 0.4%). The BSE Mid Cap index is trading down by 0.3%, while the BSE Small Cap index is trading down by around 0.2%.
04:55

Today's Investing Mantra

"Everyone has the brainpower to follow the stock market. If you made it through fifth-grade math, you can do it" - Peter Lynch

This edition of The 5 Minute WrapUp is authored by Kunal Thanvi (Research Analyst).
Today's Premium Edition.
Why the Realty Shares Are Witnessing Correction after Budget?
With new taxes and regulations on buying a second home, will real estate in tier 1 cities finally cool down?
Read On... | Get Access
Recent Articles