Follow India's Super Investors to Make Big Money in the Market Crash
Feb 8, 2018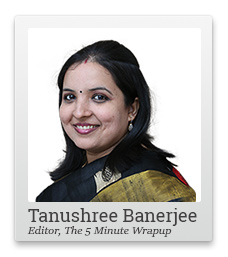 There's a WhatsApp message doing the rounds these days. It lists out the losses suffered by India's most famous investors like Dolly Khanna, Ashish Kacholia and Rakesh Jhunjhunwala, in the market crash.
When I saw this message, I wondered if people took it seriously.
I hope not.
The investors you read about in the news have spent many years in the market. They've already made their millions.
They've seen many bulls, bears, crashes, recoveries, and everything in between. A small correction won't trouble them.
Now I'm not saying they don't care about their losses. Of course, they do.
Just like you, they don't like to lose money either.
But they know that losses are part of the game. In the long run, they will win more than they lose.
There're probably buying stocks right now.
The Aam Investor Does Not Think This Way
The aam investor is worried.
His portfolio is going down.
But unlike India's super investors, he's not staying calm.
I've heard him complaining to his friends on his way to work.
He's worried that his investments will be affected by things he can do nothing about: US markets, interest rates, long-term capital gains tax, Modi's chances in 2019...
But he doesn't need to worry. There is a better way.
Following Super Investors
Investing is not easy. To be a successful investor, you'll need to do a lot of work.
The work is rewarding but it can also be boring and frustrating. I know this because I do it for a living!
But why bother if super investors are doing all the work? Can't you just follow them?
Well yes, you can. But it's not for everyone.
If you want to track their activity, keep these three points in mind.
They tend to use multiple strategies to buy stocks. You won't know which ones they've used.
They hold stocks for varying periods, from a few days to many years. You won't know until they've sold.
They can sell stock A and stock B at the same time for very different reasons even if both have done equally well. You might never find out why.
There's more to this but you get the idea, right? It can be tricky to keep track of them.
Also, the more investors you track, the harder it gets.
Most importantly, they're not accountable to you for their mistakes. It's not their problem if you follow their trades and lose money.
Luckily, we're fortunate to have an in-house expert on India's super investors: Kunal Thanvi.
He keeps a hawk-eye on the investments of India's top 40+ super investors. The 'smart money', in other words of the Indian markets.
It's an illustrious list of exceptional fund managers, investing gurus, and promoters. After meeting some of them, he compiled a free report - The Super Investors of India.
Kunal's strategy is simple: Catch them early in action.
He collates a list of stocks that have caught the attention of the smart money.
He then uses a tool, the 'Smart Money Score', to filter out stocks that are not fundamentally strong.
After that, it's just a matter of riding along with the gurus.
Last month, Kunal identified a stock favoured by one of the best performing mutual funds in India. Here's what he had to say...
"Our thrust is to find best possible opportunities in every market scenario by following smart money across the spectrum.

There are many ways in which we track smart money in any stock.

One is, of course, to closely track the actions taken by many of the super investors we follow. This could either be through bulk and block deals. Or, it could be through an increase in the stake of a company stock the super investor already owns.

We keep a close eye on what promoters are doing too. They are the 'insiders' in a sense; if they buy more of the stock of their own company, then that is a positive indicator.

But, other than the promoters and the 40 super investors we track, we also equally interested in what mutual fund houses (funds run by decent fund managers with a long-term track record) are doing.

Because to us, if mutual funds and/or any other funds for that matter are buying stocks, then it is a strong indicator that smart money is being invested as well.

Mutual fund houses, at the end of the day, are led by professional fund managers, who have a mandate to make the best possible returns, especially in an industry which is highly competitive. This means scouting for the best possible stocks that these funds can pick up a stake in.

In fact, a lot of the super investors have their own funds and pick up stakes in companies through those funds."
I recommend riding in the sidecar with India's best super investors.
You can join Kunal here.
Will the Liquidity Continue in Volatile Markets?
February month hasn't been good for investors globally. The market entered a meltdown mode in February with the Dow Jones Industrial Average seeing its biggest one-day point drop in history. Indian markets witnessed selling pressure this month following the introduction of long term capital gains (LTCG) tax and widened its fiscal deficit target. Not to mention, hardening yields and weak global equity market also impacted Indian market.
During such times, it is important to check the fund flows from foreign portfolio investors (FPIs) and domestic institutional investors (DIIs). FPIs have historically been the dominant players in the Indian markets. However, the below chart shows a changing pattern in the past couple of years. DIIs, particularly, mutual funds (MF) is stepping up thereby reducing the dependence of foreign inflows.
Rising Dominance of Mutual Funds
New investors haven't seen this sort of volatility that the markets are witnessing in the recent times. In fact, 2017 was one of the least volatile years for the domestic market. The real test is if the fund flow continues in such a volatile market. Should the inflow slow down, it will impact MF investment flowing into Indian markets. It will be interesting to see how mutual fund investors react under these conditions.
RBI Maintains Status Quo
The Reserve Bank of India (RBI) retained interest rates at 6%. That's because it anticipates upside risks to retail inflation. In the one year, since the setting up of the monetary policy committee (MPC) in October 2016, it has lowered the repo rate twice - by 25 basis points each in October 2016 and August 2017.
The MPC listed several upside risks to inflation, such as the impact of increase in house rent allowance (HRA) by the Central Government, the rising international crude prices, and the upward trajectory of non-oil industrial raw material prices. The inflation estimates have been revised at 5.1% in Q4, due to factors including rise in food prices and international crude oil prices.
CPI inflation for FY19 is estimated in the range of 5.1-5.6% in the first half, and 4.5-4.6% in H2FY19. The central bank maintained its neutral policy stance and the projection of real gross value added (GVA) growth for the current financial year at 6.6%. GVA growth for FY19 is projected at 7.2%.
The MPC acknowledged that the economy is on a recovery path, including early signs of a revival of investment activity. Similarly, it welcomed the union budget's focus on the rural and infrastructure sectors which would support rural incomes and investment.
However, the MPC also observed that the fiscal slippage, as indicated in the Union Budget, could impinge on the inflation outlook. Apart from the direct impact on inflation, the fiscal slippage has broader macro-financial implications, notably on economy-wide costs of borrowing which have already started to rise. This may feed into inflation.
What the Markets Look Like Today
Indian equity markets opened the day on a positive note. At the time of writing, BSE Sensex was trading higher by 250 points and NSE-Nifty was higher by 70 points. The BSE Mid-Cap and BSE Small-Cap Indices were trading up by 0.5% and 0.7% respectively. Stocks from the capital goods and banking are among the gainers.
Regards,


Tanushree Banerjee (Research Analyst)
Editor, The 5 Minute WrapUp
Editor's Note: Our biggest event of the year, the Equitymaster Conference, will be held at the Taj Mahal Palace, Mumbai, this weekend. We hope to see you there. There will be no edition of The 5 Minute WrapUp on Saturday, 10 February.
P.S.: Wouldn't it be great if you knew the stocks in which the top-40 investing gurus of India are putting their money? Well, now you can. Even better, with just three 'Smart Money Indicators', you could identify the stocks with the best potential. How? Find out here.
Investment Mantra of the Day
"Only when you combine sound intellect with emotional discipline do you get rational behavior." - Warren Buffett
Recent Articles