Pouring 'Benjamin Graham' Wine into a 'Trading' Bottle
Feb 9, 2017
In this issue:

» The shocking case of Kushal Tradelink
» Refreshing news from Mint Street
» ...and more!
Benjamin Graham's Security Analysis is a good example of a cult book that lost its charm for the author.
Here's Graham in one of his last ever interviews...
I have lost most of the interest I had in the details of Security Analysis which I devoted myself to so strenuously for many years. I feel that they are relatively unimportant, which in a sense, has put me opposed to developments in the whole profession. I think we can do it successfully with a few techniques and simple principles. The main point is to have the right general principles and the character to stick to them.
Fortunately for us, he did outline those techniques and the principles. They're the basis of our Microcap Millionaires service, which has done very well for us.
In the same interview, Graham explained his recipe for a successful investment strategy.
It has three crucial ingredients: (1) sound logic, (2) simplicity of application, and (3) an excellent supporting record. Again, this is the basis of our Microcap Millionaires service - a balanced blend of each.
You may have heard I am launching a new service soon. My confidence in Profit Velocity is due to the service's underlying strategy - again a balanced blend of Graham's three ingredients.
Now, Microcap Millionaires is based on the concept of intrinsic value, which is logical only to an extent.
No matter how detailed and intelligent the process, the calculation of intrinsic value is guesswork. It's subjective in nature. The idea, though, is to buy stocks at a discount to intrinsic value to avoid permanent loss of capital.
Profit Velocity is based on the concept of momentum. And it avoids permanent loss of capital by way of stop losses and trailing stops. Furthermore, we only consider stocks whose momentum is backed by sound fundamentals.
This helps us separate speculative momentum stocks from fundamentally sound momentum stocks. All very logical.
Momentum investing, however, doesn't require a lot of grey cells. Here, it's better to have a strong stomach than a quick mind. You have to have the stomach to book those occasional losses and the temperament to wait for the fat pitch. But that's really all you need. All very simple.
Of course, the service's outstanding backtest record - a 5:1 record over the benchmark index during a ten-year test period - is a welcome addition to this mix of logic and simplicity.
To some extent, Microcap Millionaires' launch was opportune. Within months of its launch, we had the phenomenal 2014 bull market.
We don't know if a near-term bull market awaits Profit Velocity. But bull market or not, the presence of Graham's three ingredients makes us confident it will outperform in the long term.
Join Profit Velocity by 12 midnight TOMORROW to take advantage of our Founder Member offer and get a 60% discount on the normal price.
--- Advertisement ---
You Could be Missing Out on This Opportunity...

You could be missing out on some of the most lucrative and high-potential money-making opportunities in the stock market...

We are talking about businesses which are small and almost unknown today...

But hold the potential to become the blue chips of tomorrow.

Now, finding such companies is not an easy task.

However, we've been doing it for over 8 years now...

Click here to find out how we've done so far and how you could benefit from our experience...
------------------------------
03:00

Chart of the Day

Many business dailies highlight the fact that the stock price of Kushal Tradelink has gained 8,811% in just three years. Now that is an eye-popping gain alright! Here's what its journey looked like:
When a stock goes up 8,811% in just 3 years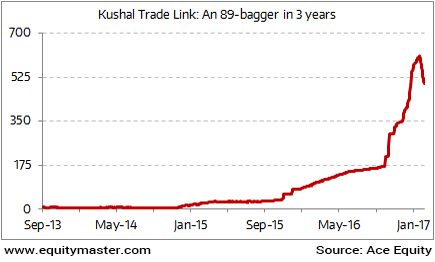 Most investors would be green with envy. Surely, the ones who got on to this train would have made tons of money right?
But often in the Indian share markets, looking at things this way is a recipe for trouble. For there are two kinds of gains: The kinds that can be safely made and the kinds that need investors to take on random and speculative bets.
If you plan to make money in the stock market and also keep it, it is important to be able to separate the former from the latter. Reports suggest that in this case the gains have caught the attention of market surveillance officials at the BSE. After identifying irregularities in the stock's price, volume and trading patterns, the exchange on 24 January put in place restrictions on daily swings and short-term trading activity in the stock. It is likely to leave market regulator SEBI's ears standing too.
Unsuspecting investors often get caught up in such hot stocks due to the lure of quick money. If found to be out of sync with fundamentals, they often end up with quick losses instead of quick gains. Avoiding investing based on random tips and stories of 'hot stocks' is the need of the hour if such losses are to be avoided.
We've written to you about the many questions being raised about the autonomy of the Reserve Bank of India (RBI) in the recent past. Its handling of the entire demonetisation episode seemed to raise many questions about the revered institution bending to the whims of the government.
In that background, the RBI's decision in its monetary policy review yesterday to not yield to the clamour of a rate cut and leave policy rates unchanged if it so deemed fit came as a breath of fresh air. Not only that, it went a step ahead and signaled an end to the rate cut cycle. Citing concerns on inflation, the central bank's monetary policy committee (MPC) was unanimous in its decision to shift the policy stance from 'accommodative' to 'neutral'. This implies the lowered probability of cutting rates going forward too.
While all of this is very much a part of the bank's mandate, in light of recent events it is indeed refreshing to see the central bank make what could perhaps be considered an unpopular decision.
The Indian stock markets were trading almost flat at the time writing on the back of mixed activity across most index heavyweights. At the time of writing, the BSE-Sensex was trading down by around 30 points. Gains were largely seen in IT and realty stocks while metal stocks were leading the losers.
04:57

Investment mantra of the day

"Investing is simple, but not easy." - Warren Buffett

This edition of The 5 Minute WrapUp is authored by Rahul Shah (Research Analyst).
Today's Premium Edition.
Multi Baggers That We Are Glad to Miss
Where not to invest - Investing lesson from an 80 bagger.
Read On... | Get Access
Recent Articles