Seeds Being Sown for Another 2007-Like Crisis... Are You Prepared?
Feb 15, 2017
In this issue:

» Twin Disaster - Shrinking Jobs and Stagnant Wages
» Insights from the Richest Man in China
» Market roundup
» ...and more!
It's almost been a decade. But subprime ghosts still haunt the global economy. And before they are put to rest, chances are they will come back for another, far scarier financial crisis.
We can already see the signs of the crisis building up. Goldman Sachs is at a lifetime high, and virtually all US bank stocks have been on a tear. But it has nothing to do with their performance or the economy. No, the main catalyst has been Trump's rise to power...and his promise to 'do a big number' on Dodd-Frank, the 2010 Wall Street reform law.
The Act was passed under Obama's administration in 2010 in response to financial crisis in 2007. It denied bail outs for 'too big to fail' banks by using tax payers' money. It ensured a much-needed check on bank operations, limiting their ability to place speculative bets and cracking down on abusive practices. You'll recall it was these banks and their unscrupulous practices that plunged the US economy into recession in 2007.
Passing this bill was no easy task given the powerful entities lobbying against. It would not be wrong to say that the only positive of the 2007 financial crisis was the Act, which to a large extent ensured transparency, accountability, and stability in the financial system.
However, with Trump's pledge to dismantle the regulation, all those efforts could be wasted...and the seeds of another crisis sown.
So if you thought Trump's effect would be limited to IT stocks, think again. In fact, the issues facing Indian IT industry are miniscule compared to the potential fallout from this Trump policy.
I could highlight a laundry list of all that could go wrong. But predicting rain doesn't count. Building an ark does.
We believe investors can shield themselves from the coming storm with safe stocks. In fact, with the right strategy, a devastating storm can actually provide a great opportunity to invest. How? Tanushree and her StockSelect team know. She believes a turning point is here (Subscription required) and that best blue chips are about to get even safer.
--- Advertisement ---
Free Report on Apurva's Latest Trading Strategy

Our top chartist, Apurva Sheth (Research Analyst), has just released his latest special report:

How To Boost Trading Profits in Four Easy Steps

If you are serious about giving a boost to your trading profits, that we strongly recommend you grab your copy today.

Worth Rs 950, you can claim a copy of this report for Free. But only for a limited period.

Click here for more details...
------------------------------
03:10

Chart of the Day

India has struggled when it comes to generating quality jobs for its young workforce. At present, hundreds and thousands of youngsters are entering the job market annually. However, with the arrival of automation, jobs are only getting limited. In fact, in IT sector alone, many of the skilled IT services jobs will be redundant. Indian skilled IT services workforce is likely to see a shrinkage of almost 14 percent by 2021.

In such a scenario, good jobs will be hard to come by. And those who are lucky to have jobs will see their salaries stagnate. Infact, salaries are already stagnant in the IT sector. Take for example an engineer fresher's salary that has remained in the tight range over the past decade or so.
Shrinking Jobs in the IT Services Sector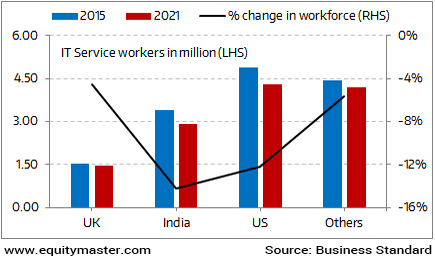 In fact, the problem of job losses does not seem to be isolated with respect to only one industry. As per Economic Times, a wave of consolidation in the telecom industry could imply as many as 25,000 people losing their jobs.
Vivek Kaul has been writing on the adverse impact of job losses and why the government despite reservations might not be able to employ a sizeable workforce looking for work. Here is a snippet from the Vivek Kaul's Diary:
Given that jobs in the public sector have been coming down, reservation in government jobs, on the whole, can't be of any benefit.

It only benefits politicians briefly, who try and take credit for having given reservation to a certain caste. But given that the government isn't creating many new jobs on the whole, reservation as a process of upliftment of certain weaker sections of the society doesn't work anymore...

Interestingly, the jobs in the organised private sector between 1991-92 and 2011-12 went up from 78.5 lakhs to around 1.2 crore. This meant an increase of 2.1% per year.

The era when the government created jobs is long gone. Of course, people do not still realise this and given this, they demand a reservation in government jobs. The trouble is that the organised private sector is also not creating enough jobs for the 13 million Indians who are entering the workforce every year. As far as the unorganised private sector is concerned, without access to good data, it is difficult to say anything.
Thus, India faces a dual challenge of keeping its participating workforce employed and well paid. The demographic advantage for India is on the verge of becoming a liability as there aren't enough opportunities for people who are seeking employment.
How do you make a business idea/ enterprise successful? Here's Anisa, our colleague at Common Sense Living sharing insights she gleaned from the richest man in China.
Leave The Whale, Chase The Shrimp: Advises Richest Man in China

When KFC first came to China, 24 eager, young people from one city applied for jobs there. 23 of them got jobs, one was rejected. That young man is today the richest man in China, Jack Ma, the founder of Alibaba.

He is the epitome of the lesson that most wealthy people try to give us: The best way to build wealth is own your own business.

Most people find the idea of owning or starting a business intimidating. What if it is not wildly successful - it will crush me - not just financially, but egotistically.

But most successful businesses don't start off as successful. They can comfortably be labelled failures - until they succeed. Then everyone forgets how badly they were struggling for a few years, how everyone thought they were a 'stupid idea'.

'This is the stupidest idea you've ever had,' people told Jack Ma. 'I didn't care if it was stupid as long as people could use it,' he said.

Alibaba was not born a giant - in fact for three years it didn't make a profit, until he got creative.

'Nobody makes money catching whales. People make money catching shrimps.' Ma says, quoting his favourite Hollywood movie, Forrest Gump.

And it's true. People are always waiting for that zillion-dollar business idea that will shake up the world, or the multi-crore deal that will colour you rich.

In business, you gotta keep it simple. It is not a ground-breaking idea, but grounded perseverance that makes a business successful.

As for the what, how, why to start a business - we know someone who can help you with that. The Wealth Builders Club is the only idea you need to help you start a successful business from scratch, even if you don't have an idea to begin with. The Wealth Builders Club has shown hundreds of Indians the way to build, and grow, significant wealth. And it can show you too - next week we will reveal to you how. Stay tuned.
Our colleague Apurva Sheth of the Profit Hunter team released a detailed report on trading stocks. The special report talks about what he believes could be extremely effective stock trading strategy. Importantly, the strategy could be implemented in four easy steps. Get your hands on this report right now.
After opening the day on a flat note, the Indian stock markets traded slightly lower. At the time of writing the BSE-Sensex was trading down by about 90 points, while the NSE Nifty was trading down by 24 points. Sectoral indices are trading on a negative note with stocks in the realty sector, auto sector, and healthcare sector witnessing maximum selling pressure.
04:55

Today's Investing Mantra

"The stock market is a no-called-strike game. You don't have to swing at everything - you can wait for your pitch." - Warren Buffett

This edition of The 5 Minute WrapUp is authored by Richa Agarwal (Research Analyst) and Rohan Pinto (Research Analyst).
Today's Premium Edition.
Capital Goods Sector: Lacking Capital, Customers, and Conviction
Signs of a pickup in investment demand remain as elusive as ever.
Read On... | Get Access
Recent Articles