Charlie Munger Nails the Secret to Big Returns in 30 Seconds Flat
Feb 17, 2017
In this issue:

» Fragmented market share of banks in India
» The only way to get rich
» Market updates
» ...and more!
Few companies of Daily Journal's size would draw much attention. But its association with Charlie Munger draws a standing-room-only crowd of a few hundred people to the publisher's annual meeting. Munger, who Buffett believes has the best 30-second mind in the world, holds court at the event.
His wit and wisdom enthralls dyed-in-the wool value investors as much Buffett's does at the annual Berkshire meet.
Daily Journal's latest annual meeting came close on the heels of Buffett doing the unthinkable: Berkshire Hathaway bought billions of dollars of airline stocks. So naturally, as Buffett's partner in crime, Munger was quizzed about it. True to his characteristic humour, Munger acknowledged that he and Buffett always thought the airline business was a joke. But his erudite explanation of why the airline business made sense after all these years had a big takeaway...
In the old days, what we did was shoot fish in a barrel. It was so easy, we didn't want to shoot fish while they were moving, so we waited until they slowed down and then we shot them with a shotgun. It was just that easy. It's gotten harder and harder and harder. Now we get little edges.
Waiting to buy immensely profitable businesses at deep discounts is feasible for small investors. Berkshire was able to do it when it bought Coca Cola and American Express during times of distress decades ago. Munger does not see such opportunities available to Berkshire any longer given its size today.
Munger added...
Have we gone crazy? I think the answer is, we're adapting reasonably to a business that's gotten much more difficult. I don't think we have a cinch. We have the odds a little bit in our favor. We have to live on the advantages we can get. I used to say you have to marry the best person who will have you. I'm afraid that's a rule of life. Things have gotten so difficult in the investment world that we have to be satisfied with the type of advantage we can get.
It is evident that Apple and the airlines are a compromise Munger and Buffett had to make. They had to adapt their investing style to suit Berkshire's large corpus. And they freely admit the payoffs from these investments won't likely match the returns they've clocked over the decades.
Nevertheless, Munger's take on adapting to changes can put every investor on a sound footing.
Let me explain.
Individual investors have a huge advantage. They can buy small, undiscovered companies. They can wait for deep discount valuations while enjoying their relative obscurity. Making money buying the best businesses within their circle of competence is not impossible with this approach.
However, over time, it may become necessary to expand your circle of competence. Munger suggests spending 80% of the time specialising in a domain and the remaining 20% to understanding big ideas. Otherwise, you go through life like 'a one-legged man in an ass-kicking contest'.
We aren't surprised if Buffett and Munger, learning machines that they are, see the long-term economics of the airline business differently today. But it is important to recognise their size handicap.
So while you can, take advantage of your ability to buy small businesses with great economics and huge return potential. They should ideally be within your circle of competence. But in the meanwhile, ensure that your circle of competence keeps expanding.
--- Advertisement ---
How To Boost Trading Profits in Four Easy Steps

Our latest special report on boosting trading profits has just been released.

This report, which is worth Rs 950, can be claimed for Free for a limited period.

Go ahead, grab you copy today. This is a limited period opportunity.

Click here
------------------------------
02:50

Chart of the Day

Two big headlines about the banking sector today:

Cabinet approval for the merger of State Bank of India with its five associates.

The potential merger of Kotak Mahindra Bank and Axis Bank.

These are the first tangible signs of India's banking sector moving towards consolidation.

But why is it important? Take a look at the market share of the top public and private sector players in the industry. It is very fragmented to say the least. The largest bank in the country, SBI, has less than 20% share and there are several smaller players. A host of new banks that have fetched licenses recently have a fraction of the share.

Of the 46 commercial banks, only two figure among the world's 100 largest banks. The top 10 banks contribute around 60% share of the total credit.
Top 10 Banks' Contribution to Total Credit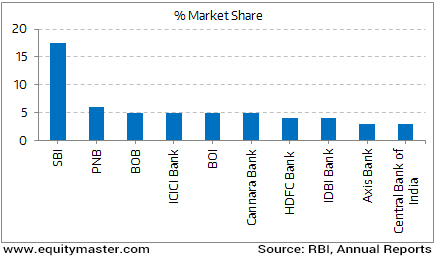 Rising bad loans and poor credit offtake have marred have marred the performance of most banks for several quarters now. Niche NBFCs, on the other hand, have cannibalized on the market share of bigger banks, due to their unwillingness to lend.
In addition, banks need to invest in technology and automation to adapt their risk controls to digital payments. Such investments are practically impossible for the smaller players in the sector and expose them to huge risks. Consolidation of the banking sector is therefore inevitable.
It is not the banks with the biggest balance sheets that we are looking forward to. But if entities with complementary strengths come together, it would be a huge positive for the sector as a whole. Some temporary pain in swallowing the bad assets, however, cannot be ruled out.
Here is a note from my colleague Anisa, at Common Sense Living...
I often write to you about interesting, unconventional ways for you to reach your wealth goals...

And indeed, we have scoured the world to discover and bring to you the most powerful ideas that can create wealth for you.

But today, I'm just going to tell you a story...

It's a story about a king who had lost faith in his subjects.

The king had a large boulder placed in the middle of the road to see what his subjects would do.

Many of his closest courtiers, and wealthiest subjects ignored the boulder and just went around it.

Several people complained about the king not keeping his kingdom in order.

Eventually a poor peasant came upon the rock. He could easily have walked around it with his meagre belongings, but he put them aside and started pushing the rock.

He pushed and shoved with great effort, but the rock was too heavy for him to move. He went into the woods and found a sturdy stick. Using the stick as a lever he finally managed to heave the boulder from its place roll it off the road.

As he turned to leave he saw lying in the place where the boulder had been, a small velvet pouch.

It was full of gold and a note from the king saying the gold was for he who moved the boulder.

We often forget in our race to wealth, that whatever path we are on, obstacles are opportunities to progress.

The path to wealth must be littered with obstacles, because they lead to the hard work and creativity, which is the road to the bag of gold.

So...what is the true meaning of wealth anyways? What does it really mean to be wealthy?

Read here to find out what wealth coach, Mark Ford has to say about it.
After opening the day on a positive note, share markets in India have continued to trade strong and are trading comfortably above the dotted line. Sectoral indices are trading on a mixed note. With the stocks in the banking sector and stocks in the pharma sector leading the gains. Stocks in the IT sector and the metal sector are trading in the red.
At the time of writing, the BSE Sensex was trading up by 182 points (up 0.7%) and the NSE Nifty was trading up by 52 points (up 0.6%). The BSE Mid Cap index was trading up by 0.6%, while the BSE Small Cap index was trading down by 0.5%.
04:50

Investing mantra

" Risk comes from not knowing what you're doing." - Warren Buffett

This edition of The 5 Minute WrapUp is authored by Tanushree Banerjee (Research Analyst) and Bhavita Nagrani (Research Analyst).
Today's Premium Edition.
Mega Buybacks in the IT Sector. What Do They Mean for Shareholders?
Can buybacks boost the fortunes of IT stocks?
Read On... | Get Access
Recent Articles