Trump's India Visit: Defense Stocks Are Set to Fire Up
Feb 18, 2020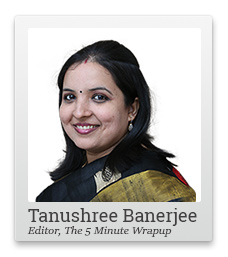 14 February.
It usually attracts all the wrong attention from the media. There is either a hype about Valentine's Day celebrations. Or news of protests against it.
But this year, things were different.
There were more messages on WhatsApp and other social media commemorating the martyrs of the Pulwama attack.
And once again, predictably, the debate shifted to India's defence capabilities. Particularly, the government's spending on defence modernisation.
Now, the latest Budget data is out. It tells us the spending on defence is 1.45% of GDP. It has been slipping over past four years.
And that's not all.
The amount allocated from the defence budget towards modernisation has also slipped from 31% to 26.5%. This means more than two-thirds of the funds is still going towards salaries and pensions of the armed forces.
India's defense preparedness was a huge point of debate prior to 2019 elections. The Modi government promised to do what it takes to modernise the armed forces.
Procuring the best and latest ammunition was just one part of the promise. The bigger promise was to ensure that a lot of the new equipment is 'made in India'.
The new defense deals elicited interest from both PSUs and new private sector entrants in this space.
But private sector defence manufacturing in India is yet to take off in a big way.
A Trend Reversal on the Cards?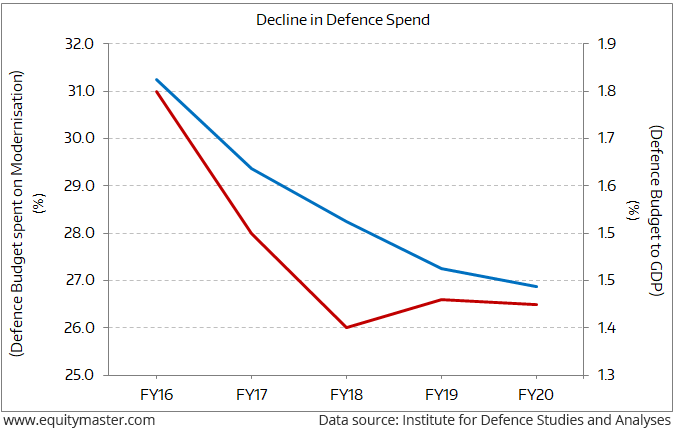 So, what could change?
Well, MNCs, particularly American defence majors, have shown keen interest in India. They want to tap into the demand for modern ammunition and fighter planes.
And I'm not talking of small numbers here.
Bilateral defence trade with the US has already touched US$ 18 bn.
But Trump's visit to India next week is expected to kick off some serious deals in the defence space.
--- Advertisement ---
READ: FULL Transcript of Our Urgent Broadcast

The full transcript of our urgent broadcast on India's Revival is available for a limited time now.

In case you missed watching our broadcast LIVE...

You can see all the important highlights from our broadcast in this transcript.

Please note that we may take this transcript off the internet any minute.

So it is highly recommended you read it immediately.

Click Here to Read the Transcript NOW
------------------------------
The low hanging fruit for the US defence majors is to try and sell arms and aircrafts to India.
But companies like Lockheed Martin have also offered to share technology for partnering domestic manufacturers.
India's does have some unique capabilities too.
Let's not forget Mission Shakti. It was executed this time last year. India tested its first anti-satellite weapon. It shot down a satellite in low earth orbit. Thus, India became the fourth nation after US, China, and Russia to demonstrate this capability.
Currently, 35% of the country's total defence requirement are manufactured within the country. The rest is met through imports.
Events like Mission Shakti have shown what India can do in-house. I believe, a huge opportunity lies in wait in India's defence megatrend.
Defense is one of the 50 irreversible megatrends I've identified in the Rebirth of India.
A select few defence stocks, both PSUs and private companies, are among my select picks for riding this Rebirth of India megatrend.
Stay tuned for more...
Warm regards,

Tanushree Banerjee
Editor, The 5 Minute WrapUp
Equitymaster Agora Research Private Limited (Research Analyst)
PS: On Tuesday, 25 February at 10 AM sharp, I will reveal details of the Greatest Money-Making Opportunity very few Indians know about! Get the details of this event here.
Recent Articles