Forget ecom Giants... Bet on These Lesser-Known Businesses (and Potential Future Blue Chips)
Feb 20, 2017
In this issue:

» Discover the secret to hidden profits in little-known small companies.
» Apurva's strategy to boost trading profits
» This data proves that demonetisation was an epic failure
» A roundup of the stock market
00:00

Chart of the Day
Got a disruptive and new business idea? Have a great story? A technical background? And some experience too? Great. You qualify to enter the privileged world of startups. Startups are mushrooming. And so are the angel investors funding them.
Flipkart, Paytm, Uber, Ola, Snapdeal.... you will find these names littered across financial dailies.
As per Economic Survey 2015-16, India has more than 19,000 technology-enabled startups, led by consumer internet and financial services companies. Indian startups raised US$3.5 billion in funding in the first half of 2015. As of December 2015, eight Indian startups belonged to the 'unicorn club' (ventures valued at US$1 billion and upwards).
The spotlight keeps shifting. First it was Flipkart, which once had Infosys-beating valuations...before they were revised down more than 60%. Today, it's Paytm hogging the limelight.
With the startup fever, a whole new jargon has come into effect. Data integral to a sustainable business - profits, leverage, return on capital, cash flow - have become old fashioned. Fancy metrics like app installations, gross merchandise value, number of users - any creative term that raises the appeal of the startup's growth story - has become the buzzword.
Loss-Making Unicorns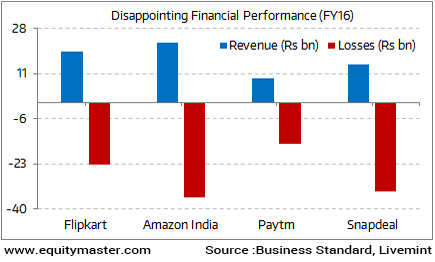 The story gets stretched till you're conditioned to believe in the fancy metrics...which are then used to justify high valuations. For startups that can get this far, next comes the public listing. The original investors, who invested in the story, find a decent exit. Thus enters the individual investor, scrambling for a piece of the presumed holy grail...hoping to ride the 'future Infosys or Apple'...
Only to realise that he might be stuck with a company that is yet to establish a sustainable business model.
No wonder Vivek Kaul calls these ecommerce companies Ponzi schemes, with individual investors...perhaps you...stuck at the end.
But aren't the returns worth the risk?
90%...
That's the rate at which startups fail. So, if you ask us, the answer is NO.
At Equitymaster, we take a different approach to picking businesses that could become future blue chips and offer great returns. We are here referring to well-established businesses that are yet to become well-known companies. Businesses that have not only stood the test of business and economic cycles, but have emerged stronger after every wave of adversity.
It's an approach that has beaten benchmark indices by nearly 3x since inception (Subscription Required). And has offered returns worth 4841%, 3042%, 1058%, 550% and so on for our subscribers on certain bets. Want to know more? Discover the secret to hidden profits in little-known small companies.
--- Advertisement ---
How To Boost Trading Profits in Four Easy Steps

Our latest special report on boosting trading profits has just been released.

This report, which is worth Rs 950, can be claimed for Free for a limited period.

Go ahead, grab you copy today. This is a limited period opportunity.

Click here
------------------------------
Speaking of Startup fever, Government of India made big-bang announcement in the Budget and development agenda earlier. In July 2014, the Government announced a Rs 100 bn Start Up India fund.
The fund was expected to generate employment for 18 lakh persons on full deployment... and aimed to catalyse Rs 600 bn of equity investment and twice as much debt investment.
As reported in an article in Firstpost, almost a year and a half down the line, there is no clarity on disbursement and beneficiaries. Both the VC investors and startup founders are clueless.
Meanwhile, India's rank in ease of doing business remains poor and almost unchanged.
As the Government takes drastic measures in the name of accountability and transparency and expects the common man to cooperate, we believe it's an exercise that needs to begin at home.
It's been almost three months since the Government banned high currency notes. It is yet to give some hard evidence of why and how the move made sense. Meanwhile, the casualty statistics continue to go up. Economic slowdown, unemployment, the trouble the common man took to withdraw his hard earned money and now fake notes back in circulation...nothing supports notebandi.
The latest dissent to the move has come from Rajiv Bajaj, MD, Bajaj Auto. He not only blames the execution, but the entire idea of demonetisation. The move has impacted company's two wheeler sales. Now you might be tempted to write that off as someone crying foul due to temporary loss in sales. But an interesting thing to note is that two wheelers mainly cater to the middle class and rural demand. And hence, it is good indicator to gauge the real impact of notebandi on the Indian economy. As Vivek Kaul highlights, what is further interesting to note is that car sales have recovered more quickly than the two wheeler sales.
His conclusion:
It tells us very clearly that rural India was impacted much more by demonetisation. It tells us that the not so well off have been more impacted much more by demonetisation than the well off.
As writer Amit Varma put it in a recent speech: "In all this, the rich got away... You see a reflection of this in automobile sales. They have plummeted for two-wheelers and three-wheelers, but SUV sales are steady. The rich got away."
And that is something worth thinking about.
8.24% in 19 days...
15.79% in 6 days...
11.15% in 10 days...
Impressive?
Well, for most traders they are indeed. Probably for you too.
But for Apurva, they're disappointing. Now don't get me wrong. This is not a case of sour grapes. These are actual returns he generated for his Swing Trader subscribers.
Apurva's disappointed because he knows there's a way to score even higher returns. Yes, Apurva has a proven process that could seal even higher returns.
He has revealed this process in his special report, How to Boost Trading Profits in Four Easy Steps. It's worth Rs 950, but you can download it for free.
I've been told that more than 4,000 readers signed up to download this guide in less than 48 hours of its release.
Don't miss it. Download now.
After opening the day on a flat note, share markets in India witnessed buying activity and are trading on a positive note above the dotted line. All the sectoral indices are trading in the green with metal and realty stocks leading the gains.
The BSE Sensex is trading up by 95 points (up 0.3%) and the NSE Nifty is trading up by 28 points (up 0.3%). Meanwhile, the BSE Mid Cap index is trading up by 0.6%, while the BSE Small Cap index is trading up by 0.8%. The rupee is trading at 66.96 to the US$.
04:55

Today's Investing Mantra

"If I was running $1 million today, or $10 million for that matter, I'd be fully invested. ... It's a huge structural advantage not to have a lot of money. ... The universe I can't play in has become more attractive than the universe I can play in. I have to look for elephants. It may be that the elephants are not as attractive as the mosquitoes. But that is the universe I must live in." - Warren Buffett

This edition of The 5 Minute WrapUp is authored by Richa Agarwal (Research Analyst).
Today's Premium Edition.
Competitive Advantage Alone Does Not Create Wealth
Why buying firms with only competitive advantage is not enough to create wealth.
Read On... | Get Access
Recent Articles