The Tata Group Finally Does Something We Always Wanted It to Do
Feb 22, 2017
In this issue:

» Organised Sector to get a Big Fillip
» RBI gets Tough on Loan Defaulters
» Don't Believe These Lies About Creating Wealth
» Market Update
» ...and more!
We will also bring more rigour to our capital allocation in order to consistently enhance stakeholder value. - N Chandrasekaran
Assuming control as Chairman of Tata Sons, Mr Natarajan Chandrasekaran spoke about one of the most important aspects of any business: capital allocation.
The former chairman of TCS seeks to bring the Tata Group companies together towards a common goal - to become more disciplined in employing capital.
One of the most important decisions any CEO makes is how he spends his time - specifically, how much time he spends in three essential areas: management of operations, capital allocation, and investor relations. - William Thorndike
A renewed focus on capital allocation is the right move for Tata Sons. However, it's easier said than done.
Now, we can measure capital efficiency by calculating the returns on the invested capital. Buffett uses this crucial metric - i.e. return on capital throughout a complete business cycle - to identify a good business.
Leaving the question of price aside, the best business to own is one that over an extended period can employ large amounts of incremental capital at very high rates of return. - Warren Buffett, 1992 shareholder letter
The ability of a company to employ increasingly more capital and earn a high return on this incremental capital can be a good proxy to identify potential wealth creators.
Put simply, good businesses earn high returns on capital and do not require much capital to grow. Laggards, on the other hand, require continual reinvestment of capital into the business yet still earn poor returns.
Berkshire Hathaway's erstwhile textile business was a 'gruesome' business that generated at best moderate returns on capital while requiring regular reinvestments back into textile operations.
How did Buffett allocate capital to his textile unit? Well, after twenty years of trying to turn it around, he finally threw in the towel.
The Tata Group too has some legacy business operations that are struggling. These businesses operate in a hyper-competitive environment and have generated sub-par returns for all stakeholders. Mr Chandrasekaran clearly has some tough calls to take on these operations.
However, the Group also has some outstanding companies in its fold.
One of them seems to have revised its strategy for the domestic and global markets with a strong focus on capital allocation. Indeed, they have completely reworked their capital allocation strategy.
Temporary setbacks notwithstanding, this company is a strong bet for the future. Read our complete coverage of this company here. (Subscription Required)
--- Advertisement ---
9,000 Downloads in Less than 9 Days...

With over 9,000 downloads, our latest special report on boosting trading profits is a massive hit with readers like you!

Worth Rs 950, you can download this report FREE today.

Don't delay. Grab your copy today.
------------------------------
03:10

Chart of the Day

The organised players are generally at a disadvantage in comparison to the small, unorganised, local companies that are able to compete on cost savings from tax evasion. But with growing tax compliance and stringent regulatory framework, the share of the informal economy has been on a steady decline. And this is expected to expedite still further post the notebandi with greater emphasis being laid on cashless mode of transactions by the government. As the informal economy overtly depends upon cash, the move towards the digital mode will drastically reduce the cost advantage pushing down its share still further.
Shrinking share of India's informal economy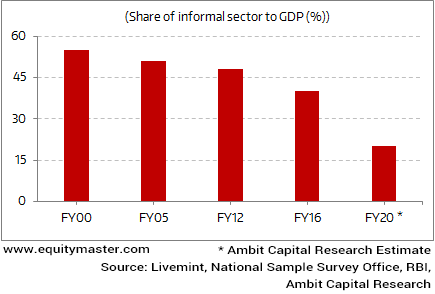 At the start of 2017, the government also announced a number of credit sops to encourage the micro, small and medium enterprises (MSMEs) that are huge employment generators in the country. These included doubling the credit guarantee to Rs 20 million and raising the cash credit limit for small enterprises from 20% to 35%. In the Union Budget 2017-18, the income tax rate for MSMEs - having turnover of up to Rs 500 million - has been reduced to 25%. These sops along with the likely implementation of Goods & Service Tax in July 2017 are expected to accelerate the shift towards the organised economy.
India's banking sector continues to be saddled with large amount of bad loans. As on 30th September 2016, the gross bad loans ratio of scheduled commercial banks stood at 9.1% with the stressed loans shooting upto 12.3%. Therefore, to crack a whip on the loan defaulters, the Reserve Bank of India (RBI) has proposed some tough measures. RBI has prescribed a December deadline for the loan restructuring of top 50 defaulters.
To ensure that distressed assets turn viable, RBI has also proposed the setting up of two asset management companies and two rating agencies' backing for the valuation of stressed assets. While one of the asset management company will be privately owned and comprise of unviable assets in the short term, the other one will be quasi government and will have assets stressed over the short to medium term. The government in the past has come out with a number of debt resolution measures such as corporate debt restructuring (CDR), structured debt restructuring (SDR) and sustainable debt restructuring that have met with limited success. Factors such as pricing of assets as also lack of cover from vigilance officials acted as hurdles. Therefore, it remains to be seen whether the new proposals will help in resolving the debt crisis in banks, particularly public sector.
It's difficult to create wealth when you're following a bunch of myths that lead you nowhere. These so-called facts perpetuated by the great, mainstream financial complex made up of the government, bankers, brokers, and the press, are just a farce. Here are some of the myths:
Wealthy people are stingy for a reason. The secret to becoming wealthy is to scrimp and save.
The stock market is the most efficient way to invest. You can't become wealthy unless you understand and master the stock market.
There's an inverse relationship between risk and reward. If you aren't willing to take big risks, you'll never enjoy big profits.
Do any of these "facts" sound familiar? If so, then you need to re-examine your wealth-building ideas. That is why Mark Ford, our wealth coach, writes about his experience getting rich. He found that all these lies just got in his way. If you want to know truths about how to build wealth from his own experience, you can learn them here.
And if you are ready to start your own wealth-building journey, you don't have to wonder what the right course of action is anymore. An easy-to-follow 'wealth building blueprint' will lay out a plan for you. Coming up soon.
After opening the day marginally positive, Indian equity markets continued to remain strong. At the time of writing, BSE Sensex was trading higher by 100 points and NSE-Nifty was trading higher by 20 points. Sectoral indices are trading on a mixed note with stocks in the oil & gas sector and stocks in the realty sector trading in green, while stocks in the IT sector and stocks in the consumer durables sector leading the losses.
04:55

Today's Investing Mantra

"The best business returns are usually achieved by companies that are doing something quite similar today to what they were doing five or ten years ago." - Warren Buffett

This edition of The 5 Minute WrapUp is authored by Rohan Pinto (Research Analyst) and Madhu Gupta (Research Analyst).
Today's Premium Edition.
Sentiment in Realty Stocks Improving... Time to Buy?
The BSE Realty Index has been on the rise in 2017. But a clean real estate company is still hard to come by.
Read On... | Get Access
Recent Articles