Get Addicted To Making 'Sunday Money'
Feb 23, 2017
In this issue:

» Reliance Industries' stock surges to the highest in eight years
» IMF estimates longer-than-anticipated pain from note bandi
» An update on the stock market
» ...and more!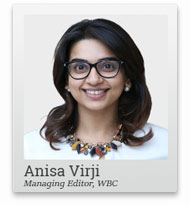 The skies seemed bluer...the trees greener. Even the smoggy Mumbai air seemed to smell suddenly sweet.
No, I was not falling in love - I had just received a notification: Rs 38,000 has been deposited into your bank account.
It was a payment. But not from my job. Not from my business investments. Not a dividend.
This was new.
My newest stream of extra income.
Don't you just love that feeling when you have suddenly discovered a new way of making money? You've tried something new - and it worked. You expanded your horizons, stretched out of your regular routine, and it literally paid off. It is a pat on the back - a validation of the most helpful kind.
Seeing that extra income in your bank account has the same good feeling you get when you put on a pair of old pants and find money in the pocket. Life seems good.
What are you going to do with your new money?
Pay off a nagging old debt? Invest it in your favourite stock? Sock it away for a rainy day? Add it to your retirement fund? Or why not...splurge on a weekend in a palace hotel in Rajasthan.
After all, you know exactly how you can make that much money again.
It took me exactly three hours of work to earn that much. That makes my hourly rate... what...Rs 12,000? That's not bad for a Sunday afternoon, right? This is why I call it 'Sunday money'.
But here's the best part.
It was the easiest work I'd ever done. In fact, to me, it wasn't work at all. It was fun. I made that money for writing a couple of articles about my favourite parts of Mumbai - a place I know inside out - for a travel magazine.
The reason it paid so well - and in fact, for magazine publications this is average pay - is that it is a US publication, and the payment was in dollars (about 600 dollars - minus some publishing fees).
I love using writing as a way of streaming extra income into my life. But at this point I'm just experimenting. I've tried writing, editing, and consulting so far... But I have lots of ideas to try still...
I know people who make extra money by:
...teaching (online and off);
...playing music (online and off);
...taking photos (and selling them online);
...selling on Amazon (and buying from China);
...blogging (about whatever they like, one reader has a blog about being a mummy, another has a blog about blogging - and he makes Rs 200,000 a month just posting on his blog).
There are endless ways to make significant money in the side - especially if you are happy to use the Internet and reach out beyond your neighbourhood, which is what I did.
All you have to do is figure out what you like doing.
Then figure out who would pay for it.
And find a way to connect the two.
But by now you must be wondering why I am so excited about this whole 'extra income' thing.
It's not that much money after all. But you see, it's not just 38,000.
What happens if I do this four Sundays a month? What happens when I do it on Sundays and weeknights, through the year? What happens if I can open 'passive' streams of income - which make money for me even when I'm not working?
And then what happens when that amount - my extra income - goes straight into my investment bucket.
Can you see the number growing? Eight figures don't seem so far from here, do they?
That, right there, is how wealth is built.
If you'd mentioned the words 'extra income' to me just a couple years ago I would have rolled my eyes at you and say, 'I'm a professional. My job makes money. My passion is for me only.' Or something naive like that.
But in the last couple of years I have learned one crucial truth:
Extra income is not just money. It is freedom.
I learned that the average rich person has seven sources of income.
While the average poor person has one source of income.
If you have one source of income you can be broken by a boss, a manager, an accident, or a business failure.
You can wake up one day and find that one stream of income which supported you and your family has dried up.
I may not care so much about money. But I like sleeping soundly. I like freedom.
The path to making extra income is not easy. But as I discovered, it is not as hard as it seems.
But you have to do it a lot - you have to try, and persevere, and trust me, when the ice breaks and the stream starts to flow - you can get happily addicted.
If you want your streams to flow. If you want to try something new, and find more motivation and satisfaction than you have ever had - I will share with you the wealth of information that has helped me flourish.
36 simple extra income strategies are ready for you to explore. Just watch this space for the wealth building blueprint tomorrow.
--- Advertisement ---
9,000 Downloads in Less than 9 Days...

With over 9,000 downloads, our latest special report on boosting trading profits is a massive hit with readers like you!

Worth Rs 950, you can download this report FREE today.

Don't delay. Grab your copy today.
------------------------------
02:45

Chart of the day

Yesterday saw Reliance Industries' stock surge almost 11%... in one single day! This takes the stock's price to an eight year high. The trigger was apparently simple. A day earlier, Reliance Jio announced that it will end Jio's free data services and start charging its customers from 1 April. Voice calls and roaming, however, would continue to remain free.

But what seems mind-boggling was magnitude of the gain. Reports point out that this takes the rise in RIL's market capitalization to a mammoth US$ 5.8 billion or so. This rise in itself is close to the total market value of Idea Cellular Ltd, India's second largest telecom company.
Yesterday's 11% Surge Took RIL's Stock to an Eight Year High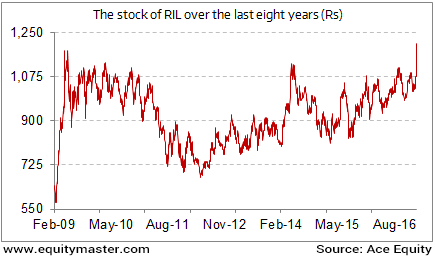 Investors seem to be jumping the gun. Despite this announcement of intent, there are so many things that still remain to be seen.
How many customers remain once the company actually starts charging them, how much competition intensifies post that period, what will the company's economics look like at those rates, how much longer before there is any chance of break-even, etc are questions that still have no easy answers.
But that doesn't seem to have stopped investors from going ahead and building castles in the air anyway.
While the government has been quick to underplay the disruption caused by note bandi and overplay its advantages, the International Monetary Fund (IMF) yesterday pitched in with its own views. It feels that while it may deliver some positive benefits in the medium-term, India's note bandi initiative may have a 'larger-than-anticipated' negative impact on the economy in the near term through weaker private consumption.
The international body estimates that India's economic growth is expected to slow to just about 6% in the second half of FY17. It may then see a gradual rebound over the course of FY18. It may be noted that in the first half FY17, the economy grew at 7.2%.
We have for long been crying hoarse about the fact that Narendra Modi's big demonetisation plan not going the way it was expected to. We also wrote to you over two months back about why we thought the pain on the GDP growth rate front would likely be worse and more prolonged than was being predicted.
Now as the dust finally settles and the pain India endured is becoming clearer, we hope the government is taking cues from the entire exercise as far as its future policy making is concerned.
The Indian stock markets were trading strong at the time of writing on the back of sustained buying activity across most index heavyweights. At the time of writing, the BSE-Sensex was trading up by around 115 points. Gains were largely seen in telecom and IT stocks.
04:56

Investment Mantra of the Day

'If you are not willing to own a stock for 10 years, do not even think about owning it for 10 minutes.' - Warren Buffett

This edition of The 5 Minute WrapUp is authored by Anisa Virji (Research Analyst).
Today's Premium Edition.
'GMV Is Vanity, Profit Is Sanity'
An analysis of the business model of ecommerce companies.
Read On... | Get Access
Recent Articles