One of the Best-Kept Secrets of the Super-Rich
Feb 24, 2017
In this issue:

» No Change in Employment Scenario in 10 Years
» Are the Telecom Stocks Truly Mouth Watering?
» ...and more!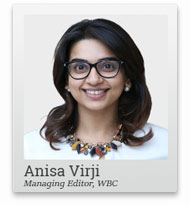 Building wealth involves a whole range of smart strategies. Most rich people get that way by consistently doing the following five things:
They understand and manage their debt. They don't let debt manage them.
They are restrained spenders and aggressive savers, far outpacing their peers.
They invest in stocks and bonds with discipline.
Their primary focus is on increasing their active income. Usually, this comes from a business they know inside and out.
They invest in real estate and other 'outside the stock market' opportunities.
As you can see, investing in stocks and bonds is only one of five strategies you must follow to become rich.
Stocks are a great place to grow your wealth. It will mature slowly - you plant a seed, nurture it, and then you wait for it to grow into a tree for wealth.
But the more seeds you sow, the larger a forest of wealth you can develop.
And when you have those crores invested in the stock markets, then you can sit back and relax, satisfied that you have won the wealth game.
If you don't already have crores tucked away in value stocks, you need more seeds -you need extra streams of income coming in.
Having extra income streams of income is one of the best-kept secrets of the super-rich.
Now, what if I told you that you could start making an extra Rs 5,000, Rs 50,000 and then Rs 500,000 a month right now. And that money could go directly into your investment bucket, and help you build your forest.
I am offering you a side door to building wealth relatively quickly.
With a second source of money coming in, all the stress that comes with trying to stretch your regular income - whether from a pension, dividends, or even a paycheque - disappears overnight...
And that's why Mark Ford has created a series of only proven strategies that the average person - someone who does not make eight figures or have crores in the bank - can realistically do.
It's called the Wealth Builders Club. In my opinion, it is by far the best wealth-building blueprint that exists anywhere today.
You may have heard about the club before. Perhaps you were too busy to take a close look at it. Or perhaps you did look at it and decided it's not for you.
If so, I want to say this and bluntly: If you are hoping to achieve your goals simply by buying a few great stocks or by putting your money into gold or some other asset to take advantage of a financial boom, it's not enough.
You can do more. Invest in stocks by all means, and do it wisely. But don't stop there.
Yesterday I told you about 'Sunday money' - about how, for a few hours of work on Sundays, you could make thousands, tens of thousands, even lakhs, in extra income every month. And I promised you answers. Well, this is it.
This blueprint can show you how to make Rs 10 to 50 lakh, maybe more in a year, part time, working from home in your pyjamas, using a skill you've been practicing since you were a kid. (I personally know more than a dozen people who have tried this one strategy and are making this kind of money doing it.
But that's just the beginning. It will also show you...
...how to live like a millionaire while you are still working your way up.
...how to avoid the mistakes most retirees make, and how to live completely debt-free.
...how to set your children up for a financially sound life.
...and to make the time you need in your life to start achieving your life's goals NOW.
This blueprint gives you everything you need to get started. And so much more.
Sandesh P said: 'I would like to let you know that subscribing to the Wealth Builders Club is one of the best investments I believe I have made.'
If there's one investment you must make, let it be this. You regularly invest your faith in the markets, why not invest a little in yourself this time. You have nothing to lose and a whole new life of financial independence to gain.
--- Advertisement ---
Apurva's Latest Trading Strategy has been Downloaded 9,000 Times in Less than 9 Days...

Our top chartist, Apurva Sheth (Research Analyst), recently released his latest special report:

How To Boost Trading Profits in Four Easy Steps

In just under 9 days, over 9,000 copies of this report have already been downloaded.

If you are serious about giving a boost to your trading profits, then we strongly recommend you grab your copy today.

Worth Rs 950, you can claim a copy of this report for Free. But only for a limited period.

Click here for more details...
------------------------------
03:30

Chart of the Day

One of the factors that could possibly undo all the economic potential that India has, is the rising unemployment amongst the youth. The recent Budget allocated substantial portion towards providing employment opportunities (via MGNERGA). And the government continues to paint a rosy picture of job creation. We are certainly not trying to play the devil's advocate by undermining India's economic road map. Nor are we naysayers to the possibility of India emerging as a much stronger economy over the next few decades. However the fact is situation of unemployment over the past many years has hardly changed.
Marginal Change in Unemployment Over the Past Decade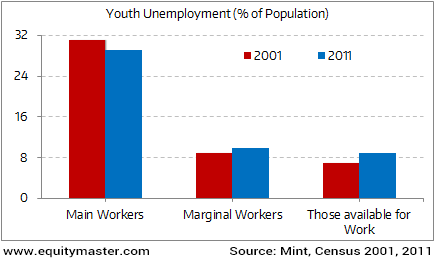 Going by today's chart of the day, the situation of unemployment hardly changed in the period of 10 years. In spite of little progress on this front, the government remains positive. According to an article on Mint, Union minister for labour and employment, Bandaru Dattatreya, said at a recent press conference that government will guarantee jobs for 50 million unemployed people in the country by 2020. Given the slow progress on this front we see little possibility of the government to achieve its target.
In fact, Ajit Dayal, in his address at the Equitymaster Conference held in January 2017, highlighted the gravity of the problem of growing unemployment. He said that since 1991, additions to workforce have grown at 3% per annum whereas employment growth has been at half the rate of 1.5%. What this means that nearly half of the youth entering the workforce do not get a job. And with increasing automation and entry of artificial intelligence, the problem is set exacerbate further.
Telecom stocks have been on a tear in the past month. Idea Cellular stole the show with over 60% gains after the news of merger with Vodafone surfaced. We had our rationale for not being excited about a prospect that snubs minority shareholders.
But Idea Cellular is not alone. Bharti Airtel gained about 15% after the purchase of Telenor's India business. The merger gives Bharti access to 44 million customers, 43.4 MHz of spectrum in the 1,800MHz band and 20,000 base stations.
Even the stocks of Reliance Communications, MTNL and Tata Teleservices are up 19%, 14% and 11% respectively in the past month. The sector's consolidation prospects seems to have stoked the market sentiments sufficiently after months of disappointment.
We for one believe that it will be a long time before pricing power returns to the key players in the sector. Consolidation will no doubt stop the sector from bleeding in the near term. But the level of debt, capex plans and merger pains should keep investors wary of the sector.
Global markets ended the week on a mixed note. Germany and China markets were biggest gainers, with gains of 1.7% and 1.6% respectively. Further, Indian markets were also up by 1.5%. However, the UK and Brazil markets were marginally down by 0.6% and 0.5% respectively.
The Indian stock markets are closed for trading today on account of Mahashivratri.
04:55

Today's Investing Mantra

"An investor should act as though he had a lifetime decision card with just twenty punches on it." - Warren Buffett

This edition of The 5 Minute WrapUp is authored by Anisa Virji (Research Analyst) and Bhavita Nagrani (Research Analyst).
Today's Premium Edition.
India's Telecom War: Who's Winning?
Will Reliance Jio's disruptive pricing give it the edge in India's Telecom war?
Read On... | Get Access
Recent Articles