Boosting Profits From 18.24% to 61.41%
Feb 24, 2017
Take a look at these returns.
18.24% in 19 days...
15.79% in 6 days...
11.15% in 10 days...
Impressive?
Well, for most traders these are indeed. Probably for you too.
But for me, they're disappointing.
Now don't get me wrong. This is not a case of sour grapes. These are in fact the returns generated by my very own recommendation service, Swing Trader.
So, why am I disappointed with returns most traders would give an arm and leg for?
Allow me to explain...
Let's go back to January 2016...
The year started terribly for markets. Markets plunged 12% in the first two months. All the sectoral indices were down on a year to date basis. PSU banks were beaten down most.
Sector Performance between January - February 2016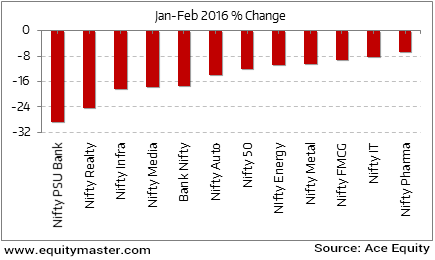 The Nifty PSU Bank Index was down about 28% in the first two months of 2016. The financial media and most analysts on the street hated the sector. Take a look at some of the headlines from those first two months of the year...
PSU Banks in The News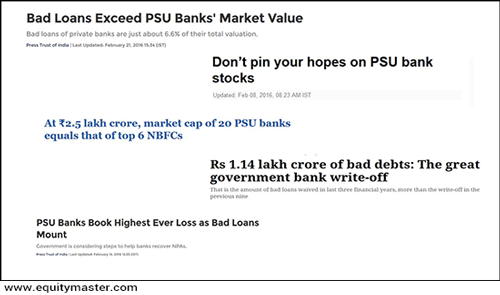 Now, though I'm a trader, I admire Warren Buffett. And when I recommend trades to my Swing Trader subscribers, I always have this classic Buffett quote in the back of my mind...
--- Advertisement ---
Apurva's Latest Trading Strategy has been Downloaded 9,000 Times in Less than 9 Days...

Our top chartist, Apurva Sheth (Research Analyst), recently released his latest special report:

How To Boost Trading Profits in Four Easy Steps

In just under 9 days, over 9,000 copies of this report have already been downloaded.

If you are serious about giving a boost to your trading profits, then we strongly recommend you grab your copy today.

Worth Rs 950, you can claim a copy of this report for Free. But only for a limited period.

Click here for more details...
------------------------------
'Be fearful when others are greedy and greedy when others are fearful.'
PSU banks were out of favour and market participants were fearful of holding any government bank. It was time to be greedy.
I'd recommended a couple of bank stocks earlier in the year, but my first double-digit winner came in May 2016.
18.24% Gains in PNB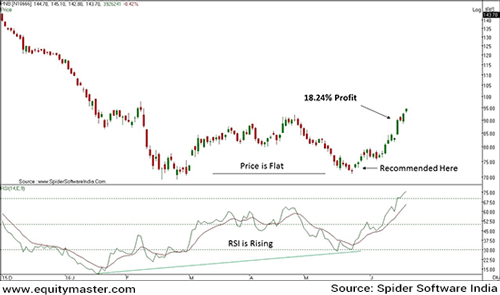 PNB had topped out near 230 in December 2014 and then fell into a vicious downtrend for the next year and a half. It hit a seven-year low of 69.25 in February 2016.
By April 2016, it managed to bounce back about 30% from those lows, hitting a high of 92.15. But it failed to sustain at those levels and moved down again close to the previous lows.
However, the daily RSI (Relative Strength Index) diverged sharply from the price. It hit an all-time low of 11.32 in January 2016, but stayed above 30 levels in May. This was a classic case of a bullish divergence, which suggested a reversal could be possible in the short term. So I recommended it to our subscribers.
Our trade went live on 26 May at 74. Our stoploss for this trade was 69, 6.76% below our entry price. And our initial target was 84, 13.51% above our entry price.
We trailed our target and stoploss higher as the stock moved up. Finally, our revised target price was achieved on 14 June and we closed this trade with gains of 18.24% at 87.50.
Now 18.24% in nineteen days is good, but it's not great. And that's because what happened to the stock after we exited it.
Just have a look at this chart.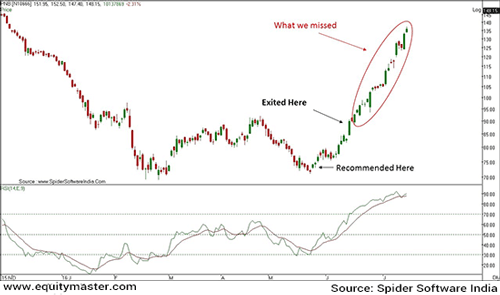 The stock went on to rally even higher. It almost doubled in a matter of weeks. It moved from a low of 71 in May to a high of 137 in July.
That's a big move. We identified the stock correctly but only got a small portion of the entire rally.
Is there a way we could have captured a larger portion of the rally? Is there a way to make bigger returns from the same stock?
Fortunately, there is.
Here's how you do it...
Let me be very clear about this. Trading is a game of probabilities and not certainties. You may think you have identified an optimal entry point, but the stock may be available at a better price the day after you bought.
Similarly, you may decide a target price beforehand based on your calculations, but you can never really tell for sure if the stock will reach that level. The stock may fall short or overshoot.
Hence, the best way out is to use trailing stoploss and ride the trend because you never know how long will a trend last.
Let's use a trailing stoploss of 10% in PNB and see how it changes the equation.
Triple Booster to Profits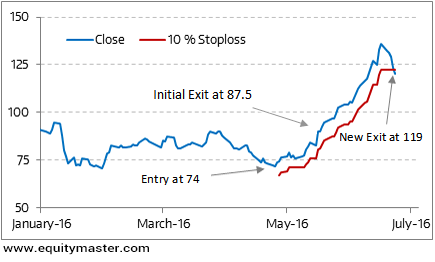 I have plotted the daily closing price of PNB in blue in the above chart. The line in red is a 10% trailing stoploss calculated from the highest closing price. So as the stock moves up, the trailing stoploss moves up along with it.
We have marked an entry in PNB at a price of 74 based on our earlier recommendation. But instead of holding it with a specific target, one could hold it with a trailing stoploss of 10%.
You can notice that the trailing stoploss allows us to ride the trend for a longer time. It triples the profits from 18.24% to 61.41%. PNB touched a high of 137.85 on 18 July 2016 and closed below the trailing stoploss level of 122 on 22 July 2016.
We mark an exit from the stock the day after it closes below the trailing stoploss level. In this case, the next trading day was 25 July 2016. The stock opened at 119.45. That becomes our new exit price, which is 61.41% above the entry price of 74.
This is impressive. But is this all you have to do to boost your profits?
No...there's much more to it than simply using a trailing stoploss.
A trailing stoploss would help you boost profits only when you are able to capture a larger trend. And the best place to capture big trends is when they are reversing...from down to up.
Stocks do not move in one direction for a long time. After a prolonged downtrend, they consolidate and move up. This is an ideal place to get in a stock for bigger returns.
You need to have a solid process to identify such long term reversal points in stocks. If you can do that then you can boost your profits four to five times.
If you are aiming to boost your returns, then I have a good news for you. I have written a special report, How to Boost Trading Profits in Four Easy Steps, where I reveal a process that can help you boost your returns.
This report is worth Rs 950, but I am giving it away for free. Its available only for a limited time. As per the latest available data, more than 9,000 readers have signed up for this report. Don't miss your opportunity.
Download the report right now!
It's early in the year, and this year can be different for you. Anisa, our colleague at Common Sense Living is sharing a report that can give you the chance to make a real difference this year. Click here to read it. Read what Anisa says can make the biggest difference.
A Small Step That Will Make A Big Difference To Your Wealth
How is this year going to progress for you. Let me guess.

In early 2017 you'll make a handful of smart decisions about the next 20 years of your life. You will come to see them as some of the best decisions you ever made.

One decision you make will be to never invest the same way again. Another will be to never work the same way again. A third will be to completely change the way you think about money - and you will be richer for it.

I don't just mean richer 'spiritually'. I mean your actual net worth will grow. Faster than it's grown in a long time. Like a balloon sucking air from a pump.

Because of your decisiveness, your money worries will disappear. You won't be so stressed out. Your hair won't turn grey.

The 'decisions' I'm talking about are things you've had on your mind for years. About how to make more money. About how to find more time. About putting yourself first. And about how to have your investments pay off and work harder for you.

But then...you never found the time (or possibly the motivation) to act on them. Maybe you were too busy. Or you felt overwhelmed. Or 'something came up'. Or - for reasons you don't even remember now - you just kept putting them off.

And so another year goes by. Another year older, you wonder where the time went, and end up even more frustrated about your lack of progress.

You feel 'stuck'.

But that doesn't have to be the case. You can make a few smart decisions...and be living a happier, freer and much richer life.

Go here to find out how.
This edition of The 5 Minute WrapUp is authored by Apurva Sheth (Research Analyst).
Today's Premium Edition.
Today being a Saturday, there is no Premium edition being published. But you can always read our most recent issue here...
Recent Articles