If India Were a Listed Company, Would You Buy It Today?
Feb 27, 2017
In this issue:

» The Impact of Automation on IT/BPO Services workers
» The effect of Notebandi on GDP growth
» Mark Ford's prized formula for wealth creation
» ...and more!
If India were a listed company, how would you rate its fundamentals and management quality?
This question came to my mind one day during a post-lunch stroll at Nariman Point. And I was instantly hooked.
I found it insightful to think of the Indian economy as one large conglomerate. And I realised that just as we evaluate the fundamentals of companies, we can use the same framework for economies as well.
At Equitymaster, one of the first things we are trained to ask is: What advantage (or moat) does the company have over its competitors? We believe the answer to this question will give a clear indication of the long-term sustainability and profitability of the business.
So I applied the same approach to evaluate India's fundamentals, as if it were a company. And my analysis said that India resembled a commoditised business...one that lacks pricing power.
A commoditised businesses has to carve an advantage on the cost front. For India, the cost advantage comes from low wages.
And if you apply this logic, you will understand the reason behind the success of India's IT industry. It's mainly based on a cost arbitrage.
Assuming this same logic, it was widely believed that rising wage costs in China would open the gates for many businesses to migrate to India, to capture the cost arbitrage. And in turn, this would help India emerge as the world's next manufacturing powerhouse.
But theories are theories. We like to know the ground reality.
Are Chinese jobs really coming to India?
Last week, my colleague and big-picture expert Vivek Kaul, presented an insightful reality-check on the assumed logic...
The minimum wages for semi-skilled labour in most Indian states are lower than Vietnam, China and Indonesia. Despite this, the space being vacated by China is not being taken over by India.

As the Economic Survey points out: 'The space vacated by China is fast being taken over by Bangladesh and Vietnam in case of apparels; Vietnam and Indonesia in case of leather and footwear. Indian apparel and leather firms are relocating to Bangladesh, Vietnam, Myanmar, and even Ethiopia.'

If Indian firms are leaving India and setting up apparel and leather firms in other countries, it is not surprising that the space being vacated in China is moving to other countries and not India.

This is a point I make in my new book India's Big Government-The Intrusive State and How It is Hurting Us: 'In fact, if we look at the cost factor, India has the second lowest manufacturing cost (Indonesia is lower) among the top 25 exporting countries in the world. Nevertheless, it is important to realise here that companies set up a manufacturing base in China not just because of the low cost, but also because of the very good infrastructure that was available. And such an infrastructure is clearly not available in India right now. Indeed, almost all countries in East Asia offer an easier working environment than what is available in India.'

Hence, when it comes to capturing the space being vacated by China, two major factors are holding India back, logistics and labour laws. India's labour laws essentially ensure that Indian firms continue to remain small and in the process they lack economies of scale to compete internationally.
Like I said earlier, the fundamentals of the Indian economy are similar to that of a commoditised business with no bargaining power or competitive advantage. And as Vivek explains, India's low wage cost advantage is going down the drain. In a nutshell, India's biggest advantage is in deep danger.
Coming back to our research process. The second critical question we ask about a company is the quality of its management. How competent and honest is the company's management?
As a citizen of the country, you have a stake in India's future...the very same way a minority shareholder has a small stake in a listed company.
You have every right to question and know what the 'management team' (read: government) of the country is doing with your money and resources. This is the very motivation behind everything that Vivek researches and writes about.
For nearly a year, Vivek has been meticulously researching, evaluating, and compiling the performance of India's 'management team'. Based on his extensive research, he has now made a big, controversial prediction.
He is convinced that India's 'management team' would prefer you didn't know about it.
But it's something that could potentially impact your immediate future...
And we want to warn you about it before it's too late.
Click here to read About Vivek's controversial prediction.
--- Advertisement ---
Last Chance To Grab Our Special Report For FREE

Research Analyst Apurva Sheth's special report, How To Boost Trading Profits in Four Easy Steps is a must read for anyone who wants to become a successful trader.

However, there's a catch...

You see, this special report, which is worth Rs 950, is FREE to download...but only for the next 3 days.

After that, this opportunity will disappear...possibly forever!

So don't delay. Download your copy today.
------------------------------
01:15

Chart of the Day

Talking about the job losses, the IT industry is facing several challenges. The most important is automation. According to a study by Horses for Sources, India is likely to lose 640,000 low-skilled IT positions to automation by 2021. This is considering the amount of back office processing and IT support work that are likely to be automated.

The previous twelve months have seen some of the biggest names in technology and e-commerce ranging from Microsoft and Cisco to Infosys and FlipKart taking decisions to downsize their workforce.
Job Loss Scenario in 2021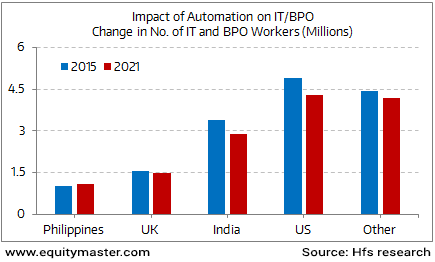 The above chart predicts a 14% decline in jobs for India due to the impact of automation in IT/BPO. This includes a loss of low skilled jobs of 640,000 partly offset by 160,000 mid-high skilled jobs being created.
Talking about the job scenario, it is important to look at what Vivek Kaul has to say about demographic dividend.
Here's Vivek:
Over the years I have come to realise that one fundamental point behind what has come to be known as the India growth story is the demographic dividend of India. The demographic dividend of a country essentially is a period of two to three decades when the birth rates go down and this leads to a situation where the workforce of the country is growing at a faster rate in comparison to its population.

The demographic dividend benefits a country if the government of the day is able to create the right environment in which jobs are created.
However, as the Economic Survey points out, there has probably been a decline in long-run employment growth in the 2000s relative to the 1990s. Not to mention, a decline in the employment elasticity of growth. The survey also mentions that the challenges of creating job opportunities will be significant given that labour force growth rate exceeds employment growth.
Given this situation, the demographic dividend can easily turn into a demographic nightmare.
Ever since Notebandi, we have seen several GDP growth projections. These were from the likes of the IMF, World Bank and others which include credit rating agencies, financial institutions, and leading economists. It was common knowledge that demonetisation would negatively impact India's GDP growth. But by how much?
Well, the government will release GDP growth numbers for the December quarter tomorrow. This will provide clues on how the economy has responded to the government's decision of Notebandi.
As per an article in Mint, India's economic growth may slow to 6.1% in the third quarter of FY17 on the back of disruption caused by notebandi.
It is important to note that the earlier estimate did not consider the impact of demonetisation. CSO projected that India's GDP growth would slow down to 7.1% in FY17 from 7.6% in FY16. This is on account of a slowdown in manufacturing.
It will be interesting to see how GDP growth estimate pans out in FY17. Watch this space.
Our top chartist, Apurva Sheth, editor of Swing Trader, has released a special report - How to Boost Trading Profits in Four Easy Steps. Apurva reveals what he believes could be an extremely effective stock trading strategy which can be implemented in four easy steps.
This report, which is worth Rs 950, is absolutely free to download for you...but not for too long. It is going off the shelf in three days from now. More than 13,000 readers have already downloaded this report since its release. Have you downloaded it yet? If no then here's your last chance.
Download your report right now.
Anisa, our colleague at Common Sense Living has an important announcement....
Nine reasons to see this wealth formula

Mark Ford is releasing his prized formula for wealth creation again. Just for a limited time.

He calls it his 'cheat sheet' on the most important things he has ever learned about building wealth... the universal truths about generating extra income and increasing net worth that will work for anyone in any place at any time of life.

Why should you be interested in seeing this formula?

Here are nine good reasons...
You're not rich yet. In spite of your best efforts, all your hopes and dreams, you still aren't on Easy Street. Don't wait any longer. Easy Street is this way...
You have debts you can't shake. Mark was sixty grand in debt when he came up with this formula. His net worth is now in the high-eight-figure range. He'll show you how to do what he did: pay off your debts inside of a year without going bankrupt.
You're worrying about the future. The future is coming whether you're prepared for it or not. Mark can show you how to build an eight figure net worth from nothing. That buys some future!
You've never known what it feels like to spend money without guilt. Wouldn't you - just one time - love to go into a high end clothes store... car showroom... electronics centre... and splurge just for the sheer, exhilarating fun of it? Think: next Diwali could look very different...
You've watched other people get rich all your life and you feel 'left behind'. You only get one shot at life. Don't waste yours watching other people get all the good stuff...
You realise hard work alone isn't getting you anywhere. This is a real kick in the pants, I know. But it's true. Hard work (on its own) doesn't make you rich. The richest people make money passively. Mark will show you how he does it.
You're running out of time for your stocks to go gangbusters. If you're pinning all your retirement hopes on the Sensex going nuts you might need to develop a different strategy (you may already realise this).
You'd like to know - for sure - that you can live out your retirement in style. There's one way to make that happen, and you can start accumulating it right away: extra income.
Mark and his team will look after you: they'll treat you so well - with courtesy and respect - you'll start to feel like you're rich from the first moment you deal with them.
In the meanwhile, after opening the day on a flat note, the Indian share markets have continued to trade on a weak note and are trading marginally below the dotted line. Sectoral indices are trading on a mixed note with stocks in the IT sector and Oil & Gas witnessing maximum buying interest. Auto stocks are trading in the red. At the time of writing, the BSE Sensex was trading up 18 points (up 0.06%) and the NSE Nifty was trading down 14 points (down 0.16%). The BSE Mid Cap index was trading up by 0.1%, while the BSE Small Cap index was trading up by 0.2%.
04:55

Today's investment mantra

"Opportunities come infrequently. When it rains gold, put out the bucket, not the thimble" - Warren Buffett

This edition of The 5 Minute WrapUp is authored by Ankit Shah (Research Analyst).
Today's Premium Edition.
The Tell Tale Signs of Books Being Cooked
A score based system to identify companies in trouble.
Read On... | Get Access
Recent Articles