What's Common Between India's Loss to Australia and this Beaten Down Smallcap
Feb 28, 2017
In this issue:

» What India's Loss to Australia Taught Me About Investing
» The effect of Notebandi on India Inc
» Double Digit Profits in Four Easy Steps
» Market roundup
» ...and more!
What a shocker. Yes, we lost. But it was the manner of our loss that shocked me.
Never in my wildest nightmares could I have imagined a 333-run defeat in under three days. But it happened. Our long unbeaten run in home test matches came to an abrupt end.
India's unbeaten run began in December 2012. That was a long time ago. I'd become used to our team winning at home.
And now the streak is over.
I couldn't help but wonder if it's the end of an era. Will we bounce back next game? Maybe. Maybe not.
I told myself I shouldn't worry about it too much. Maybe this loss is just a black swan event!
As these thoughts swirled in my mind after the match, I remembered a quote...
'Many shall be restored that now are fallen and many shall fall that now are in honor.'
I read it in the classic investing book, The Intelligent Investor.
This is as true in sport as it is in investing.
Great teams don't remain great forever. Great companies don't remain great forever.
A team performing poorly today could become a world beater a few years down the line. A company that's far away from the limelight today could become the next Infosys.
I realised something...
It was good that we lost. It was a great wake up call. As a fan, I hope our team dumps all complacency and bounces back strongly in the next match.
Alas, I can't say the same as an analyst. I have seen far too many companies get complacent.
It seems to be a curse that affects every successful company. They believe what got them to the top will keep them at the top.
But it's not true.
In this era of rapid change, every company, no matter how dominant, must be quick to adapt. If they aren't, they could die a slow death.
You don't want to be an investor in such a company. You don't want to invest in stocks that are in honour now but destined to fall.
On the other hand, wouldn't it be great if you could invest in a stock that has fallen but will be restored? It's not hard to imagine the money you could make.
Imagine for a moment that the Indian and Australian cricket teams are stocks.
Imagine making a long-term investment in the Australian team's stock just before the 1999 World Cup when their dominance began.
Or in the Indian team's stock just after the disastrous 2007 World Cup. We all know what happened four years later, don't we?
But people don't invest like this.
They should.
I know it's not easy. But it's not difficult either.
For example, consider our latest small-cap recommendation. No one can deny that it's fallen right now. But the Hidden Treasure team discovered that it would be restored.
That's why we recommended it earlier this month...and it's up about 17% already.
But that nice jump in the stock price doesn't mean the company is restored. At least not yet. We believe there's a lot of upside still to come.
Will it give us returns like the imaginary Australian stock? We are excited to find out.
You too can partake in this restoration and can gain access to the recommendation here.
Meanwhile, next match, I hope we turn the tables on the Aussies.
02:00

Chart of the Day

December quarter results for most of the companies are out now. A peek at the results would not suggest that one of the biggest economic events - notebandi happened in the quarter. For companies in the non-financial sector, both sales and operating profit have grown. What more, the growth in the topline has been positive for the first time since September 2014. Operating profit too has recorded the highest growth since June 2014.

This may suggest that concerns on corporate sector were overblown. However, as an article in Livemint suggests, this could be a superficial conclusion.

Consumer goods and discretionary expenses were the worst hit segments due to demonetisation. If the overall results look positive, it has a lot to do with a favourable base effect.
Notebandi: The Impact on Earnings Estimates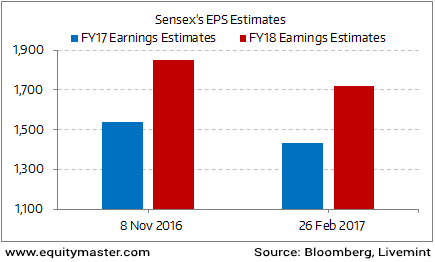 In fact, the real impact on earnings is yet to be seen. As far as Sensex's earnings estimates are concerned, the analysts are already accounting for a downward revision until FY18.
As per CMIE data, there has been an inventory pile up across a lot of sectors. Whether this gets converted into sales soon will depend on the rebound in the consumer demand. And that in turn will depend on how soon remonetisation happens. Unfortunately, a lot is left to be desired on that front.
In our view, the real victim in the long run will not be listed firms. They could in fact gain from the 'going cashless' drive. The actual impact will be seen on the informal sector that runs mostly on cash and accounts for 48% of India's total output and 80% of employment. This impact may not be captured by Sensex earnings or estimates, yet will have a severe impact on the overall economic growth and sentiments.
Readers would do well to consider companies (while investing) that could benefit the most from such shifting economic climate.
As far as the Hidden Treasure team is concerned, we believe demonetisation has unlocked a great opportunity for resilient businesses and great managers in the small cap space.
As I wrote in the recent Research Digest:
In our meetings with managements, one of the common challenges these companies tell us about is competition from the unorganised segment. The latter operate locally on a low scale and rely mainly on cash sales.

With all the changes taking place around us, it is the informal segment and unlisted small businesses that will be worst hit. The cost of doing business for companies in the unorganised segment is likely to go up.

And demonetisation is just the beginning.

As accounting norms are likely to become clearer and stricter for all, tax evasion will be difficult. Meanwhile, India is expected to take further steps in the direction of a cashless economy.

Further, with GST close on the heels, the story of India, for listed small companies, will become better at the cost of unorganised segment.
Value migration from unorganised to organised sector will take a few years to play out. Meanwhile, our top chartist and research analyst, Apurva Sheth shows how to clock double digit profits like 61%, 50% and 60% within few weeks to months.
Apurva has revealed his secret to hitting double digit profits in a special report How to Boost Trading Profits in Four Easy Steps. His extremely effective stock trading strategy can be implemented in just four simple steps.
This report is worth Rs 950 but for you it's absolutely free if you download it within next 48 hours. This report will go off the shelf in a few hours from now and I am sure you don't want to miss this opportunity. So download this report right away without fail.
Download your report right now.
Equitymaster helps you manage your wealth and increase it in the most efficient way. Our sister concern HelpYourNGO has a tip that will help conserve some of your wealth while improving the life of someone in need!
It's nearly March. You have one more month to get your tax saving papers in order. You're rummaging through medical bills, mutual funds statements, receipts for school fees. Are you missing anything?
Most people are! HelpYourNGO brought to our attention that you can claim 100 % tax exemption under Section 80GGA when you donate to a specific subset of NGOs (subject to certain limits). These are NGOs who are awarded a 35AC certificate from the Government of India. In his Budget speech this year, Finance Minister Arun Jaitley announced that the Government would be permanently withdrawing Section 35AC/80GGA after 31st March this year.
Remember - don't donate to any NGO of your choice. A 35 AC certificate is hard to come by, so only a handful of NGOs actually possess the certificate. HelpYourNGO has prepared a simple Search Tool that lets you explore eligible NGOs and projects. You can choose from 45 vetted NGOs across India with nearly 100 projects. Your money can enable treatment of cancer patients, construction of an old age home, or even sponsor a mid-day meal for a child. You can see standardised financials of these NGOs and read more about their work too.
Here's your chance to take advantage of this exemption. Don't let the opportunity slip from your hands!
After opening the day on a flat note, share markets in India continued to remain range bound. Sectoral indices are trading on a mixed note with stocks in the oil & gas sector and stocks in the PSU sector trading in red, while stocks in the realty sector are leading the gains.
The BSE Sensex is trading down by 11 points (down 0.1%), and the NSE Nifty is trading, down by 9 points (down 0.1%). Meanwhile, the BSE Mid Cap index is trading flat, while the BSE Small Cap index is trading up by 0.6%.
04:55

Today's Investment Mantra

"The stock market is a no-called-strike game. You don't have to swing at everything - you can wait for your pitch." - Warren Buffett

This edition of The 5 Minute WrapUp is authored by Richa Agarwal (Research Analyst).
Today's Premium Edition.
A Rare Strategy to Select Deep Discount Stocks
A strategy that could filters stocks that are classic bargains with huge margin of safety.
Read On... | Get Access
Recent Articles