Why Wouldn't You Do This to Make More Money
Mar 1, 2017
In this issue:

» BSE Smallcap Index Hits a Fresh Long-Term High
» India Still the Fastest Growing Large Economy
» Apurva's Profit Guide
» Market Update
» ...and more!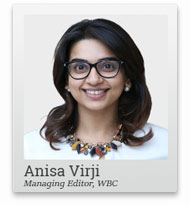 You spend your whole life working hard, educating yourself, making sensible decisions... to end up working at a job that pays a few hundred rupees an hour. Or a few thousand. Either way, you're not drowning in wealth. So you do the next best thing.
You save and invest. Save. Invest. Save. Invest. Save. Invest... (ad infinitum)
If this sounds like you, then I'm afraid you are trapped in a chakravyuh.
That's not fair, you think. What choice do I have?

I'm already working 10-14 hours a day. I can only work so many hours in a day. Which means, until I get my increment, I can only make so much money in a day, right?
Wrong. So wrong. For every one hour of your day, you can have two streams of income, even three or more, coming in.
Say, for example, for one hour you get paid:
Rs 1,000 at your job (Assuming a 30 lakh per year salary, and 60 hours a week of work).

But in that same hour, while you are focused on your job, your passive streams of income could be actively making you more...

Your money-making website could make you an additional Rs 1,000 in advertising (Totalgadha.com, a website for students preparing for MBA entrance exams, was at one-point earning INR 15 - 20,000 per day from marketing alone.)
Your online financial newsletter that you sell could make you another Rs 1,000 in sales online.
Add Rs 1,000 in commission from a business who pays you to write sales letters. Every time they sell using your letter you get a percentage of sales. But we're being conservative (SD has made Rs 200,000 in commission over a weekend. Read his story here).
You've invested in commercial real estate are renting out that property getting Rs 1,000 there.
And you have invested in a few businesses, some of which are doing well and you get Rs 1,000.
You are not physically present in any of these places. And yet, money streams in. You could potentially do this and make more than five times your hourly salary, outside work, without even looking up from your desk at work.
Annually, you have already made it to eight-figures. In a few years, you could retire well.
And I am not even counting here your interest and dividends from stocks and other financial instruments.
Now, obviously, it is not all so neat and tidy. Some streams will be more consistent than others. Some will require more work to set up, some require more knowledge, and some require more investment.
Some will take time to catch on, while others will start streaming in cash right away. Some will fizzle out, or not be worth it, so you will abandon them. Others will be too much work but profitable, so you'll hire someone to run it for you.
But some extra income streams may swell up so that you are able to live completely off your passive income, and everything else can get invested.
And that is how you build real wealth.
Having extra income streams is one of the best-kept secrets of the super-rich.
With a second source of money coming in, all the stress that comes with trying to stretch your regular income - whether from a pension, dividends, or even a salary - disappears overnight...
You don't feel trapped and can actually enjoy your work. You can even enjoy spending! Imagine that...
The truth is, the average Indian earner does not enjoy spending. Why? Because it feels like we work SO hard for so little money and spending it away on leisure or luxury seems like a waste of hard work.
I'd rather save that hard-earned cash to line my mattress so I can sleep soundly at night, we think.
We don't even dare to look at top-of-the-line anything - always choosing the average. And living, consequently, an average life.
Every year when it comes to vacation planning you have one eye trained on the costs - domestic or international? Oh no, look at those prices. How about Kerala this year. Or Thailand if we must, but definitely not Europe.
But with passive income that problem is solved. Since you haven't worked so hard for that extra income, you are open to enjoying it (sensibly, of course). But you allow your family, and even yourself, the occasional splurge. You can choose the destination of your choice. You can give your family the best.
You can choose your best life possible.
And that is what the Wealth Builders Club can show you how to do. But today is the last day the doors are open for membership. So don't miss out. Click here to sign up now, and create a real change.
You spend your whole life working hard, educating yourself, making sensible decisions... and you end up in a chakravyuh. Why wouldn't you do this one thing that will actually help you break out of it? Go here.
--- Advertisement ---
Free Download: How To Boost Trading Profits in Four Easy Steps (Only Today)

In the 15 days since release, this special report has been downloaded over 20,000 times...

We hope you have grabbed your copy already...because if you haven't, then this is absolutely your very last chance to do so.

This report, which is worth Rs 950 is available for free download only till midnight today...after that, this opportunity could disappear forever.

So, don't wait even for a minute.

Click here to download this extremely popular report...
------------------------------
03:10

Chart of the Day

Post Notebandi, the markets have been on a roll. The BSE Smallcap index has soared a whopping 19% during this period. In yesterday's intraday trading session, the Smallcap index made a fresh 9-year high of 13,699, highest since January 2008.
BSE Smallcap Index Continues to Soar Higher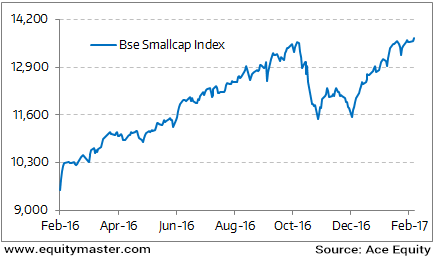 Richa Agarwal, our specialist in finding hidden gems in the small cap space spoke on opportunities demonetisation had created in the Research Digest dated November-2016. (Subscription Required)
For most stocks, demonetisation has not changed the long-term fundamentals. Though it indeed has led to short-term uncertainty. And as we all know, markets hate uncertainty. Hence the correction in small caps.

As for our process, demonetisation changes nothing. We are sticking to cardinal rules of investing. For us, buying stocks means having part ownership in the business. We will stick to the businesses we understand and the managements we like. If there is enough value, we will scoop them.

What has changed for us is the gap between the intrinsic value and the price of many stocks, and it has changed for the better. It's time to take action.
Indeed, markets since then have been on a roll. Richa and her Hidden Treasure team understand that Mr Market aka volatility is your friend and one must learn to benefit from his overreactions.
The GDP numbers for the period October-December 2016 have surprised and stunned economists and the people alike. India's annualised GDP numbers during this period came in at 7.0%. This was tad lower than growth of 7.4% witnessed in the earlier quarter. However, much better than economists expected.
India thus continues to remain the fastest growing large economy. Does this mean vindication for the Modi government? We do not think so. Vivek too makes a case against believing in these reported numbers at one's own peril. According to him, when GDP is calculated using expenditure method. The private consumption expenditure for the period October-December 2016 has risen by 10.1% compared to last year. Here is Vivek:
It is very difficult to believe that private consumption expenditure grew by 10.1 per cent during October to December 2016, despite demonetisation. There is something that clearly does not add up here...

And given that private consumption expenditure forms a bulk of the GDP, all in all, this tells us that there is something that just doesn't smell right about India growing by 7 per cent in October to December 2016, when the currency situation was very tight.
You can read the complete article in his diary here.
Last Chance to Boost Your Trading Profits.
A few days back our top chartist and research analyst, Apurva Sheth released a special report - How to Boost Your Trading Profits in Four Easy Steps. So far more than 15,000 readers have signed-up and downloaded this report. Many of these readers have appreciated the special report. They have found it informative, interesting and most importantly full of wisdom.
This report is worth Rs 950 but Apurva has decided to give this report for free. Yes, you can download this report by 11.59 pm today without paying a single rupee. So don't miss this opportunity. This could be your last chance to access this report.
Indian equity markets continued to remain on a strong note tracking economy's surprising GDP growth at 7% in the October-December 2016 quarter. At the time of writing, BSE Sensex was trading higher by 205 points and NSE-Nifty was trading higher by 56 points. Sectoral indices are trading on a mixed note with stocks in the oil & gas sector and stocks in the consumer durables sector trading in red, while stocks in the realty sector are leading the gains.
04:55

Today's Investing Mantra

"Someone's sitting in the shade today because someone planted a tree a long time ago." - Warren Buffett

This edition of The 5 Minute WrapUp is authored by Anisa Virji (Research Analyst) and Rohan Pinto (Research Analyst).
Today's Premium Edition.
A Good Time for IPOs, Bad Time for IPO Investors
As the hoopla around IPOs intensifies, the more it crescendos, the worse long-term returns from IPOs are likely to get.
Read On... | Get Access
Recent Articles