3 Stocks to Consider Buying in Coronavirus Stock Rout
Mar 4, 2020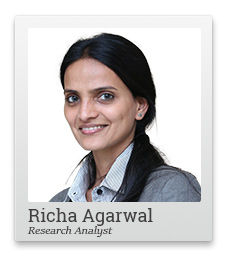 What a week!
It is not often that Sensex falls 7% in a single day. As Rahul Shah recently wrote to his subscribers:
...There have been only 47 instances in the past 30 years where the Sensex has declined by 6% or more in a single week. That's a frequency of just 3 out of 100.
The Sensex last Friday shed over 1,400 points (down 3.6%), while smallcap index was down 500 points (down 3.5%). And while there is some respite as I write this, I won't be surprised if things turn for worse.
It's a humbling moment, for me and I'm sure for all from the financial and analyst community.
Of all the variables that went into markets, business and economic forecasts, it was Coronavirus that caused the biggest swing, one that was never factored in. Indeed, a black swan moment. Until now, the volatility used to be about 'known unknowns'. This time, it's an 'unknown unknown'.
So how do we factor it in now, knowing that there is no cure for Coronavirus yet, and that Indian stock markets have already caught the flu.
--- Advertisement ---
READ: FULL Transcript of Our Urgent Broadcast

The full transcript of our urgent broadcast on India's Revival is available for a limited time now.

In case you missed watching our broadcast LIVE...

You can see all the important highlights from our broadcast in this transcript.

Please note that we may take this transcript off the internet any minute.

So it is highly recommended you read it immediately.

Click Here to Read the Transcript NOW
------------------------------
Like I shared with my Hidden Treasure subscribers recently, I believe a flashback will help.
In 2002-03, the period when SARS epidemic broke, there was a 22.5% fall in the Sensex (from highs to lows in that period).
Too many years have passed since. I was studying then... not tracking the event with an analyst's eye.
But you run a google search, the headlines sound scary, just as they do now.
SARS was termed as the greatest economic crisis since the currency crisis in 1990 - disrupting production schedules and trade, as well as induce a crisis of confidence that could re-orient international investment patterns.
And it did have some consequences for the economy and markets for a while.
But none that lasted.
Even though there is a possibility that the near-term damage would be higher, given the increased linkage amid global economies, I believe it will be the same case this time - This too shall pass.
My team and I have been tracking the management commentaries with regards to Coronavirus for a few months now.
Given that China is a factory to the world accounting for ~70% of manufacturing exports, yes, there is a concern of supply disruptions, when it comes to raw materials.
Especially in the manufacturing sector and industries in like Pharma, auto, electronic goods, telecom.
But then, China is also one of the biggest competitors for India in global markets, across sectors. So while there are a lot more variables to the demand and supply equation, in certain segments, Indian companies do stand to gain to some extent from the production closures in China and with importing economies looking for trade partners other from China.
So what should you do?
Here's what I believe:
Unless you believe that this is the end of the world and India, there is no reason to panic.
Fundamentally, the implication of virus for every business will be different - positive for some, negative for others, and neutral for the rest.
In the short term, the earnings for some businesses could be impacted.
And there could be further correction driven by the sentiments and potential impact on the earnings this year.
However, structurally, this could be positive. I believe that this event will lessen China's share in global imports and a substantial opportunity could be diverted to India, an advantage that will stay even when the viral effect subsides.
They say what doesn't kill you makes you stronger.
Here's the investing strategy that will help you avoid getting killed...
Investing only in stocks with great fundamentals backed by solid management teams
Having a long horizon period
A risk management framework.
--- Advertisement ---
[Watch Now] 3 Little-known Stocks We are Super Bullish On




Click Here to Watch Now
------------------------------
I cannot insist enough on how critical the last point is- It means one must have a diversified portfolio with limited exposure to a single stock and sector, and to equities as an asset class.
As for the rebound and emerging stronger opportunity...I believe you could ride it by considering:
Rebound Riches: 3 Stocks Set to Become India's Next Mega-Stocks.
Before I wrap up, I would like to leave you with a statement Warren Buffet made in his annual letter to his shareholders, more than two decades ago:
"We will continue to ignore political and economic forecasts which are an expensive distraction for many investors and businessmen. Thirty years ago, no one could have foreseen the huge expansion of the Vietnam War, wage and price controls, two oil shocks, the resignation of a president, the dissolution of the Soviet Union, a one-day drop in the Dow of 508 points, or treasury bill yields fluctuating between 2.8% and 17.4%. But surprise-none of these blockbuster events made even the slightest dent in Ben Graham's investment principles. Nor did they render unsound the negotiated purchases of fine businesses at sensible prices. Imagine the cost to us, if we had let a fear of unknowns cause us to defer or alter the deployment of capital. Indeed, we have usually made our best purchases when apprehensions about some macro event were at a peak. Fear is the foe of the faddist, but the friend of the fundamentalist."
I have underlined a part of the above quote, for this is the gist of advice I have to offer today.
I believe that with the right allocations, long term horizon and a solid process of selecting stocks, this could be the decade's best and biggest buying opportunity in smallcaps.
Warm regards,



Richa Agarwal
Editor, Hidden Treasure
Equitymaster Agora Research Private Limited (Research Analyst)
PS: Several small cap stocks have seen a massive correction in light of the fearful environment - our small cap expert Richa Agarwal believes this is the time to buy before they run up. Get Richa's best small cap stocks now.
Recent Articles