The Story of Robots More than Mere Gloom & Doom
Mar 6, 2017
In this issue:

» Automation may have more impact on Jobs in Future than in the Past.
» Will the Government fulfill its fiscal deficit promise?
» ...and more!
The premise is that we have the world's largest working age population and not enough jobs, a big threat to India's economic growth prospects and socio-political stability.
Last week, I showed you how our government's 'Make in India' dream is turning into a nightmare.
It was widely believed that rising wage costs in China would encourage many businesses to migrate to India, to capture the cost arbitrage. And in turn, this would help India emerge as the world's next manufacturing powerhouse.
But as I explained with the help of findings from my big-picture colleague Vivek Kaul, India is not taking over the manufacturing space China is leaving. It is moving to other countries. And the real shocker is that Indian apparel and leather firms are relocating to Bangladesh, Vietnam, Myanmar, and even Ethiopia.
Vivek named two factors responsible for this disaster - poor logistics and labour laws...
When it comes to capturing the space being vacated by China, two major factors are holding India back, logistics and labour laws. India's labour laws essentially ensure that Indian firms continue to remain small and in the process they lack economies of scale to compete internationally.
I believe a third fast-emerging factor is set to steal potentially millions of jobs from India: robotics.
Robots are already replacing workers in China.
Here's proof...
A factory in Dongguan replaced 90% of its human workers with robots. This factory used to be run by 650 workers. Now, it's run by just 60 workers.
And here's more...
The factory's production has jumped 250% and there has been a remarkable improvement in quality. Defects have dropped by 80%.
The general manager of the factory believes the number of required employees will drop to 20.
Are You Prepared to Compete with Robots?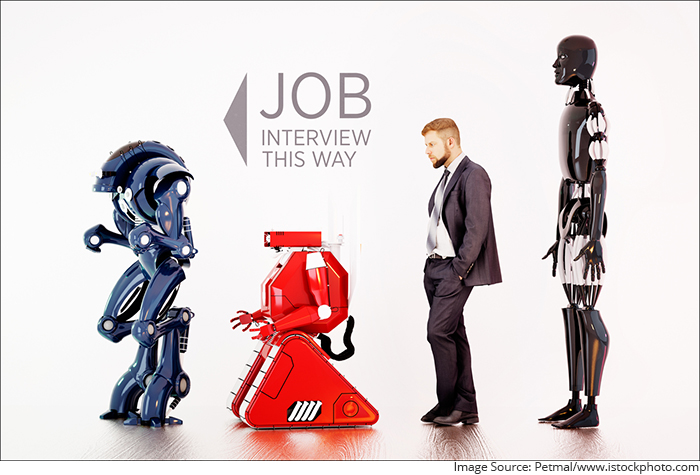 The truth is robots are getting faster, cheaper, smarter, and better. And they don't go on smoke breaks or strikes.
Do you think the average Indian worker can offer a better deal?
I don't.
Now sit back and look at the big picture. The Indian economy is already struggling to create jobs. We already have a job crisis. And now, robots are ready to steal India of its low wage cost advantage.
But wait, robotics is not about gloom and doom, especially if you are an investor. My colleague Richa Agarwal (Research Analyst), head our small-cap recommendation service, Hidden Treasure, is very enthusiastic about robotics...
Every big wave of change brings in crises and opportunities. The important question is: Which side of the wave are you on? I think robotics presents a fantastic opportunity for investors.
Richa and her Hidden Treasure team are constantly on the lookout for high-potential small businesses that are harnessing the immense potential of technology, automation, and robotics.
In fact, one niche small-cap company she identified has created a solid competitive advantage by developing robots in-house. And the stock is already up 74% in a year's time.
Our message for you is this: If you ignore the robotics megatrend, it may become a crisis for you. But if you face it head on like we do, you can find great opportunities to thrive and make big money.
--- Advertisement ---
The First Step Towards Notebandi 2.0...

If you believe that Notebandi is over...you're mistaken.

In fact, in my view, the government has already taken the first step towards Notebandi 2.0.

It was a small step, 'hidden' in this year's budget...

But it's something that could have a huge impact on your life!

So, don't delay...

Click here to know all about Notebandi 2.0.
------------------------------
03:45

Chart of the Day

Automation has been with us for ages. And it hasn't threatened mankind yet. Sure, some jobs have been lost along the way. But overall, automation has made us more productive and raised our standard of living.

We have always found ways to adapt and find new opportunities amidst automation. However, is the past a correct reflection of the future?

If you take a very long-term view, people adapt...new opportunities arise...and life goes on.

However, let's not pretend this massive storm will pass us by without leaving real devastation in its wake.

The possibility of artificial intelligence eating up jobs and incomes is not an abstract threat. It's real, and it's approaching fast.

Let's take a look at some numbers on unemployment in India.
Unemployment to rise going ahead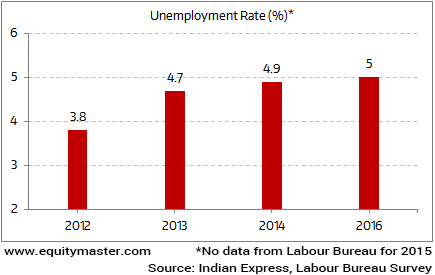 As per the latest United Nations labour report, India's unemployment level is set to rise through 2017 and 2018. In other words, job creation is expected to remain stagnant.
But there's high probability these numbers are understated. The unemployment rate reported by the BSE website puts the current unemployment rate at over 6%.
India has been struggling with jobless economic growth since over a decade. According to the latest Economic Survey, annual employment growth in India was only 0.5% during the period 2004-12, while labour force growth was 2.9%. This is in sharp contrast to India's gross domestic product (GDP) which has been growing at over 7%, on average, for quite a few years now.
One of the important yardsticks to measure the financial health of an economy is fiscal deficit. It is the difference between the government revenues and expenditure. The difference is generally bridged by debt.
The present government is committed to reduce the gap. The long term fiscal deficit target is 3% of the Gross domestic product (GDP). This simply means relatively less expenditure. Hence, less government spending.
In last one decade, India has made some serious efforts to reduce the fiscal deficit level. Ever since the new government came in, it has been in favor of fiscal consolidation and meeting the long term fiscal deficit target of 3.2% by FY17-18.
As of January 2017, India's fiscal deficit had already touched 105.7% of the budgeted target of FY17.
The government has retreated on its fiscal deficit target of 3.5% of gross domestic product (GDP) for FY17. Generally last two months have better tax collections and helps the government to meet the fiscal deficit target.
However, if we look at the same period last year, the fiscal deficit was 95.8% of the full-year target. This clearly shows the government is lagging behind. One of the reasons could be higher government spending to negate the effect of notebandi.
StockSelect turns fifteen.
Yes, fifteen years of recommending the most attractive blue chips...and doing it well!
It is among our most popular and most rewarding services.
Between 2002 and 2016, closed StockSelect recommendations have an accuracy rate of 78.7%. Meaning eight out of every ten stocks we recommended closed at a profit. It's a track record anyone would be proud of.
But it's not all about the strike rate. Tanushree and her team have also excelled at return magnitude. Many of their picks have put even small cap multi baggers to shame in terms of the returns they have generated.
And so we hope you'll agree: Such a huge milestone calls for a celebration! Watch this space for details...
After opening the trading day on a firm note, Indian markets continue to trade strong in the morning trade on fresh buying by retail investors amid a mixed trend in other Asian markets. Gains are largely seen in oil & gas stocks and power stocks. Meanwhile, IT sector and consumer durables sector trade in red.
The BSE Sensex is trading higher by 213 points and the NSE Nifty is trading higher by 61 points. The BSE Mid Cap index is trading up by 0.7% while the BSE Small Cap index is trading higher by 0.5%. The rupee is trading at 66.84 to the US$.
04:55

Today's Investing Mantra

"Be fearful when others are greedy, be greedy when others are fearful" - Warren Buffet.
Today's Premium Edition.
Global Offshore Services Continues Freefall...
Global Offshore Services has fallen more than 80% in the last fifteen months and 90% in the last two years. What the heck is going on?
Read On... | Get Access
Recent Articles