Swadeshi Steel - A New Megatrend in the Making?
Mar 9, 2017
In this issue:

» Upside for small commodity players?
» Update on markets
» ...and more!
Back in 2015, the government set the ambitious target of 300 million tonnes of steel production by 2025. That's almost three times current steel capacity. Historically, steel production has grown 6.5% annually. For the government to reach its goal, steel production would have to increase about 15% annually. That's more than twice the GDP.
Is this possible?
To find out, let's step back and look at the overall industry structure. The sector has seen excess capacities. Demand prospects aren't exciting either. Several steel companies are experiencing debt servicing difficulties. The sector constitutes around 30% of total gross NPAs.
Other issues such as raw material security, infrastructure and logistic support, and trade policies also need to be addressed.
At this stage, it looks like an impossible target.
Nevertheless, the government did manage to curtail cheap imports by imposing a minimum import price (MIP). This slightly improved the supply side of the equation. Demand, however, remains sluggish.
But now it looks like the government will soon mandate the use of local steel in government infrastructure projects. The government will pitch it as a WTO-compliant protectionist measure. The aim is to further cut cheap imports.
In the Budget 2017-18, the government gave a massive push for infrastructure spending. It will invest Rs 3.96 trillion in creating and upgrading infrastructure. As per Steel Ministry, the preference for these projects will go to "Swadeshi" steel.
This would certainly take care of the demand side of the equation. But does this mean a new megatrend in the making?
We don't think so.
Although it's a big opportunity, there is substantial capacity already in place or coming soon. Furthermore, the MIP is not WTO-compliant. This is a stop-gap arrangement until other measures are taken. Cheap imports are bound to hit the market in the coming year. This will hurt the demand-supply equation...and, in turn, steel prices.
Mind you, the steel industry is capital-intensive as well as cyclical. Most investors focus on future demand more than supply. But changes in supply often drive industry profitability.
To ride the megatrend in the infrastructure space, we prefer an indirect and relatively safer route.
One of The India Letter recommendations has the potential to ride the infrastructure and steel recovery story. The company has a robust business model and a strong financial profile that provides a nice cushion.
Our way of evaluating commodities stocks is simple. We claim to have no special expertise in predicting commodity prices. Consequently, we don't try to value commodity firms using the earnings method. For earnings are highly sensitive to commodity prices and if you can't predict the latter with reliable accuracy, you can't rely on the former.
How, then, do we value commodity stocks? Well, we do the next best thing: We rely on a valuation parameter that's more objective and less susceptible to change than earnings - that is, the company's assets.
This parameter helped us book 118% gains on a large commodity stock in 2016. We think the time is ripe to take a re-look at such safe stocks. Download our special report - Sensex 40,000.
--- Advertisement ---
ALERT: You Don't Want To Miss This

StockSelect, our "Safe Stocks" service, just crossed the 15-year milestone.

And to celebrate, we have an extraordinary offer for our readers...

This Special 15th Anniversary Offer gives you an opportunity to claim an additional year of StockSelect, virtually FREE.

Yes, like we said its extraordinary...

However, we can't keep this open forever...In fact, this opportunity is open only till 11:59 PM 21st March.

So, you need to act NOW or you may regret it later!

Click here for full details.
------------------------------
02:15

Chart of the Day

The government's proposal to give domestic steel makers a preference in government projects should protect them from cheaper imports. But in the meanwhile, the steel makers are chasing imports out by ramping up production. In February, domestic steel output rose by 12.9% YoY, as large private steel producers such as Tata Steel and JSW Steel ramped up output. Imports during the first eleven months of FY17 dropped by 39% YoY.

But the bigger concern is weak consumption growth. The consumption data over the past few months clearly show that there are no takers for domestic steel. So steel makers have been forced to export more, with overseas shipments up by 78% YoY in the fiscal till February.

We do not think the trend is sustainable. And unless domestic consumption picks up, steel producers may have to take price cuts to utilize their capacities.
No Takers For Domestic Steel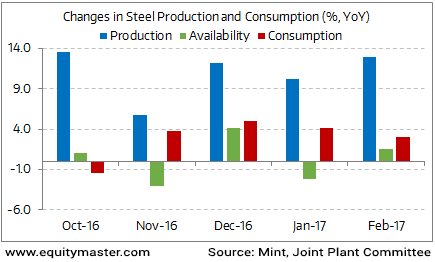 Small and medium enterprises (SMEs) that are dependent on commodity prices saw a surge in margins for a brief period till early 2016. Significant over capacities, lower global economic growth, curtailed demand from China, and a rising US dollar had combined to consistently subdue prices between mid-2014 and early 2016. However, the trend in commodity prices has reversed since then. In fact, the scale of revival in prices since then has been almost unprecedented in the post-financial crisis era. Oil prices stood out with their 66% gain in 2016. But the rally in metal prices took many by surprise. This was on the back of expectations of a large infrastructure push in the US under the Trump Presidency.
Companies in the small cap space have been extremely vulnerable to such volatility in commodity prices. It is expected that the rally in commodity prices may not continue too long from here, particularly because of slowdown in China. However, we do not think it would be wise to bet on the revival in margins for small commodity players. With their limited pricing power, negligible hedging against forex risks and inability to handle large inventory, one needs to be very careful about investing in such stocks.
After opening the day on a flat note, stock markets in India continued to remain range bound. Sectoral indices are trading on a mixed note with stocks in the oil & gas sector and stocks in the metal sector trading in red, while stocks in the Auto sector are leading the gains.
The BSE Sensex is trading up by 22 points (up 0.1%), and the NSE Nifty is trading down by 2 points (down 0.03%). Meanwhile, the BSE Mid Cap index is trading flat, while the BSE Small Cap index is trading down by 0.3%.
04:55

Today's Investment Mantra

"We always look at them as businesses, whether we're buying the whole thing or 100 shares" - Warren Buffett

This edition of The 5 Minute WrapUp is authored by Sarvajeet Bodas (Research Analyst) and Tanushree Banerjee (Research Analyst).
Today's Premium Edition.
When IPO Hype Does Not Translate into Value: Bharat Financial Inclusion
Bharat Financial Inclusion has been on a roller coaster ride since its IPO in 2010.
Read On... | Get Access
Recent Articles