Have Sarkari Banks Found Their Groove Post Notebandi?
Mar 10, 2017
In the Issue

» Risk of rising defaults from weak banks
» Falling digital transactions, a cause for worry
» Market Roundup
» And More...
00:00

Chart of the Day
I travel by the metro daily.
One constant feature of metro rides in Mumbai are the colourful ads adorning not only the inside and outside of the metro trains but all over the stations. New-age companies are big-time metro advertisers as they aim to catch the attention of the young, urban consumer.
So I was surprised the other day to find Bank of Baroda splashed all over the Andheri station. In fact, the whole station - one of the busiest in the Mumbai network - has been renamed Bank of Baroda Andheri, a marketing tactic to maximise exposure and recall value.
Such high-decibel marketing campaigns are reminiscent of private sector banks aggressively wooing retail consumers. But when an old and established state-run bank like Bank of Baroda - which had been all too happy to service corporate clients - suddenly bursts into the retail banking scene...it takes this bank stock analyst aback.
Many state-run banks have slashed their lending rates in a bid to grab a share in the home loan and personal loan segments.
The state-run banks are gearing up their retail portfolios to beat the slowdown blues.
Necessity is the mother of invention, as they say.
However, the realisation has come a bit late for public sector banks (PSBs).
PSBs dominate the banking industry in India with more than 60% of the total outstanding loans. They chose the easy life of issuing big-ticket loans to large corporations over the hard work of reaching out to many small retail subscribers. Extending credit to small and medium enterprises (SME) was also limited - to the extent of meeting priority sector lending targets set by regulators.
Moreover, large-scale bureaucracy and a lack of autonomy ensure the sub-optimal profitability and asset quality of state-run banks.
But the economic downturn dealt a double whammy to their financials. Low capacity utilisation in most sectors adversely impacted the earnings of India Inc. As a result, a bulk of the bank loans extended to the corporate segment turned bad and ate into their profits. As on 30 September 2016, the stressed loans of state-run banks had surged to 15.8% of the outstanding loans. Even bank credit growth has fallen to multi-decades low.
No wonder most PSB stocks are trading at a discount to their book values.
Amid this gloom, one bright spot is that credit penetration in India - as measured by the ratio of credit to GDP - is the lowest in the world. And flush with liquidity post notebandi, state-run banks are going all out to tap into the retail and the SME segments with a clutch of innovative offerings.
Credit penetration in India Remains the Lowest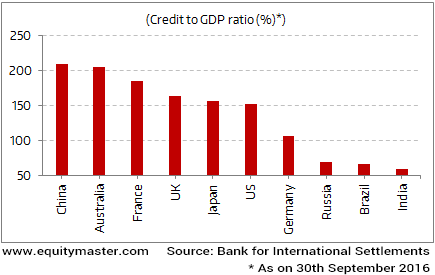 Does this mean the PSB fortunes are set for a turnaround?
Well, for starters, we believe the shift in focus towards the underbanked segments is certainly a step in the right direction. But it isn't likely to yield immediate results.
The surfeit of capital has heated up competition in this segment with private sector banks also cutting rates. As lenders resort to undercutting to grab a bigger share, the banks' pricing power and interest spreads are likely to reduce further. Firming bond yields mean treasury income will no longer prop up their earnings. And as state-run banks remain saddled with bad loans, it will be a while before their profitability reaches more benign levels.
In other words, the return ratios of PSBs aren't likely to improve overnight on the back of the low-cost capital deluge or the steep rate cuts undertaken to boost credit offtake. They also need to address the nagging problem of stressed loans, which have crossed the Rs 12 trillion mark as per the Economic Survey.
Bad loans will continue to depress the profitability of state-run banks and undermine their capital strength for future growth. However, the larger PSBs, with their wider reach and financial prowess, are likely to be much better equipped to weather the storm.
Instead of betting on the sector's turnaround, we've been advising subscribers to avoid losing money in PSU bank stocks. So, we turned cautious on the sector way back in 2014. This was well before the market had caught a whiff of the NPA problem. We've recommended just two large PSU banks in StockSelect since then...and already successfully closed one of them.
We don't believe we can pick the safest stocks by speculating on sector trends. Rather, the time is ripe to buy safe stocks based on a hidden undercurrent.
Download our free special report to know how.
--- Advertisement ---
ALERT: You Don't Want To Miss This

StockSelect, our "Safe Stocks" service, just crossed the 15-year milestone.

And to celebrate, we have an extraordinary offer for our readers...

This Special 15th Anniversary Offer gives you an opportunity to claim an additional year of StockSelect, virtually FREE.

Yes, like we said its extraordinary...

However, we can't keep this open forever...In fact, this opportunity is open only till 11:59 PM 21st March.

So, you need to act NOW or you may regret it later!

Click here for full details.
------------------------------
Talking about the economic downturn dealing a double whammy to banks' financials, here's another grim indication of the stress they are facing. Global rating agency Fitch Ratings estimates that Indian banks remain at risk of defaulting on their interest payments on their debt securities in the next couple of years.
This stems from the fact that a large number of them are under-capitalised, it opined.
Persistent losses coupled with weak internal generation of capital has meant that distributable reserves at small to mid-sized state banks were down by about 33% YoY during the first nine months of the current financial year.
And breaching minimum capital requirements set out by the RBI is further accentuating the risk of missing coupon payments on capital instruments for some banks.
Low valuations means banks' ability to raise capital via the equity route will remain tricky. For now, it looks like most public sector banks remain highly dependent on the government for their capital needs. However the amounts allocated by the government for this purpose seems insufficient. A difficult conundrum for banks to get out of.
The surge in bank deposits due to notebandi seemed like a saving grace for banks. The hope was that the surge in digital transactions would sustain, thus ensuring that a large part of the inflow of deposits at banks would remain with them.
However, things don't seem to be going this way.
As next week's deadline to lift all limits on cash withdrawals comes closer, reports point to the quantum of digital transactions seeing a consistent and large fall.
As the RBI lifts the current Rs 50,000 a week limit in the coming week, depositors will then be able to withdraw as much cash as they want from their bank accounts.
And with that, digital payments have fallen almost to pre-notebandi levels. Not a very great thing for both banks as well as the government's push for a cashless economy.
The Indian stock markets were trading marginally positive on the back of buying activity across a bulk of the index heavyweights. At the time of writing, the BSE-Sensex was trading up by around 55 points. Gains were largely seen in IT and auto stocks.
04:50

Investing Mantra

"We don't have to be smarter than the rest. We have to be more disciplined than the rest." - Warren Buffett

This edition of The 5 Minute WrapUp is authored by Madhu Gupta (Research Analyst).
Today's Premium Edition.
The Good Ol' IPO Days Are Back!
Half-a-dozen companies are set to raise Rs 60 billion in March and early April through IPOs, making it the second-best month for IPOs in the past six-and-a-half years. What should your approach to investing in IPOs be during such times?
Read On... | Get Access
Recent Articles