How This Strategic Super Investor Led to This Month's Recommendation
Mar 12, 2019
Last year, my colleagues and I attended the investor conference of Kajaria Ceramics.
We were interacting with the management for the first time. We were excited to meet them as the company regularly showed up on our screeners.
We were pleased with the fact that the management was very transparent.
They gave us a good overall picture of the industry.
They explained the challenges they faced post - demonetisation and GST.
They described their growth outlook for the industry and how Kajaria was geared up to meet several opportunities and challenges.
Unfortunately, we couldn't recommend the stock at that time due to the lack of margin of safety.
However, there was one moment in the conference that caught my attention.
It was when the management gave credit to a private equity fund - WestBridge Capital
Why?
Before I answer that, let me tell you, WestBridge Capital is one of the 40-odd super investors we track in Smart Money Secrets.
Our list of super investors includes individuals and also fund managers like Rajeev Thakkar of PPFAS Mutual Fund.
WestBridge Capital doesn't fall into either category.
They are an example of a PIPE (Private Investment in Public Equity) Fund.
We believe, tracking diverse investment philosophies and stock-picking styles gives up an edge in picking winning stocks for our subscribers.
Coming back to WestBridge Capital. It is a prominent private equity firm. It invests via its investment arm - Jwalamukhi Investments.
WestBridge manages over US$ 2 billion. It invests mainly in midcaps and smallcaps. They focus on industries such as consumer, financial services, building materials, and light industrials.
They also seek to partner with companies run by outstanding managements.
This is why the management if Kajaria gave credit to WestBridge.
You see, WestBridge helped the company in branding and marketing. A strong brand and good product recall, helped the company expand across India.
Kajaria's Increasing Ad Spend Post WestBridge Investment
| | FY12 | FY13 | FY14 | FY15 | FY16 | FY17 |
| --- | --- | --- | --- | --- | --- | --- |
| Advertising as % of Net Sales | 1.7% | 1.7% | 1.7% | 2.5% | 2.4% | 3.1% |
Data source: ACE Equity
Today, Kajaria Ceramics is the market leader in ceramic/vitrified tiles.
In 2017, WestBridge successfully exited from Kajaria Ceramics. See today's Chart of the Day for more.
It was a win-win partnership.
Our upcoming Smart Money Secrets recommendation is inspired from this theme.
WestBridge owns a stake in the company. We see a pattern similar to Kajaria in this company too.
With the recent market correction, the stock available at decent valuations.
If you've subscribed to Smart Money Secrets, expect my recommendation report in a few days.
If you haven't subscribed to Smart Money Secrets, you can sign up here.
Chart of the Day
In 2013, Kajaria Ceramics issued 2 million shares on preferential basis to WestBridge. Further, in 2014, 3.9 million warrants were converted to equity shares by WestBridge.
The average acquisition price was about Rs 255 per share. WestBridge invested about Rs 1.5 billion in the company.
WestBridge Investments in Kajaria Ceramics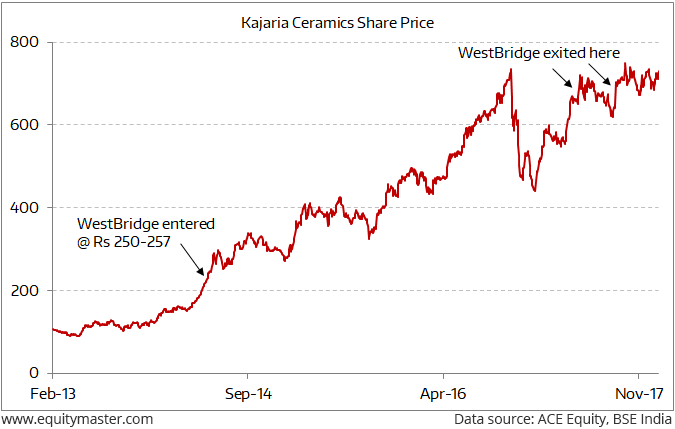 In 2017, WestBridge sold all its holdings at an average price of Rs 710.
That's more than 275% in 4 years.
During this period, Kajaria Ceramics focused extensively on brand-building and expanding its dealership network throughout India under the guidance of WestBridge.
The company cemented its leadership in ceramic/vitrified tiles.
Indeed, this is a great example of a win-win partnership.
We believe, the story of our upcoming Smart Money Secrets recommendation will play out along similar lines.
Regards,


Sarvajeet Bodas (Research Analyst)
Co-editor, Smart Money Secrets
PS: Radhika Pandit and Sarvajeet Bodas, co-editors of Smart Money Secrets, are ready to recommend their next stock. If you haven't subscribed to Smart Money Secrets yet... you can do so here.
Recent Articles