Why the Organised Sector Will Prevail
Mar 15, 2017
In this issue:

» Indian companies outperform despite notebandi
» Identify and Profit from Long term trends
» Market roundup
» ...and more!
I come from a small town of Rajasthan. These towns in India rarely have a shopping mall or multiplex theatre. Standalone shops dominate the market. But this is changing.
The pace of development in small cities is slower than the metro cities. It took around fifteen years for a supermarket chain to open its first store in my hometown.
But when it finally did, it completely changed the way people shop.
Why?
One reason is the quality of the goods and service. The supermarkets generally source their food and vegetables from higher quality vendors. A small vegetable vendor or kirana store simply can't compare to the quality at the supermarkets.
A second but perhaps more critical reason is the pricing. The super chain stores operate on big scales and procure large quantities of inventory. This gets them great discounts form the vendors, which they pass on to the customer. And given their scale, they make better profits than the standalone stores.
A third reason is the rising income levels and aspirations of many Indians.
Imagine a small kirana store competing with DMart. It's bound to lose on the quality, pricing power, and scale. This makes it nearly impossible for a small player to compete with a mega player like DMart.
It may take some time for organised players to reach the small towns. But once they do, they tend to become the new market leaders very quickly.
And supermarkets are just one example. Efficient, organised players are gradually replacing standalone, unorganised players across sectors.
Take cinemas, for example. A market once dominated by standalone theatres is now all about multi-screen theatres like PVR. Asian Paints, Page Industries, and Relaxo Footwears are also great examples of this shift from the unorganised to the organised.
GST and Notebandi will further support this shift. The cost of doing business will go up for unorganised players, which will make them even less competitive than their organised counterparts.
My Hidden Treasure team and I are always hunting for organised players winning at the expense of the unorganised players. The organised players can outgrow the industry for a long period.
In fact, this month's recommendation (Subscription Required) is an exact match of what I explained above. The organised player in an unattractive yet growing industry that is witnessing the shift from unorganised to organised.
--- Advertisement ---
StockSelect Just Completed 15 Years

Our "Safe Stocks" recommendation service, StockSelect, just completed 15 years...

And this wouldn't have been possible without valued readers like you.

And that's why, as a thank you...

We are extending you a never seen before Special 15th Anniversary Celebration Offer.

This offer gives you an opportunity to claim an additional 12 months of unrestricted access to StockSelect virtually free.

However, this celebratory offer is available for very limited time.

So, we would recommend that you do not delay and...

Click here for full details.
------------------------------
03:10

Chart of the Day

The Reserve Bank of India (RBI) came out with a preliminary assessment of impact due to notebandi in India. The report noted that the primary impact of the government's decision had a negative impact on the economy initially. However, the adverse impact has been transient as remonetisation has moved at an accelerated pace since then.
Corporate performance post notebandi remains resilient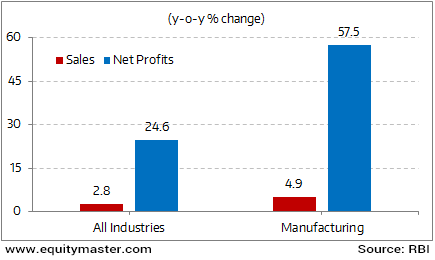 The impact on Indian companies was a mixed one. There was a visible slowdown in sales growth for companies across industries. Manufacturing companies outperformed industries and grew their sales at a robust pace of 4.9% YoY. The key thing to note is that profit margins for the companies across the board. For manufacturing companies, margins expanded from 3.9% in December-2015 to 6.2% in this fiscal. This has resulted in a robust growth of 58% in profits for companies compared to previous year.
We think the December 2016 quarter results do not capture the complete impact of notebandi in India. The whole month of October and a week of November saw above average growth due to Diwali. This excellent performance is masking the overall results of corporate India. India's GDP growth too paints a resilient picture post demonetisation. However, till more data points emerge, it would not be prudent to assume the economy has completely recovered.
Apurva Sheth, our chartist at the profit hunter has found a way to make big returns by identifying the right buying point. Richa states it simply in her Research Digest (Subscription Required). It is all about exploiting manic depressive Mr Market. Here is Richa.
In the stock market, buyers and sellers are in a constant battle. Neither side is completely informed about the intrinsic value the stocks they're haggling over.

Sometimes you may find sellers facing a situation that motivates them to sell stocks below their intrinsic values.

This usually happens during bear markets or when a stock (or a sector) is under a lot of uncertainty or negative sentiment. Such situations are priceless.

A shrewd buyer can make big money by moving quickly into stocks where sellers are highly motivated...to the point of desperation, in some cases.

Then they wait for Mr market to revert to a degree of normalcy and they exit with a hefty profit.
Now, Apurva has developed a system over the year that helps one to profit from the Mr Market's manic behavior. The system is called SCOREFASTTM. This system uses nine indicators he uses to make big returns by identifying profitable long term trends. The good news is Apurva has just launched a new trading service based on the proprietary SCOREFASTTM system.
Curious?
You can click here to know all about Peak Profit Alert.
After opening the day on a firm note, share markets in India witnessed volatile trades and are presently trading marginally higher. Sectoral indices are trading on a mixed note with stocks in the telecom sector and energy sector witnessing maximum buying interest. IT stocks are trading in the red.
The BSE Sensex is trading up 9 points (up 0.03%) and the NSE Nifty is trading up 6 points (up 0.1%). The BSE Mid Cap index is trading up by 0.7%, while the BSE Small Cap index is trading up by 0.6%.
04:55

Today's Investing Mantra

"I insist on a lot of time being spent, almost every day, to just sit and think. That is very uncommon in American business" - Warren Buffett

Editor's Note - As promised by Rohan, we would be bringing you a personal discussion with one of India's finest stock pickers in the next week's issue.

This edition of The 5 Minute WrapUp is authored by Kunal Thanvi (Research Analyst) and Rohan Pinto (Research Analyst).
Today's Premium Edition.
Demand-Supply Gap to Boost the Troubled Hotel Industry
Hotel Industry has seen a steady turnaround due to improvement in general economic conditions.
Read On... | Get Access
Recent Articles