This is Why You Need to Buy Small Cap Stocks Now
Mar 15, 2019
Editor's note: Dear reader, today I've asked our resident expert on small caps, Richa Agarwal, to write to you in The 5 Minute WrapUp. You see, small cap stocks have started moving up recently and many investors are wondering if it makes sense to get back in to them. Richa thinks it is indeed the right time. Read on...
---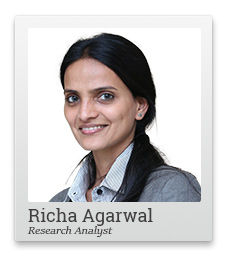 After being down for more than 13 months, small and midcap stocks are rallying.
In just two weeks, the BSE Smallcap index has gone up 10%, while the BSE Midcap index is up by around 7%.
This comes at a time when the mainstream media had completely written off smallcap stocks.
Most retail investors too have made the flight to safety to largecap stocks or other assets like gold and fixed deposits.
However, if you have been paying attention, I've been harping on about the potential opportunities in small-cap stocks when they were beaten down.
Smallcaps have been falling since the start of 2018.
But the fall worsened since September, weighed down by a host of macro factors.
Rising crude oil prices and a Rupee at all-time low levels, followed by a liquidity crunch in the economy, did no good for market sentiment.
All the negative news flow pushed investors away from smallcaps. These stocks bore the brunt of the downturn.
While the macro factors contributed to the smallcap slide, they were not the real reason for the downturn.
The real culprit was high valuations.
In the massive rally that ended at the beginning of 2018, smallcaps had reached unsustainable levels of valuations.
When smallcaps were racing to new peaks, everyone bet on the next big Page Industries or Eicher Motors.
They couldn't get enough of smallcaps.
The retail investor was willing to pay just about anything for them. Consequently, the smallcap index itself touched sky-high valuations.
And then it all came crashing down.
But things could be turning around...
One of the biggest reasons Indian stocks have performed badly - valuations - is now also the reason why they are likely to give great results from here on.
Many small caps are trading at attractive valuations now.
Now you might be wondering, if I still think it is a good time to buy?
Yes, I do.
It is not too late to act now.
Smallcaps have begun their journey upwards but they are nowhere near the highs they touched last year.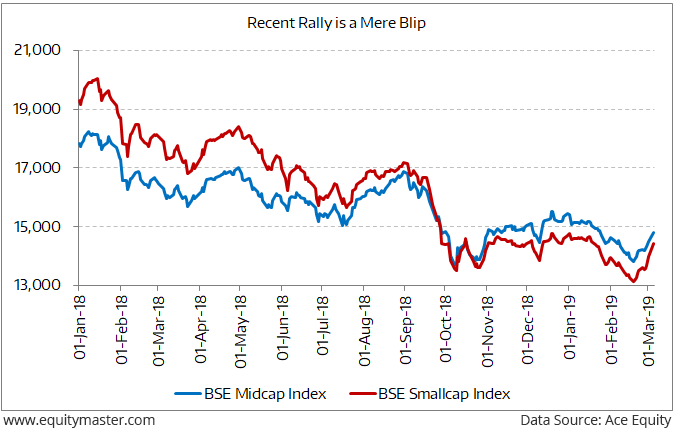 That is not to say that the tide has definitively turned in their favour.
But many fundamentally strong smallcap stocks are attractive at their current prices.
They could prove to be potential multibaggers in the years to come.
This is exactly the approach I take in Hidden Treasure.
I focus on the fundamentals and wait for the stocks to catch up to their intrinsic value.
I have been recommending attractive smallcaps to my Hidden Treasure subscribers in this correction.
As I write this, I have 25 fundamentally strong smallcap stocks in the 'Buy' position to choose from.
So, act now, lest you miss out and take advantage of the opportunity that is available in the best smallcap stocks today.
Regards,



Richa Agarwal (Research Analyst)
Editor, Hidden Treasure
PS: Small cap stocks have started to rally. Our small cap expert Richa Agarwal believes this is the time to buy before they run up. Get Richa's best small cap stocks now.
Recent Articles