Stocks That Will Ride This Biggest Structural Shift Since 1991
Mar 20, 2017
In the issue:

» Is capital infusion in weak banks a good idea?
» India's job crisis is getting worse
» Market roundup
» And more
Twenty-six years ago, the Indian economy witnessed a massive structural shift.
The year was 1991. India adopted a new economic policy marked by liberalisation and privatisation.
The move was defining for the economy and the private sector. And for some investors.
The BSE Sensex has multiplied fifteen times since then. A lot of private listed companies, because of that shift, went on a dream run. Some of these stocks are a part of Sensex and included gains like 443 times (HDFC Bank Ltd) and 931 times (Lupin Ltd).
A lot happened to the Indian economy since then. But nothing as big as the 1991 Budget.
That is, until demonetisation in November 2016.
Our regular readers know our stance on demonetisation. With changing narratives - from black money to digitisation - all it led to was long queues and economic pain. With the data backing us up, we consider it a failure.
Nonetheless, we are excited. For it signals the first step in the formalisation of the economy.
In our meetings with managements, one of the common challenges small-cap companies tell us about is competition from the unorganised segment. The latter operate locally on a small scale and rely mainly on cash sales.
Until now, the Indian regulatory landscape has been biased towards unorganised players. They flout regulations, manipulate accounts, evade taxes, and go scot-free. As such, their cost of doing business is much less than listed and compliant small-cap firms.
Digitisation is a key step to target account manipulations and create a level playing field. Going forward, GST will pave the way for listed small-cap companies to have a smooth ride.
Picture this: Of around eight million businesses under VAT regime, around 90% are in small and medium enterprises (SMEs). As an article in Business Standard suggests, most of these firms lack robust IT systems. Less than 10% are GST ready.
A lack of compliance with GST will increase the working capital needs of SMEs. On the other hand, listed compliant firms will enjoy a cost advantage due to tax efficiencies.
So, if I had to pick the biggest structural story unfolding in the Indian markets, it would be the value migration from the unorganised to the organised sector
As liberalisation took the wind away from PSUs to the private sector, the formalisation of the economy will boost the prospects of listed small-cap businesses...at the cost of unorganised players.
With the right bets in the small-cap space, this value migration could be as big an opportunity for investors as liberalisation. Know more about such bets through our small-cap recommendation service.
--- Advertisement ---
Less than 48 Hours Left

You have Less than 48 hours left to claim your 12 months of additional access to StockSelect...virtually free!

That's right!

Our Special 15th Anniversary Offer expires at 11:59 PM 21st March.

Don't miss out!

Click here.
------------------------------
02:15

Chart of the Day

While value migration could be the biggest opportunity, if I have to do a SWOT analysis for Indian economy, bad debts and precarious position of banks would be the number one threat.

A lot of measures have been announced to address the issue. The latest has been capital infusion for 10 PSU banks that include weak and non- performers.
The Big Rescue Plan for Weak Public Sector Banks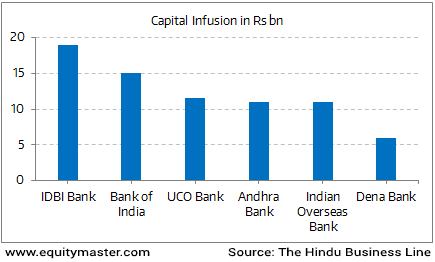 The condition is that banks will have to attain certain quarterly milestones before they avail capital support. The arrangement will include the government, bank management and employees of the concerned bank.
The milestones are around bad debt management, better credit under writing and monitoring, arranging capital from the market, continuing plan for disposal of non-core assets and divestment of subsidiary stake to closure of loss making branches. Interestingly, it also includes adjustments in employee benefits and reduction of operating expenses.
It's a good step to attach strict performance conditions before throwing good money after bad. Yet, given the issues related to asset quality, profitability and governance issues, revamping PSU banks, especially the weaker ones, could be an ambitious target.
Well, bad debts are not the only threat we are dealing with. Unemployment is another crisis turning the much-hyped demographic dividend into a liability.
Vivek Kaul has been highlighting this threat that big government is yet to take notice of. And it's not just the conventional manufacturing or agricultural sector facing labour shortage. Even the service sector has not been spared.
As per the latest news, over 6,000 employees at Cognizant Technology Solutions are facing lay off threat for underperformance and skill mismatch issues.
Few months ago, L&T decided to lay off 11.2% of its total workforce, almost 14,000 employees. It attributed the lay off to business slowdown, digitisation and redundancies that led to downsizing.
2,000,000 per year...
That's the number of "new" workers looking for jobs in India! And these numbers are expected to potentially grow in the years to come. The job crisis is indeed getting worse.
And what we are aware of is just the tip of the iceberg. As per Vivek Kaul, the way media has been defining unemployment rate is quite simplistic and fails to capture the gravity of the issue.
I strongly recommend you to read Vivek Kaul Letter - What the Media Did Not Tell You About India's High Unemployment Rate (Subscription required) for insights into the unemployment issue in India.
Vivek Kaul has an important message for you.
After researching the financial meltdown of 2008 with famed economist and writer Bill Bonner, they have released their findings on India. Ignoring these findings could affect you and your future as they have the power to derail India's long term growth story.
To know more about India's looming crisis, collect your FREE COPY of Hormegeddon (pay only shipping and handling). Hurry up! The offer ends today.
After opening the day on a cautious note, share markets in India have continued to remain range bound and are trading below the dotted line. Sectoral indices are trading on a mixed note with stocks in the consumer durables sector and stocks in the realty sector trading in green, while stocks in the IT sector are leading the losses.
The BSE Sensex is trading down by 151 points (down 0.5%), and the NSE Nifty is trading down by 39 points (down 0.4%). Meanwhile, the BSE Mid Cap index is trading up by 0.2%, while the BSE Small Cap index is trading up by 0.3%.
04:50

Investing Mantra

" You do things when the opportunities come along. I've had periods in my life when I've had a bundle of ideas come along, and I've had long dry spells. If I get an idea next week, I'll do something. If not, I won't do a damn thing." - Warren Buffett

This edition of The 5 Minute WrapUp is authored by Richa Agarwal (Research Analyst).
Today's Premium Edition.
What Does Air Passenger Traffic Data Tell Us?
The Indian aviation industry witnessed a healthy growth during the first 10 months of FY16. Does this mean an opportunity to buy aviation stocks?
Read On... | Get Access
Recent Articles