Two Meetings That Nailed the Idea of Owning Brilliant Smallcaps Without Buying Them
Mar 22, 2018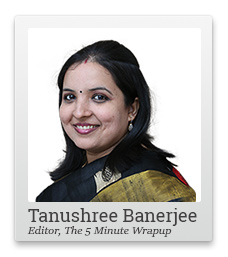 Over the last one week, I had two good management meetings. When I say good, it means the managements offered insights that I would have never had from their balance sheets.
Both companies were potential smallcaps, yet to get listed.
Why did I meet small-cap companies, that too unlisted ones? After all, I always endorse safe blue-chip stocks every day.
Well, it helps to know the other side of the coin. Also, I need to know if there are smaller players poised to displace the dominant behemoths. If so, I can warn you about them well in advance.
Coming to the meetings, one was a formal meeting with the managements of State Bank of India's unlisted subsidiaries.
This was the first ever opportunity to come face to face with the managements who run over 30% of SBI's consolidated balance sheet.
The other was an impromptu meeting with the managers of one of India's largest poultry farms.
There was nothing common between the businesses, except for the managements' similar approach towards sustainability and profitability.
You see, most small businesses are typically aggressive when it comes to growth. They also tend to depend on a single or a few products in a haste to achieve targets. This makes them vulnerable.
--- Advertisement ---


Benefit from the Market Crash, With These 5 Safe Stocks

For over 15 years, our Safe Stocks recommendation service has recommended solid stocks that have stood the test of time.

Even today, amongst the fear of a market crash...

We have used the accumulated experience of over 15 years to bring you...

The top 5 safe stocks that could potentially strengthen your portfolio.

And today, you can claim this special report...!

Click here to find out how...
------------------------------
But in this case...
Neither management had planned for growth just to get visibility. Instead their growth plans were tied to improved profitability.
Both had growth plans with much longer tenure than that of their peers.
Both had very little chance of succumbing to market forces thanks to certain inbuilt safety nets.
The subsidiaries of SBI, India's largest bank, are in businesses ranging from insurance, to mutual funds, to credit cards, and investment banking. Each with its own set of challenges. But each has tided over headwinds thanks to the support of the strong promoter.
The poultry company, unlike most of its peers and a listed competitor, does not buy multiple feeds and multiple breeds for the sake of growth. Rather it lets its best in-house breeds (which are like its subsidiaries) rake in volumes and profitability.
In both cases, the numbers speak for themselves. SBI's standalone profits as a share of consolidated profits, has fell from 82% in FY12 to 74% in FY16, before the merger with its associates.
Not because SBI underperformed. But because its subsidiaries' performances were remarkably better.
In the case of the poultry company, the profit margins were consistently at least 5 times that of the largest listed player, over past decade.
Now, betting on smallcaps requires you to take three kinds of risks.
Their vulnerability because of single product or market
Possibility of a successful turnaround in financial performance
The management's ability to grow while correctly allocating capital
And here's what Buffett said about turnarounds...
Both our operating and investment experience cause us to conclude that turnarounds seldom turn. The same energies and talent are much better employed in a good business purchased at a fair price than in a poor business purchased at a bargain price.
Smallcaps, no doubt, can be big wealth creators because of their size, growth potential, and nimbleness.
But betting on them independently and paying a fair price for future growth is fraught with risks.
What if you don't have the appetite to take on the risks that come with small caps? Will you then have to forget about the possibility of huge gains?
There's another way to own some brilliant small caps without actually buying them.
How?
Buy the big blue chips that have full or substantial stakes in brilliant subsidiaries.
This way, you will need to pay only for the standalone business. Then hold on long enough to see the subsidiaries turn into multibagger small caps.
It's like buying HDFC before HDFC Bank, Gruh Finance, and HDFC Standard Life Insurance were listed.
Or buying M&M before Tech Mahindra, Mahindra Finance, Mahindra Holidays, and Mahindra Lifespace were listed.
Or buying Bajaj Auto before Bajaj Finserve, and Bajaj Finance were listed.
I'm sure you get the idea.
Over time, the subsidiaries will get listed and the market will pay a premium for them.
But you, an existing shareholder in the parent company, will benefit from the value unlocking and higher earnings of the parent when the subsidiary is listed.
This way, you can make a lot of money without worry about the market.
There are several subsidiaries of big blue-chip stocks waiting to get listed.
Catch Them Before the Market Prices in Their Value Unlocking Potential
Of course, the opportunities here won't be too frequent or too many. But the risk-return tradeoff is in your favour.
As the Sensex moves to 100,000 over the next decade, several large and mid-cap companies will unlock value from subsidiaries.
For a safety-first investor, this is how you can get the best of both worlds; the safety of blue chips and the high returns of small caps.
Regards,

Tanushree Banerjee (Research Analyst)
Editor, The 5 Minute WrapUp
PS: You don't need to take unnecessary risks to make solid double or triple digit gains in the stock market. Tanushree's selection of the top 5 safe stocks in the market, is the answer. Get it here...
Recent Articles