The Secrets of India's Superinvestors
Mar 23, 2017
In this issue:

» Hindustan Zinc's mouthwatering dividend
» More reason why we would give stocks like D-Mart a pass
» ...and more!
00:00

Chart of the day
Winning a coin flipping contest does not sound exciting enough. Does it?
One would remotely associate such an exercise with his intellectual capacity. And evaluating success in investing based on such menial task would seem like a joke.
But exactly 35 years back, Warren Buffett used this example to prove the efficacy of a small group of investors.
In his 1984 speech at Columbia University, Buffet made an interesting argument. That if Americans were to participate in a national coin flip, only a small group would be consistently successful. This group would be more than eager to flaunt their success. And everyone would be curious to know their secret.
It would be intriguing if the individuals had similar origins. Perhaps it would explain their luck. Of course, each individual would have their own technique, but maybe some common thread causes them to win.
As you may have guessed, Buffett was referring to himself and his co-disciples - the followers of Benjamin Graham who swore by their teacher's value investing principles. He called this group The Superinvestors of Graham and Doddsville and attributed the success of their varied stock-buying techniques to the common thread of Grahamian value investing.
Even at the time of Buffett's speech, the funds managed by Graham's nine disciples had outperformed the benchmark indices by two to seven times.
How the Funds Managed by Superinvestors Outperformed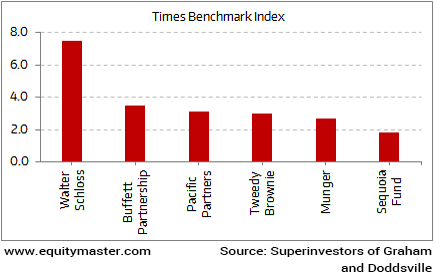 Each superinvestor at Graham and Doddsville had a different approach to selecting stocks. Yet they owed their success to keeping a common principle at the core.
Years later, Charlie Munger laid out what he believed was the reason for his stock picking mastery too..
I believe in the discipline of mastering the best that other people have ever figured out. I don't believe in just sitting down and trying to dream it all up yourself. Nobody's that smart.
Now, this group of superinvestors committed to the art of value investing remains disproportionately small. In the Indian context, just finding the truly successful value investors is a tall task.
But we've been able to conduct a series of exclusive interviews with some India's best, yet largely unknown, superinvestors of the value investing tradition. As we make the attempt, the secrets and track records of some of these little known superinvestors we came across, left us hugely impressed.
More on this in the days to come...
The markets are abuzz with Hindustan Zinc's announcement yesterday of a jumbo sized special dividend. The company has been quick to highlight that together with its golden jubilee dividend paid in April 2016 and interim dividend paid in October 2016, the company's aggregate payout including tax during FY17 comes to Rs 272 billion. This comes to a yield of almost 17% on the company's current stock price.
The company pegs this as the largest dividend outflow by any company in India in a single financial year.
Yes indeed, if paid for the right reasons, dividends can be a powerful source of returns for investors. However, it is important to note that high dividends cannot be the sole reason you to buy a stock. You have to ensure that you buy the right kind of business.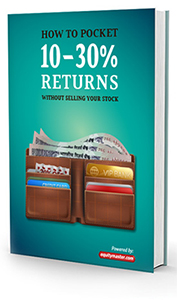 Nothing tells you about the sustainability of a business better than a company's track record in paying dividends over a long period of time. While earnings can be manipulated and are therefore less trustworthy, dividends indicate good corporate governance. Plus, consistent growth in dividend payouts is the best yardstick to measure the management's commitment to creating shareholder wealth.
Yes, there is a way to pocket as much as 10-30% returns from high-growth stocks. That too without even having to sell them!
If you are wondering what this strategy is and whether any companies have offered such returns, we have compiled an exclusive premium report titled "How To Pocket 10-30% Returns Without Selling Your Stock" outlining why and how the strategy works.
Talking about market buzz, perhaps the two words doing the rounds the most these days are 'IPOs' and 'D-Mart'. In fact, a leading business daily goes on to highlight an interesting statistic. It seems that an analysis of ten IPOs that made a debut in past one year and got oversubscription of more than thirty times reveals that the market value of five companies more than doubled from the issue price.
But we believe that looking at things from this perspective can be a very tricky thing to do indeed.
While most investors today are obsessing over such short term performance of IPOs, where we come from is a slightly different point of view.
In stock markets, there is the big money and then there is the sure money.
The big money is made by investing in potential multi baggers where even if a few stocks in the portfolio don't perform, one or two winners can change your life. However, the flip side to this is that the success ratio in this case may not be very high.
Take the example of IPOs. Out of every one or two IPOs that have made investors huge money over the long term, there are seven to eight that destroyed wealth and destroyed it big time. Therefore, imagine the plight of the guy who invests his hard earned money in a game that is not rigged in his favour and where his success rate is a puny 10-20%.
The surer money in our view is made in stocks which do not have a lot of hype around them, which although are decent business models are not priced as high as the D-Mart IPO and which above all, have a low risk of a permanent loss of capital.
Now, there are people who swear by the big money approach and then there are the ones who swear by the sure money approach. Our choice is the latter one and when you view the world of IPOs with the sure money glasses, you have to give stocks like D-Mart a pass. And this is what we have done.
Remember, we are not saying which approach is right or wrong but only trying to highlight the one that we prefer.
The Indian stock markets were trading marginally higher at the time writing on the back of sustained buying activity across most index heavyweights. At the time of writing, the BSE-Sensex was trading up by around 80 points. Gains were largely seen in energy and metal stocks.
04:56

Investment Mantra of the Day

"I'd be a bum on the street with a tin cup if the markets were always efficient" - Warren Buffett

This edition of The 5 Minute WrapUp is authored by Tanushree Banerjee (Research Analyst).
Today's Premium Edition.
Will GST Light up the Cigarette Industry?
Can GST act as a catalyst for India's cigarette industry?
Read On... | Get Access
Recent Articles