Time to Avoid Small-Cap Stocks?
Mar 24, 2017
In the Issue

» Foreign Investors Join the IPO Bandwagon
» Bank Credit Loses its Major Funding Status
» Market Roundup
» And More...
00:00

Chart of the Day
A lot is happening in the markets. The NSE Nifty touched an all-time high last week. D-Mart saw a 102% IPO listing gain. Pharma companies are under pressure from the USFDA. Consolidation is taking place in the telecom sector with the merger of Vodafone-Idea.
With these events and more like them on the way, it makes sense to look at the markets and the current valuations.
The Markets on the Roll...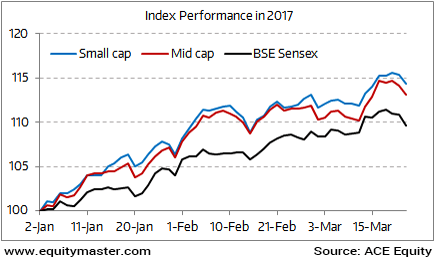 The market is buoyant at the moment. The small-cap index has outperformed with a 14.4% return in the first three three months of 2017. The mid-cap index and the BSE Sensex are up 13% and 9.7% respectively.
Now the important part: valuations. The BSE Sensex is trading at a PE of 22.3x. The mid-cap index is currently at 30.2x. And brace for the shock...the smallcap index is trading at whopping 64.5x. Yes, you read that right.
This is why fund managers are currently avoiding small-cap stocks in favour of large caps. In 2015, fund managers also shunned small cap stocks due to lofty valuations. At that time, the small-cap index was trading at a PE of 47x.
Small Caps Valuations in 2015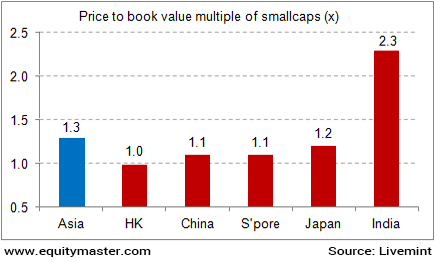 At Equitymaster, we had a different view. In January 2015, Richa Agarwal, managing editor of small-cap service Hidden Treasure, wrote...
Even while the small-cap index may scare away investors with overtly expensive valuations, it is not the time to ignore small caps. All you have to make sure is that you invest only in the right stocks with a sufficient margin of safety in valuations. Having done that, all you need is the patience to stay invested.
With this approach, the HTR team has been able to beat benchmark indices three times and they expect to maintain the record.
So is it time to avoid small-cap stocks?
We don't think so.
First of all, PE ratios can be confusing. They are highly sensitive to dips in earnings. If the earnings of a company fall but the stock price remains the same, the PE ratio can appear expensive.
Second, most large-cap companies have grown like crazy. Further growth would require a big economic boost. Small caps, on the other hand, naturally have the potential to grow much faster than their big, less-nimble counterparts.
No doubt, the overall market looks expensive. It's not time to bet on everything. It's time to be extremely targeted and focused if you want to identify massive India-specific opportunities at reasonable valuations.
This month's Hidden Treasure recommendation presents an extremely focused opportunity. The company's unique asset-light business model...and tailwinds from growing domestic tourism, rising discretionary consumption, and urbanisation...provide an ideal opportunity for investment. Click here to know more about this company (subscription required).
The IPO market has been on fire with big bang openings by several companies debuting in the markets. And the latest to hit the bandwagon is the blockbuster IPO of D-Mart. The IPO has not only oversubscribed by 106 times but also gained 102% on listing. While primary market offerings are not only a hit among domestic investors, they also have huge takers from foreign players. In fact, the endowment funds of the top American Universities are betting big on Indian stocks largely through the primary market route.
Endowment funds of universities are built on money received from donors or alumni and the earnings from investing these funds are used to run the university. These funds - with a long investment horizon- have been forced to try their luck in emerging market equities having faced a dearth of profitable investment avenues in the developed markets. The assets under management (AUM) of global university funds in Indian equities shot up by 74% YoY to Rs 25.9 billion in January 2017. The University Endowment Funds were anchor investors in several recent IPOs such as Alkem Laboratories, BSE, Endurance Technologies, HCG, Inter-Globe, PNB Housing Finance, and Quess Corp. Their cumulative investments accounted for 1-10% of the total anchor book of these IPOs.
Just as endowment funds have strict parameters for choosing stocks to invest, we at Equitymaster also have a rigorous method when we rate IPOs. This is because we believe that paying above the fair price of any business cannot optimise overall returns in the long run.
Public sector banks plagued with corporate bad loans were anticipating some succor in the form of a pick-up in credit growth in the March 2017 quarter. But contrary to their expectations, the credit offtake has decelerated further during this period. In fact, bank credit growth is at a historic low this year and is likely to lag gross domestic growth for the first time in decades. The slowdown in investments by India Inc and the bad loans pile-up are not entirely to blame for the dismal show in bank loan disbursals.
A worrisome trend has been India Inc's growing affinity for non-bank resources such as bonds, equities and borrowings from non-bank financial companies. This has cost bank credit growth dearly. The share of bank credit in the total flow of financial resources to the commercial sector has halved to 22% in the last four years. However, the share of bonds has almost doubled to 33% during this period. Even in FY17, bond issuances totaled more than Rs 5 trillion as compared to Rs 3 trillion of bank loans disbursed.
Therefore, public sector banks hoping to redeem their financial health on the back of revival in corporate credit will have to wait a little longer. And even as bad loan resolution remains a major concern for them, the likely farm loan waiver in UP is expected to further add to their headache as it threatens to compromise the credit quality of agri loans in future. Vivek Kaul has an interesting perspective on this.
After opening the day in the green, Indian equity markets continued to trade firm. At the time of writing, BSE Sensex was trading higher by 130 points and NSE-Nifty was trading higher by 32 points. The mid cap index is trading down by 0.4% whereas the small cap index is trading up by 0.7%.
04:50

Investing Mantra

"You're neither right nor wrong because other people agree with you. You're right because your facts are right and your reasoning is right - that's the only thing that makes you right. And if your facts and reasoning are right, you don't have to worry about anybody else." - Warren Buffett
Today's Premium Edition.
We Ask Again: Why the Rush Towards Digital Money?
The case for a cashless India...and how it can do more harm than good.
Read On... | Get Access
Recent Articles