Everyone Is Greedy. Time to Be Fearful?
Mar 25, 2017
In this issue:

» India Lags in Infrastructure Race
» Wrap Up of the Global Markets
» ...and more
This is a conversation I overheard on my commute a few days back...
Commuter 1: Hey guys, I booked a profit of 103% in D-Mart today.
Commuter 2: Wow! That's great. Congratulations.
Commuter 3: You seem to have become a pro in markets.
Commuter 1: Yeah...thanks. I have invested in all the IPOs recently and have made good money in them. I am now planning to increase my allocation to stock markets.
This guy was on a high after his recent success with initial public offerings (IPOs). And I am sure many other retail investors are also feeling very smart. But that's when you need to be fearful...when everyone else is greedy. When you're greedy.
IPOs attract new retail investors like sugar attracts ants. This was certainly true for D-Mart. Not since Reliance Power have so many people opened demat accounts just to subscribe to an IPO.
There's an old teaching in the market that it's time to get out when retail investors start pouring in. It's sad but true: Professional investors exit when retail investors enter. Which means the retail investor loses...
Here's a chart of the biggest IPOs in Indian history and the percentage drop to the Nifty Index after their listing.
Huge IPOs and Market Tops
The correlation between huge IPOs and Nifty corrections is clear. Almost every Nifty peak came just after a big IPO listing.
India's largest IPO ever, Coal India Ltd, listed on 4 November 2010. The Nifty corrected 28% starting the very next day. After the Reliance Power IPO hit the market in January 2008, the Index corrected 60%. ONGC's IPO came just before a 26% correction to the index. And the list goes on...
Why do you think this happens?
It could be various reasons. Here is one...
In a bull market, like the one we are in now, investors don't care as much about business fundamentals.
What do they care about?
Listing gains.
Yes, irrespective of the offer and the underlying business...investors still pour in, hoping to make a quick buck. Some even borrow money to get a piece of the action.
This seems to be the case with D-Mart. Undoubtedly, the business has great fundamentals and is arguably the best-managed food and groceries retailer in the world.
But investors are completely missing the valuations. The company issued shares at a PE multiple of 40x. And now the stock has doubled to trade at a PE ratio of 80x.
Only time will tell if investors will make money from here in D-Mart. But one thing is for sure: Investor greed is on the rise.
And with markets at life-time highs and a major IPO - National Stock Exchange (issue size of Rs 10,000 crores) - lined up, caution is the need of the hour. Investors should brace for a roller-coaster ride.
Want to read more on this?
I will be writing more on greed, the bumpy markets, and how traders can profit from it all for my Profit Hunter readers. Sign-up for my free Profit Hunter newsletter (One-click sign-up), and don't miss out.
03:30

Chart of the day

Fear and greed is all fine but do you know what's going to drive the markets in the long run? Well, its the economic growth in the country. And one of the biggest determinant of how this factor will play out in the coming years is our spend on infrastructure.

As today's chart points out, countries like China and Vietnam are ahead of India when it comes to spending on infrastructure. While these two countries are spending 6.8% and 5.7% respectively, India at 5.4% isn't far behind.

But is this going to be enough? We don't think so. As per the Government's own admission, India would need a massive spend of US$ 1.5 trillion over the next 10 years. Taking into account India's current GDP, this amounts to more than 7.5% of the same. A tall order indeed. However, if there is the required political will, there's no reason why this can't be achieved.
China & Vietnam Beating India in Infrastructure Race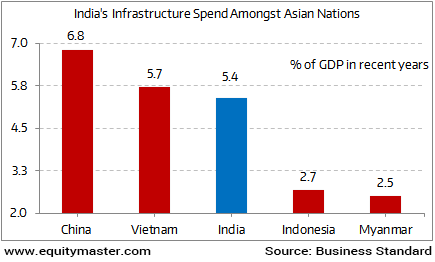 Most of the global financial markets ended the week on a negative note. Major global markets were cautious over the week over concerns of the Trump administration's ability to push out reforms. US markets snapped their bull run and ended 1.5% lower as compared to last week. This was the biggest decline since the US presidential election.
European indices gained on the back of the French presidential debate, but soon reversed gains. Jitters about U.S. President Donald Trump's ability to push through reforms overshadowed the positive development. Market participants were closely watching the progress in the US parliament for the introduction of a new healthcare reforms bill. Republicans pulled back their bill to overhaul the U.S. healthcare system due to a shortage of votes, dealing a blow to U.S. President Donald Trump.
All European indices closed on a negative note in contrast to the rally earlier in the week. The UK indices closed the week down by 1.2%, while the German and French indices ended the week on a flattish note with losses of 0.3% and 0.2% respectively. An attack on the UK parliament during the week added to the caution.
Back home, Indian share markets too fell over global cues. Positive news from the tabling of GST bills, and the Finance Minister's comments regarding a policy decision for solving India's bad loans problems, helped the indices pare the losses. The BSE Sensex was down by 0.8% for the week.
Performance During the Week Ended 25th March, 2017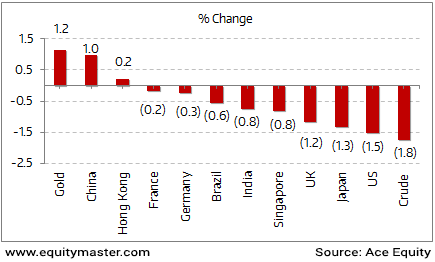 04:56

Weekend Investment Mantra

"People who invest make money for themselves; people who speculate make money for their brokers." - Benjamin Graham

This edition of The 5 Minute WrapUp is authored by Apurva Sheth (Research Analyst).
Today's Premium Edition.
Today being a Saturday, there is no Premium edition being published. But you can always read our most recent issue here...
Recent Articles