The Stocks That Are Your Best Hedge Against This Escalating Crisis...
Mar 27, 2017
In this issue:

» SBI expects 10% reduction in headcount by March 2019, hiring to drop by 50%
» Notebandi gives a big boost to debit cards
» Big bang IPOs in the offing
» ...and more!
Rajnish Kumar, the managing director of SBI, India's largest public sector bank, said his bank may reduce its workforce 10% by 2019...and that he expects hiring to fall more than 50%.
I was shocked at first. But on second thought...not really. We have been warning you about this crisis all along. And now it's just escalating.
As per Business Standard, SBI's current workforce strength is around 207,000 people. After the merger with six banking entities from 1 April 2017, SBI's total workforce strength will be about 277,000 people. But over the next two years, this headcount is expected to drop up to 10%.
Hiring is also expected to witness a sharp drop at this leading public sector bank. In 2016-17, the bank hired 19,000 people. In the coming years, this is expected to drop to an average of 5,000-6,000 recruitments every year.
What's behind SBI's plan to reduce its headcount and cut new recruitment? Is the bank going through a severe financial crisis? Does it expect bleak credit growth? Is it bearish on India's future growth?
My colleague Tanushree Banerjee (Research Analyst), who heads StockSelect, our best-perfoming service, has been tracking India's banking sector for more than a decade. And while she acknowledges the problem of non-performing assets in the Indian banking sector, she doesn't believe that's the reason. No, SBI's latest announcement has more to do with a megatrend we have been following closely...
Automation and digitisation.
This is not good news for the millions of young Indians entering the workforce every year. But it certainly is for the shareholders of SBI. Fewer employees combined with automation and digital initiatives means a sharp jump in productivity. And higher profits.
In the past, there was a direct correlation between a bank's growth and its headcount. But this is rapidly changing as automation and digitisation empower businesses to grow and sustain with fewer and fewer people.
Earlier this month, I showed you how a Chinese factory was able to boost production 250% after replacing 90% of its human workers with robots.
What does this all mean?
The megatrend of automation and digitisation is irreversible. You cannot stop it...or fight it. And it's going to hit many people across the globe. People could lose jobs...or stare at stagnant incomes for a long time.
You cannot take your regular income for granted anymore. You simply cannot live with the illusion that you are irreplaceable...or that it is going to be a long time before any real threat could hit you. Trust me, the technology to replace many jobs already exists.
The obvious question is: How do you tackle this big, disruptive, job-guzzling megatrend of technological automation?
Our answer: Don't fight it. Don't ignore it. And don't panic. Simply embrace the megatrend and find the best ways to benefit from it.
Yes, that's precisely what our research team believes and practices.
And we believe the best way to ride this megatrend is with stocks that will not only survive this big technological shift, but are actually riding this megatrend...and thriving.
Our research team is constantly travelling across this vast country to identify great money-making opportunities. My colleague Richa Agarwal (Research Analyst) just returned from a management meeting in South India. She was impressed that the company is using high-end technology and automation to boost product quality and efficiency.
Meantime, my message to you is this: Don't take stock markets casually...as merely means to some quick gains, or your next vacation.
The stock markets are your ticket to participate in the most lucrative wealth-creating opportunities in our country. You must take them seriously and do your best to build your savings and invest in safe and profitable opportunities.
We believe that if you act fast, you could have a great opportunity to not just protect your finances, but give a huge boost your wealth.
Our marketing team just told me they've designed a Special Limited-Period Offer for our best-performing stock recommendation service. It has an unparalleled success rate of 78.7% over fifteen long years. The team has never been able to extend such an offer before...and they tell me it could close very soon!
02:45

Chart of the Day

In his latest radio address Prime Minister Narendra Modi urged every Indian to avoid cash transactions and go the digital way. Here's an excerpt of what he said:
Can 125 crore countrymen resolve to undertake 2,500 crores digital transactions during this year? We have made an announcement in the Budget. Our 125 crore countrymen, if they wish to do so, they need not wait for a year; they can do it in six months. 2,500 crore digital transactions...if we pay school fees, we shall do so not by cash but digitally, if we travel by train, travel by air, we shall pay digitally, if buy medicines, we shall pay digitally, if we run fair price shops, we will use the digital mode.
It's been almost five months since notebandi, but the saga continues with facts and figures rolling in day after day. What has been the impact of notebandi on digital transactions in the country? We came across some interesting statistics this morning about debit card and credit card transactions.
As per an article in The Times of India, in October 2016, debit card spending stood at Rs 219.4 billion (42% of total card spending), while credit card spending stood at 299.4 billion (58% of total card spending). The game has completely shifted post notebandi. Debit card spending has more than doubled. In January 2017, debit card spending increased to 490 billion (60% of total card spending) in comparison to credit card spending of Rs 327.1 billion (40% of total card spending).
In October 2016, for every 100 debit cards in circulation, there were only 19 transactions. This jumped to 54 transactions a month in December 2016, and stood at 40 a month in January 2017. This suggests that debit card transactions tripled in December, but slipped to double after remonetisation.
The increase witnessed was largely driven by public sector lenders. In January, public sector banks reported debit card transactions valued at Rs 293 billion against Rs 196 billion worth transactions recorded by debit cardholders of private banks.
Today's chart of the day shows the top five issuers of debits cards in India. Clearly, SBI is ahead of the rest by a very wide margin.
SBI Leads the Race in Issuing Debit Cards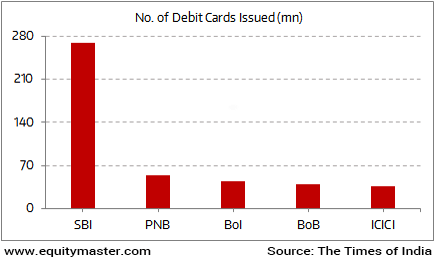 We're following the trend of digitisation closely and monitoring its progress. We'll keep you posted.
Here's a snippet of what my colleague Apurva Sheth (Research Analyst) wrote in a recent issue of The 5 Minute WrapUp:
IPOs attract new retail investors like sugar attracts ants. This was certainly true for D-Mart. Not since Reliance Power have so many people opened demat accounts just to subscribe to an IPO.
True, indeed. Money in the primary market these days is flowing like liquor at a new year party. With the markets flooded with an array of IPOs, investors appear sold on the idea of making some quick bucks through IPO listing gains.
Indian companies have lined up IPOs worth Rs 200 billion in the coming months.
The list includes five companies including Housing and Urban Development Corporation (HUDCO), Central Depository Services Ltd (CDSL, S Chand and Company, that have secured Sebi's go-ahead to float their respective public offers.
In addition to that, 11 companies including GTPL Hathway, National Stock Exchange (NSE), Bharat Road Network, Tejas Networks, Eris Lifesciences, Salasar Techno Engineering, Au Financiers, Prataap Snacks, PSP Projects are awaiting the regulator's approval to float IPOs.
So the days ahead for the primary markets are set to be filled with activity. But that also begs the question: What should our approach to IPOs be?
As we've stated earlier, it's important to not get swayed by the buoyancy surrounding IPOs. Instead, as with any stock, look for the fundamentals of the business and the attractiveness of valuations in IPOs as well.
At Equitymaster, we have always recommended IPOs cautiously. Here's Equitymaster Co-Head of Research Rahul Shah on the rationale behind our approach:
We know what a dirty game the IPO business is. We've seen it over and over again: It's a game where the odds are stacked against investors. So, for us, the equation is simple. We'd rather face criticism in the short run than see our subscribers lose money over the longer term. We weren't afraid to do this during the hot IPO days of 2007, and we're not afraid to do it today.
We believe that each IPO should be evaluated on its merits, fundamentals, and most importantly, valuations. And this approach is most relevant when the hype surrounding IPOs is at its peak.
IPOs can be good wealth creators if - and only if - they tick the above boxes. If you wish to filter IPOs through our handy, comprehensive checklist, you can download our Handbook of IPOs.
After opening the day marginally lower, Indian share markets witnessed further losses and continued to trade on a negative note. At the time of writing, BSE Sensex was trading lower by 170 points and NSE-Nifty was trading lower by 55 points. The mid cap index is trading down by 0.3%, while the small cap index is trading down by 0.1%.
04:55

Today's Investing Mantra

"You need patience, discipline, and an ability to take losses and adversity without going crazy." - Charlie Munger

This edition of The 5 Minute WrapUp is authored by Ankit Shah (Research Analyst).
Today's Premium Edition.
Sharda Cropchem: Business Model Analysis
Business Model Analysis of Sharda Cropchem.
Read On... | Get Access
Recent Articles