Robots Wouldn't Recommend These Turnaround Stocks
Apr 4, 2017
In this issue:

» This Statistic Could Derail India's Growth Story
» One of the most reliable and easiest ways to earn great long term returns from investing
» ...and more!
I have written to you about how robots and machines are eating into Indian jobs and creating a demographic and job crisis.
It's not just manufacturing. Even the service sector hasn't been spared.
Employee layoffs are common news these days. But I was struck by a news piece suggesting that robots are also taking over the profession of stock picking. Here is a snippet:
In this satellite city of capital New Delhi, a computer scientist and a finance whiz with roots in computer science are on the Renaissance track. They have primed and started up XYZ (name changed), a fund management firm that runs on a mathematical model straddling big data analytics and artificial intelligence.
For the uninitiated, Renaissance's flagship fund, Medallion, is run by complex mathematical models. Mathematicians and computer wizards wrote the model. Apparently, this 30-year-old fund has returned 25%-plus profits most years.
Now before you get too excited, here is what you should know...
Mathematical models for investing primarily look at business data and stock prices over the last five to seven years. Based on the data, companies are ranked and selected. More than 15,000 hours have gone into writing the code (model). The founders don't want to share how it works...or patent it, as this would mean disclosing the details to the public.
The fund has been lucky so far. But then so was LTCM for a period...until its geniuses failed
The flaws in formula-based investing techniques are all-too apparent. The model prides itself on no human intervention and keeping things confidential...
We would never be comfortable with this while picking small caps for our Hidden Treasure subscribers.
Let me explain.
Markets are very competitive these days. Too much money is chasing too few good businesses. With access to information like never before, every positive, especially past performance, is already factored into valuations. The scope to make money relying just on past performance (and modelling what is already in the public domain), as such, is limited. To beat the markets, one needs to know more. Not just about the companies and businesses, but about the people running them.
This is why we meet the management of every potential Hidden Treasure recommendation. For a many of the stocks we have recommended, it was not the past performance but our conviction on the management quality (an unquantifiable factor) and their future strategy that were key to our investment rationale.
Using a machine-based model with no human intervention, we don't think we would ever be able to recommend turnaround investing cases to you, and that's where the real scope for high returns lies. In fact, two of our last three Hidden Treasure recommendations are turnaround stories (and one of them is still within the 'Buy' zone).
Secondly, we will never be comfortable not sharing our reasons for selecting a stock, and the risks associated. We want you to know for sure if a stock aligns well with your risk-return profile.
And with the track record we have achieved using this strategy, I think we need not worry about the threat from machines yet.
--- Advertisement ---
REVEALED: Equitymaster's Biggest Secrets...

Last year, we published a 220-Page hardbound book - Equitymaster's Secrets that revealed some of the Biggest Lessons from our entire 20-Year stock picking journey.

Since launch, over 13,000 readers have already claimed their copy of this exclusive book...Virtually Free!

And now, you have the same opportunity.

So, hurry...Claim your copy today, and we will have it delivered to any address in India.

Interested? Click here for full details...
------------------------------
03:15

Chart of the Day

We knew that there exists significant wealth disparity in India. However, even we were taken aback after knowing the true extent of it. As today's chart of the day highlights, the richest 10% households in India, both rural as well as urban, have significantly higher wealth than the remaining 90% combined. While the data is dated and is of the year 2012, we don't think things would be any different today.

Just to put figures in perspective a bit, while the average urban household in the richest 10% group has wealth a whopping 50,000 times greater than the poorest 10%, the same ratio for the rural households stands at a lot less but still significant 227 times.

Now, how do we bring this gaping ratio down? Extract a higher income tax from the rich? Could be. However, our colleague Vivek Kaul doesn't quite agree. Here's him.
A higher income tax rate is clearly not a solution to reduce income inequality in India. The solution is to bring more and more Indians who should be paying income tax, but do not, under the tax bracket. This means simplifying the income tax system. It also means making the income tax department more efficient through the use of information technology. And finally, it means reducing corruption in the department.
Bang on in our view. By the way, Vivek's latest book is creating quite a buzz. Guess what, Alan Greenspan, the world's most renowned central banker already has a copy. Bill Bonner, the founder of Agora and a bestselling author, also has one. And so do other noted finance luminaries.
Here's how you can get your copy absolutely free.
The Big Rich Poor Divide in India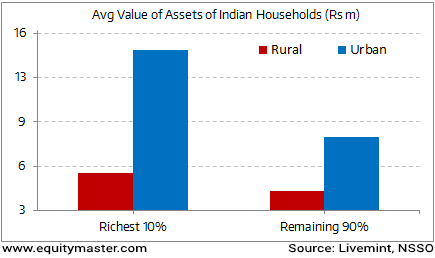 How about Warren Buffett as a brand ambassador for Cherry Coke? It looks entirely plausible for two reasons. One, Buffett himself is a huge guzzler of the sugary soda, claiming to gulp as many as five cans per day. So bringing Buffett on board will have an air of genuineness about it.
Secondly, Buffett is the single largest shareholder in Coca-Cola. Therefore, if his face adorns a can of Coke and if it helps makes the brand popular, there's no reason why he wouldn't be game for it.
Well, this idea has become a reality in China. As per reports, a cartoon rendering of the billionaire investor on special edition Cherry Coke cans have surfaced all over the world's most populous nation. And if the initial reception is anything to go by, the idea is working well.
Another idea that can work well is shamelessly cloning Buffett's investments. Yes, that's right. As per a lot of studies, if investors would have closely tracked Buffett's investments and bought the same stocks that he had bought, their returns would have been nearly as phenomenal as Buffett's.
Come to think of it, isn't this one of the most reliable and easiest ways to earn great long term returns from investing? If you also think it is, we have some good news to share with you.
Keep watching this space for more details.
The Indian stock market was closed today on account of Ram Navami.
04:55

Today's Investing Mantra

"If history was all there was to the game, the richest people would be librarians " - Warren Buffett

This edition of The 5 Minute WrapUp is authored by Richa Agarwal (Research Analyst) and Rahul Shah (Research Analyst).
Today's Premium Edition.
Of Infosys, Engineers, and Tata's 'Made in India' Robot
What's at the very root of the Infosys pay hike fiasco?
Read On... | Get Access
Recent Articles