Buffett's See's Candy-like Stock in ValuePro is Up 67%
Apr 5, 2017
In this issue:

» Is this a Good Time to Bet on Pure Commodity Plays?
» The UP farm loan waiver will create a moral hazard in the future
» Market roundup
» ...and more!
One of the best things about our research team is its independence.
Not only are we free from outside advertisers, brokerage commission quotas, and top-down editorial censorship...but the whole team is free to work on their own ideas.
So when we brainstorm, different people come out with different opinions.
In fact, most of our stock ideas are a by-product of the independent thinking of every analyst.
Let me take you through a recent brain-storming session:
Analyst 1: 'Believe it or not, if we pick commodity stocks smartly, returns can be phenomenal.'
Analyst 2: 'Maybe, but I am not that comfortable with them because the commodity price is the only factor that governs them.'
Analyst 3: 'Peter Lynch made huge returns in commodity stocks. But he had a unique approach to picking commodity stocks.'
Analyst 1: 'True, even we have found some very good commodity stocks in 2016.'
Analyst 2: 'Hmm... Why not play commodities Warren Buffett-style?
It's true 2016 has been a great year for commodity stocks. Many commodity businesses run by efficient managements have doubled in the past year. The S&P BSE metal index has returned 58%.
But with these stocks, you really need to understand the commodity cycle more than the business fundamentals. Commodity prices are a function of demand and supply, which is very difficult to predict. This makes commodity stocks high-return, high-risk propositions.
Now, I am a typical Buffett follower; I always try to copy him. So since Buffett has always stayed away from commodities, I have done the same thing. I understand that well-timed commodity stocks can create enormous wealth. But that is the extent of my understanding.
Buffett, however, prefers to own, not commodities companies, but businesses that 'buy commodities and sell brands'.
These are businesses that operate in the commodity industry but have non-commodity characteristics. Unlike typical commodities players, these businesses command pricing power.
In his 1972 letter to shareholders, Buffett talked about Berkshire's investment in See's Candy.
See's is a commodities business.
It sells products made from peanuts, sugar, chocolate, etc, but it can adjust prices each year in line with the underlying commodity prices. And that's because of its strong brand.
As Buffett explained, most people do not buy boxed chocolate to consume themselves. They generally gift it...
Can you imagine going home on Valentine's Day - our See's Candy is now $11 a pound thanks to my brilliance. And let's say there is candy available at $6 a pound. Do you really want to walk in on Valentine's Day - she has all these positive images of See's Candy over the years - and say, 'Honey, this year I took the low bid,' and hand her a box of candy? It just isn't going to work. So, in a sense, there is untapped pricing power - it is not price dependent.
See's clearly has non-commodity characteristics. It buys commodities and sells its brand.
My colleague Rohan, managing editor at ValuePro, has mastered finding stocks that meet the 'Buffett-would-buy' criteria.
One of the stocks (subscription required) he recommended is a 'buy commodities, sell brands' company.
It's up 67% just one year after his recommendation. But Rohan feels these returns still don't justify the strong underlying business and the growth to come.
--- Advertisement ---
REVEALED: Equitymaster's Biggest Secrets...

Last year, we published a 220-Page hardbound book - Equitymaster's Secrets that revealed some of the Biggest Lessons from our entire 20-Year stock picking journey.

Since launch, over 13,000 readers have already claimed their copy of this exclusive book...Virtually Free!

And now, you have the same opportunity.

So, hurry...Claim your copy today, and we will have it delivered to any address in India.

Interested? Click here for full details...
------------------------------
03:00

Chart of the Day

Over the past year, the BSE Metal index has given an absolute return of 58%. These are great returns over a year. Do these returns make a case for a future bet on metal companies? Now, metal companies are cyclical companies, primarily commodity producers who have little or no product differentiation and also do not command significant pricing power in the market.
S&P BSE Metal Index on the Rise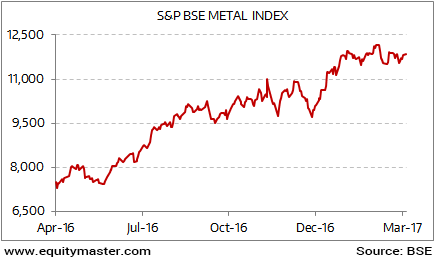 However, we think it would not be prudent to completely ignore these cyclical commodity plays.
Cyclicals are the most misunderstood of all the types of stocks. It is here that the unwary stock picker is most easily parted from his money, and in stocks that he considers safe. - Peter Lynch
There are opportunities to be explored even in such a sector. My colleague Sarvajeet Bodas has explained the different types of cyclical stocks that exist in the market. More importantly, he shared his insights on ways in which one can place their bets on these stocks to benefit from them. Click here to read his complete article.
By the way, how about accessing not just Sarvajeet's but the complete process behind Equitymaster's own stock picking strategy in the form of a book.
The same process which is behind picking out stocks that gave us Returns like 3,311%, 403%, 2,740% and 302% amongst many more. This book has been fully designed and written by Equitymaster's Research Team, which has over the last 20+ years become the preferred source of investment ideas for the thinking, long-term investor.
Over 13,000 subscribers have claimed their copy of the book Equitymaster's Secrets. In case you haven't got your hands on the book yet, claim a virtually free copy today!
The Uttar Pradesh government has announced a farm loan waiver. Recently, there has been a clamor for loan waivers from many states. Does the decision taken by the UP state government create a moral hazard? Yes. We think so. According to Arundhati Bhattacharya, SBI chief, these loan waivers upset credit discipline of the borrowers. In the short run, the farmers will experience some relief. Over the long run such an act will only incentivize borrowers to default on their loans since they expect the loans to be waived off in future.
Vivek Kaul, in his diary too found the idea of farm loan waiver incredulous. He discussed the long term impacts of such loan waivers from the lenders' point of view.
There are several ways in which farmers who have taken on the benefit of defaulting on bank loans, are denied loans in the time to come. As N Srinivasan, a rural finance consultant writes in the College of Agriculture Business magazine: "The experiences of the past show that there are many ways of denying credit to farmers who chose to benefit from default of bank loans. Delay in sanctions, high collateral requirements, reduction of quantum of loans, lengthy and complex documentation requests, etc. are some of the well-known methods of denial of credit. These would be employed to good effect in the post- waiver situations by banks to cut their exposure to farm sector." And this is possibly not good news for the farmers. If banks deny them credit in the future, they will go back to the local moneylender.
According to him, it not only sets a bad precedent. This will still impact the farmers, since in future, lenders would not want to provide loans to the farmers.
Now, Vivek has penned down a book titled, "India's Big Government". He talks in detail on the impact due to the government's such policy decisions on its citizens. You too can make this book yours at no cost whatsoever. Yes, we are giving the book out for free.
World Tuberculosis just passed by. It doesn't attract much fanfare - but it should! We were shocked to hear that Tuberculosis (TB) affects millions of Indian each year, earning the nickname of India's 'silent killer.'
The silence around the disease is finally lifting. NGO Operation ASHA would be happy to see TB taken seriously. The NGO, which started with one centre in 2006 now serves 18 million people across India and Cambodia!
Though TB is curable, any stoppage in the drug regime can result in a patient becoming drug-resistant. Operation ASHA opened health centres in small localities close to communities. They kept these centres open at hours convenient for manual labourers and daily wagers who often skipped medication because they could not get time to visit government centres. They developed a fingerprint-based e-compliance system to ensure patients did not abandon the treatment midway. In Cambodia, health workers go from island to island on boats to meet patients!
The results speak for themselves - Operation ASHA programmes report high TB detection rates, lower default rates by patients and have a significantly high treatment success rate. This is the way to stop a disease like TB from becoming an epidemic!
You too can help put a stop to the spread of TB. A donation of Rs1,700 will cover the costs of TB treatment and medication for one child for the 6-7-month treatment period. This includes the cost of travelling to a TB-treatment centre - a cost that drives many to drop out and stop medication entirely. Support Operation ASHA in their life-saving work. Together, we can dream of a TB-free India!
After opening the day on a flat note, share markets in India traded marginally higher. Sectoral indices are trading on a positive note with stocks in the realty sector and consumer durables sector witnessing maximum buying interest. IT stocks are trading in the red.
The BSE Sensex is trading up 31 points (up 0.1%) and the NSE Nifty is trading up 15 points (up 0.2%). The BSE Mid Cap index is trading up by 0.4%, while the BSE Small Cap index is trading up by 1%.
04:55

Today's Investing Mantra

"If you buy things you do not need, soon you will have to sell things you need." - Warren Buffett

This edition of The 5 Minute WrapUp is authored by Kunal Thanvi (Research Analyst) and Rohan Pinto (Research Analyst).
Today's Premium Edition.
Warming Sector, Struggling Stocks
CL Educate IPO listing highlight struggles for Education sector stocks.
Read On... | Get Access
Recent Articles