Why GE Shipping Is Not Valeant Pharma-Like Billion Dollar Loser
Apr 6, 2017
In this issue:

» The Baltic Dry Index (BDI) Breaks the 1200 Mark.
» Sensex Briefly Crossed the 30,000 Mark. What Next?
» RBI Holds Benchmark Lending Rate
» ...and more!
Only a fool learns from his own mistakes. The wise man learns from the mistakes of others. - Otto von Bismarck
In investing, we are always learning, either directly or vicariously. Sure, we learn by studying successful investment philosophies and stock picking strategies. But perhaps the most profitable lessons come from studying the mistakes and blunders of others.
It's natural to want to emulate successful investors. Their failures, though, can be just as illuminating. When big names stumble, the key is to understand what led to their mistakes and try to avoid those missteps.
Bill Ackman, the founder and CEO of Pershing Square Capital Management, committed a particularly enlightening blunder.
Ackman's hedge fund lost nearly US$ 4 billion (or nearly Rs 26,000 crore) on Valeant Pharmaceuticals, the controversial drug company he championed for years. The stock tumbled from a peak of US$ 279 in 2015 to US$ 11 in March 2017, when Ackman finally admitted defeat.
In a recent annual letter to investors, Ackman acknowledged his 'huge mistake'. Here is what he wrote:
Clearly, our investment in Valeant was a huge mistake. The highly acquisitive nature of Valeant's business required flawless capital allocation and operational execution, and therefore, a larger than normal degree of reliance on management. In retrospect, we misjudged the prior management team and this contributed to our loss. We deeply regret this mistake, which has cost all of us a tremendous amount, and which has damaged the record of success of our firm.
Valeant Pharmaceuticals may have been a disastrous investment for Ackman. But at the very least it's delivering an important wake-up call to investors.
Clearly, capital allocation skills and management quality are important. We wouldn't hesitate to recommend a company with a great management with proven capital allocation skills. Even if the industry dynamics are not attractive.
For example, we recommended GE Shipping (GES) in StockSelect last year. We have always liked the company because of its management's capital allocation skills. Here's what we wrote in our research report:
In the shipping industry, what separates the wheat from the chaff is the ability to allocate capital well. In other words, buying and selling assets at the right time and at the right price. The management of GES has shown alacrity in allocating capital intelligently across cycles. This has helped the company sail smoothly through headwinds and emerge stronger than its competitors.

GES' ability to gainfully deploy its assets amid a challenging operating environment and to maintain its capital structure is the key to its success over the years.
We have been recommending this stock for many years despite the volatility of the sector. And thanks to the management's capital allocation skills, the stock has met our target prices each time for the past twelve years.
So if we compare the stocks of GE Shipping and Valeant Pharma, it was the wrong call on the management's capital allocation skills that made all the difference.
Our exclusive book, Equitymaster's Secrets - The Biggest Lessons From Our Entire 20-Year Investing Journey, reveals the complete strategy that has gone behind almost all the recommendations we've made over the past two decades.
Click Here To Claim Your FREE Hard Copy of 'Equitymaster's Secrets'.
--- Advertisement ---
This Book Is Not Available Anywhere Else...

In our previous emails, we told you about a 220-page hardbound book that reveals the biggest lessons on stock picking from our entire 20-year journey.

But what many people don't know is that this book is not available anywhere else.

So, if you don't claim your copy in the next Four Days...

You might lose out on the opportunity forever.

So, don't delay.

Click here to claim your Virtually FREE copy...
------------------------------
02:30

Chart of the day

Dry bulk freight rates, which have been languishing for years, have been showing signs of life lately. Especially with the rise in commodity prices towards the later part of 2016, the index has seen a big spike. The Baltic Dry Index (BDI) broke the 1000 mark recently and is currently at around 1300 levels.

Remember that last year in February 2016, the BDI reached a historic low of 290. From that point, it has risen a total of 360%. And this has sent shipping stocks sizzling. Investors evidently have been piling onto shipping stocks. But is this a smart move?

Not entirely. What's important to note is that with their short term view of things, investors are forgetting that the BDI is notoriously fickle, and can be intensely volatile.
Baltic Dry Index' 360% rise has Shipping Stocks on a High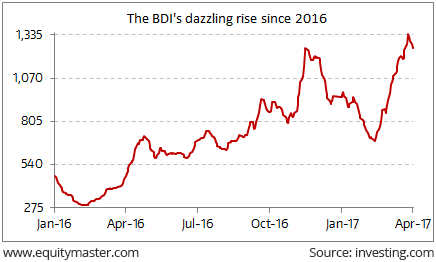 For example, at the start of 2008, the BDI had crossed levels as high has 11,000! Only to crash to 700 or so levels in less than a year. And any downside in dry bulk rate going forward could mean a direct hit to shipping companies' profitability. Tread these waters very carefully is what we would recommended.
Exactly a year back, we did some serious number crunching for India's largest companies. The aggregate data we pulled for Nifty companies suggested that profit margins were at a ten-year low at the end of FY15. We felt at the time that even if they were to rise to the average of the last ten years, not immediately, but three years out, the upside would close to 70%.
Put differently, markets would likely go up 70% over the next three years if profit margins revert to the mean. And we weren't even considering the gains from potential interest rate cuts.
This, we reckoned, could take the benchmark BSE Sensex to 40,000 or more in three to four years.
Fast forward a year, and yesterday both the BSE Sensex and NSE Nifty closed at new life time highs. The Sensex even briefly crossed the 30,000 mark yesterday.
But here's the thing about this. Without doubt, it is valuations and not earnings growth that has been the key driver for stocks over the past few months. Smallcaps have had the best time in years. And investors have been clamouring to safe bluechips too. However, it's not that our view on Sensex 40,000 has changed. As much as we recommend you to buy stocks from a long term perspective, it is important to warn you of near term risks if any. And for now, data suggests that earnings growth could see a period of lull before it surges again. So do not think it is going to be a smooth ride upward. Volatility is going to be the name of the game.
In its Monetary Policy Committee (MPC) meeting today, the RBI held repo rates steady at 6.25%. Further, it hiked the reverse repo rate from 5.75% to 6%. This decision on policy rates comes on the back of RBI's objective of achieving the reining (CPI) inflation of 4% (plus or minus 2%) even while supporting growth. For FY18, RBI projects inflation at an average of 4.5% to 5%.
The Indian stock markets were trading marginally lower at the time writing on the back of sustained selling activity across most index heavyweights. At the time of writing, the BSE-Sensex was trading down by around 130 points. Losses were largely seen in metal and consumer durable stocks.
04:55

Investing mantra

"Unless you can watch your stock holding decline by 50% without becoming panic-stricken, you should not be in the stock market." - Warren Buffett

This edition of The 5 Minute WrapUp is authored by Sarvajeet Bodas (Research Analyst).
Today's Premium Edition.
GST: A Boon for FMCG Companies?
How the GST can help FMCG companies cut down on costs.
Read On... | Get Access
Recent Articles