The Thin Line Between Growth and Garbage Stocks
Apr 7, 2017
In this issue:

» Soaring Bank Stocks - Eroding Networth
» Garbage Realty Stocks Up 85%
» Are Stock Markets a Reflection of the Economy?
» And More...
It was 11 December 2007 when the Sensex crossed the 20,000 mark for the first time. But it wasn't until 5 April 2017 - almost ten years later - when it hit 30,000. This, after the index quadrupled in the ten years to 2007.
Growth stocks are typically the flavour of the month during every market peak, as they are now. They're easy to chase. Businesses that show or promise growth are low hanging fruit.
The problem with high growth is that it can destroy value. Investors need to be careful if the growth is fetching commensurate returns for the business. And unless that is the case, the erosion of shareholder wealth may only accelerate.
As kids, we are told there is a thin line between confidence and arrogance. But as investors, the lines blur as everyone points to the stock market peak. The confidence from making money with growth stocks blurs into the arrogance of holding on to 'garbage stocks'.
Take a look at the fastest-growing businesses of the past decade. Few of them genuinely meet the criteria of 'growth stocks'. Their phenomenal returns could be attributed to the premium they fetched for creating shareholder wealth.
On the other hand, several other businesses destroyed value either with low profits or stretched balance sheets. Most of these stocks failed to yield positive returns in the past decade. And the ones that did remain extremely vulnerable to market crash.
It you're selling off growth stocks and holding on to the garbage in anticipation of returns, Peter Lynch would tell you you're pulling the flowers and watering the weeds!
Growth Vs Garbage from the Market Peaks of 2008 to 2017
Source: Equitymaster, Ace Equity
*RoE, RoCE and Debt to Equity for FY16
At the peak of market valuations, it pays to discriminate between growth and garbage stocks. Then, as far as possible, cut the garbage. If this approach to picking stocks interests you, and I believe it should, I have something for you.
Our exclusive book, Equitymaster's Secrets - The Biggest Lessons from Our Entire 20-Year Investing Journey, reveals the complete strategy behind two decades of Equitymaster recommendations.
Click Here To Claim Your FREE Hard Copy of 'Equitymaster's Secrets'
--- Advertisement ---
Your FREE Book Will Stay on Hold For Just Three More Days...

MORE than 13,000 copies of Equitymaster's Secrets have already been claimed...

But we have kept a copy on hold exclusively for you.

But only for next THREE Days.

So, what are you waiting for?

Click here to claim your virtually free copy...
------------------------------
02:30

Chart of the Day

Public sector banks have been in the spotlight but for all the wrong reasons. A deadly combination of rising provision on surging bad loans and sluggish interest income growth on poor credit offtake have severely crippled the earnings of state-run banks. Even their balance sheets have considerably weakened by the mounting bad loans burden. But most of their stocks have defied gravity.

In the past one year, stocks such as Oriental Bank, Bank of India, Central Bank, Allahabad Bank and Dena Bank have yielded returns of over 30%. But a look at their financial scorecard shows that they are lame ducks waiting for disaster to happen. The bad loans of these banks have shot up to alarming proportions such that out of every Rs 100 lent out by them a minimum of Rs 10 has gone dud. In fact, the huge provisions have pushed these banks in the red. This in turn has hit their balance sheet strength with most of them hovering closing to the minimum capital adequacy required. It goes without saying that these banks will require capital infusion to remain afloat and grow in future.

But despite their precarious financial condition, they continue to rule the roost on the stock markets based purely on hopes of another government bail-out.
Soaring Stocks...Eroding Balance Sheets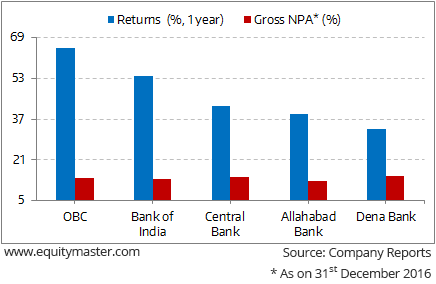 Not only the distressed state-run banks, even the beleaguered realty sector has been flying high propped up the broad rally in the markets. Beginning 2017, realty stocks such as Sobha Ltd, Prestige Estate Projects, Indiabulls Real Estate, DLF and Unitech have gained between 25 to 85%.
Implementation of GST and the new Real Estate Bill are expected to improve transparency, business climate and revive demand in the long run. Even the RBI's recent approval to banks to invest in Real Estate Investment Trusts (REITs) and Infrastructure Investment Trusts (InvITs) could revive the cash-strapped sector. However, the fact of the matter is that the financial health of most of the real estate companies remain poor to say the least. Not only are these companies saddled with huge debt but the high interest costs coupled with low demand has pulled down their shareholder's returns to sub-optimal levels. Indiabulls Real Estate saw its return on networth fall below 1% whereas Unitech slipped in the red in FY16. The fortunes of the sector are unlikely to improve overnight. But the hefty valuations certainly put this sector in the frothy zone that is on the brink of a shake-out.
Freebies, subsidies, loan waivers have time and again proved to be the weapon employed by governments to win popular mandate. Instead of doing the hard work of improving the ground situation to prevent a crisis, preference is to have the easy way out. But what's appalling is that the subsidies are extended giving scant attention to state finances or the kind of credit indiscipline it is likely to unleash in the long run thereby adversely impacting financial lenders.
The recent farm loan waiver of Rs 307 billion by the newly elected Uttar Pradesh government has certainly set a precedent of sorts. The Tamil Nadu government has also been asked by the court to waive off farm loans whereas the Maharashtra and Punjab governments are under pressure to implement a similar waiver. The RBI governor has criticised the loan waivers terming them as engendering moral hazard. According to him, such an exercise undermines an honest credit culture and results in crowding out of private investments due to high government borrowings.
In this context, Vivek's latest entry in his Letter gives an interesting perspective on whether the economy and the stock markets are correlated (subscription required).
After opening the day on a negative note, Indian equity markets remained stagnant and are trading marginally lower. At the time of writing, BSE Sensex was trading lower by 73 points and NSE-Nifty was lower by 23 points. Both the mid cap and small cap indices are trading up by 0.5% each.
04:50

Investing Mantra

Loss of focus is what most worries Charlie and me when we contemplate investing in businesses that in general look outstanding. All too often, we've seen value stagnate in the presence of hubris or of boredom that caused the attention of managers to wander. - Warren Buffett

This edition of The 5 Minute WrapUp is authored by Tanushree Banerjee (Research Analyst) and Madhu Gupta (Research Analyst).
Today's Premium Edition.
Logistics Players to Be the Key Carriers of India's GST-Led Growth
GST implementation will help organised logistic players improve efficiency and Profitability.
Read On... | Get Access
Recent Articles