Sensex at 30,000: Balancing Risks and Rewards
Apr 8, 2017
» In this issue:
» Time in the Market Matters More Than Market Timing
» Is Setting Up Differentiated Banks the Way Forward?
» Market roundup
» ...and more!
00:00

Chart of the Day
Last time, I promised to write more on greed, the bumpy markets, and how traders can profit from it all in my Profit Hunter newsletter. Many Five Minute WrapUp readers signed up for Profit Hunter.
If you haven't joined yet, simply click on this link to sign up for my free newsletter (one-click sign up).
Markets have moved up considerably since I wrote to you a fortnight ago. The Sensex has crossed the previous highs and is in kissing distance of the 30,000 mark. Risk in the markets is rising...but it is also offering lucrative rewards. Smart investors need to know how to maintain balance. Today, I will show you how...
But first, I want to share this quote from former Intel CEO Andrew Grove...
'Success breeds complacency. Complacency breeds failure. Only the paranoids survive.'
Always remember that...especially when investor greed is on the rise. It's very easy for investors to become overconfident when money starts to come in easily. But that's when you need to be fearful...when everyone else is greedy.
Now here's a chart of the Nifty along with the India VIX (aka the 'Fear Indicator').
India VIX: The Fear Indicator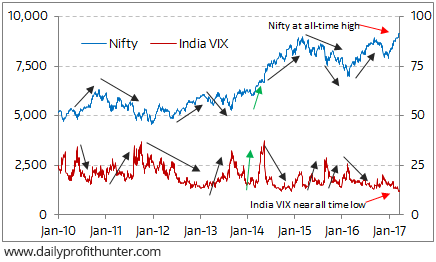 India VIX is calculated based on Nifty options prices. It is computed using the best bid and ask quotes of out-of-the-money near and next month Nifty options.
It indicates investor perception of near-term market volatility. A low India VIX reading suggests that market participants do not expect volatility soon. On the other hand, a high reading suggests expectations of high volatility.
Historical data indicates that India VIX has a strong negative correlation with the Nifty. This means every time the Nifty rises, VIX falls. And every time the Nifty falls, VIX rises.
You can see the inverse correlation in the above chart. I have plotted the Nifty Index in blue and the India VIX in red. You can clearly see that most major tops are preceded by a fall in India VIX (November 2010, January 2013, and March 2015). On the other hand, most bottoms are preceded by a rise in India VIX (December 2011, August 2013, and February 2016)
The only exception was the rally preceding the Lok Sabha elections in May 2014 (marked with green arrows on the chart). Here, markets were rallying, but the VIX was also rising as there was uncertainty around results.
The India VIX is also a good gauge of fear and greed in the markets: When VIX is at a low, market participants are greedy. When it's at a high, they are fearful.
And I am sure you know the golden rule of investing: Be greedy when everyone else is fearful and be fearful when everyone else is greedy.
But being fearful does not mean you stop trading completely. You don't want to miss out the rewards that markets are offering right now. Being fearful means you become more vigilant and focus on managing risk. A trader needs to draw a line between businessmen's risk and a loss.
What does that mean?
Businessmen's risk represents a small dip in trading capital. A loss goes through that limit.
Once the trader has drawn the line and safeguarded against major losses. he can take normal business risks and focus on rewards. Good trading is always a balance between risks and rewards.
Now, once you have managed your risk, you can focus on the rewards.
Markets have been scorching hot the last few days, throwing many opportunities. But you need the right knowledge to seize those opportunities. Today, I am going to show you a chart pattern that has great potential. In fact, I recently used this pattern to make four new recommendations to our Swing Trader subscribers. More on that later. First, here's the pattern.
Bullish Flag Pattern
A 'Bullish Flag' is a short-term continuation pattern that marks a small consolidation before the previous upmove resumes.
During the uptrend, price suddenly makes a sharp upmove with rising volumes. This upmove is almost vertical. Price advances in a very short span at a much greater magnitude than the recent price movement. Sideways movement follows the sharp advance as the price consolidates in a narrow range for considerable time. Eventually, the price moves out of this range and resumes its uptrend. Prices break out of the range with higher volumes.
The breakout from the range confirms the pattern and indicates a resumption of the uptrend. Swing Traders can look for a breakout from this pattern to go long on the stock.
I have written in detail on this pattern. Click the following links If you want to delve deeper.
Setting Targets & Stops Based on the Flag Pattern (video newsletter)
As I said earlier, I used this pattern to make four new recommendations to our Swing Trader subscribers. Three of them have already gone live.
Now I want to show you how I combined the pattern with other indicators to make these recommendations.
I came across as many as thirty stocks with interesting charts. But I could only choose the best of them. So I filtered them down to ten.
I wanted stocks with a favourable risk-reward ratio. So I looked for stocks with big upside potential that are breaking out from short-term consolidations. That's how I figured they were ready to breakout of the flag pattern.
Then I looked at the RSI momentum indicator. I filtered stocks that were trading in the bullish territory and selected stocks that were trading with an RSI above 60.
Next I checked the ADX and +DMI. I looked for stocks whose ADX was rising and above 25. And whose +DMI was also above 25 but in a pullback mode and about to rise.
I finally settled on four stocks based on these criteria and the flag pattern. Three of them are already live.
Now you are equipped with knowledge to ascertain risk, manage it, and seize the opportunities the markets offer. You can do all this yourself. But if you prefer that I do all the work, then you can sign-up for our Swing Trader service.
Click here to know more about it.
--- Advertisement ---
Read This Before 11:59PM Tomorrow

We wonder what's keeping you from claiming virtually FREE hardbound copy of Equitymaster's Secrets...

We just want to let you know that this opportunity expires in just 48 hours...

So, if you wish to claim it...

Now is the time to act...
------------------------------
The stock markets are continuing to make new all-time highs. Is this the time to pull money off the table? Well, Warren Buffett would argue against doing this. Here's why:
Since the basic game is so favorable, Charlie and I believe it's a terrible mistake to try to dance in and out of it based upon the turn of tarot cards, the predictions of 'experts,' or the ebb and flow of business activity. The risks of being out of the game are huge compared to the risks of being in it.
We couldn't agree with Buffett more. Dancing in and out of markets based on news events is a terrible mistake. We have spoken about how trying to time the markets and in that process lose out on the best 10 days in the market could mean huge lost opportunity.
However, does this mean staying put in all your stocks all of the time. Well there is one critical variable that one must always account for. Present valuations. Currently, there are many overvalued pockets in the market. It is a challenging time to generate ideas. If thinking about all of these conditions have left you perplexed, there is help at hand.
Rahul Shah and his team at the Microcap millionaires espouse Benjamin Graham's investment philosophy and have a proven record of beating the markets. Now, they have been sifting through relentlessly for opportunities and have not let the stock market noise get to them.
Their efforts have borne fruits. The team has come out with a special report on the Top 5 potentially attractive microcaps. Click here to get your hands on their latest report.
The Reserve Bank of India has initiated a discussion paper to approve a new set of differentiated banks. The new banks i.e. wholesale and long-term finance banks will focus on lending long term and taking care of needs of funding of infrastructure and core industries.
Now, Banks operate on a simple principle. They raise capital from different sources and pay a set interest rate on it. This forms the bank's liability. The capital is then lent out by the bank to those in need after considering an appropriate spread over its costs. These loans form the bank's assets.
Catering to infrastructure and core industries with a long gestation period results in the banks facing an asset-liability mismatch.
The central bank has proposed a solution of setting up differentiated banks whose mandate will only be to cater to infra and core projects. Some of the regulatory norms such as lending to priority sector or maintaining a percentage of deposits with the central banks might be relaxed for such banks.
We think the idea definitely has merit to it. Specialized differentiated banks would help ensure that credit is provided per the requirements of the borrower. The key risks to watch out for will be the large credit exposure that such banks will have and the inherent risky nature of lending that would be carried out by these differentiated banks.
Most of the global financial markets traded on a volatile note during the week, and ended the week on a flattish note. Major global markets were uneasy and risk averse after the US launched a missile attack in Syria. Soft jobs data, coupled with the missile strike meant that the US markets ended the week on a flat note.
The decision by President Donald Trump to authorize the firing of U.S. missiles into Syria weighed on global stock markets in the week. Japan's Nikkei hit a four-month low after the US strike hurt broader sentiments. The Japanese index was the highest loser during the week, shedding 1.3%.
European indices too were affected by geopolitical uncertainty. A host of positive manufacturing and jobs data coming in from the Eurozone was overshadowed by the US military actions as markets turned cautious and dumped high risk shares and assets.
European indices closed the week on a flattish note in contrast to the rally earlier in the week. The UK and French indices showed marginal gains in the week gone by, gaining 0.4% and 0.2% respectively. While the German indices closed the week down by 0.7%. Market participants are now closely following the outcome of the ongoing US-China summit.
Back home, Indian share markets too pared gains over global cues. While the Sensex hit its all time high and crossed the 30,000 mark during the week over positive news from the parliament nod for the GST bills, it fell later in the week over global clues and geopolitical uncertainty. The BSE Sensex ended the week up by 0.3%.
Performance During the Week Ended 08th April, 2017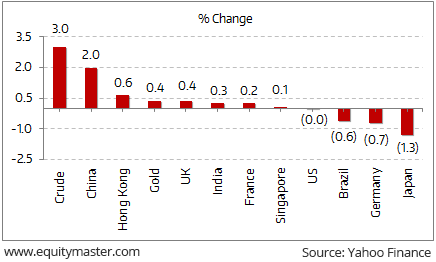 04:55

Today's Investing Mantra

"When we own portions of outstanding businesses with outstanding managements, our favorite holding period is forever." - Warren Buffett

This edition of The 5 Minute WrapUp is authored by Apurva Sheth (Research Analyst) and Rohan Pinto (Research Analyst).
Today's Premium Edition.
Today being a Saturday, there is no Premium edition being published. But you can always read our most recent issue here...
Recent Articles