This Company is Making a Big Comeback and You Can Now Profit from Its Example
Apr 10, 2019
While I was doing my MBA, Dell was the poster boy for business efficiency.
Dell's business model was the part of our case studies and group discussions.
And why not?
After all, Dell had 'invented' the direct sales model for PCs.
Instead of going via resellers, Dell sold its computers directly to customers.
No middleman. Simple and efficient.
But that was not all...
Dell had designed a manufacturing process which allowed for 'made-to-order' production.
In this system, Dell would start manufacturing only after a customer placed an order.
This meant that the company had almost no inventory. So, the capital that would have been tied up in the inventory was available to the company for other uses.
In this business structure, customers paid Dell immediately once they booked their PC. Dell, on the other hand, paid its suppliers afterwards.
In business language, we call this 'negative working capital'.
Don't let the word 'negative' confuse you. It is very a good thing! I'll write a detailed piece about this fascinating concept someday.
Coming back to Dell... It's no wonder why Dell became the world's largest PC maker with this structure.
The company's 2006 annual report explained:
Dell believes that its manufacturing processes and supply-chain management techniques provide it a distinct competitive advantage. Its build-to-order manufacturing process is designed to allow Dell to significantly reduce cost while simultaneously providing customers the ability to customize their product purchases.
But things changed...
The price difference between Dell's PCs and the PCs of its competitors started to shrink.
You see, Dell's competitors outsourced their manufacturing operations entirely to Asian subcontractors. They basically adopted, what I like to call, an 'asset-light' business model.
Dell, on the other hand, outsourced only components. It kept total control over the final assembly.
As computers got cheaper, obsessing over specific components became less important.
Dell never quite adjusted to the new reality. Dell lost its market leadership. It fell behind Lenovo and Hewlett-Packard.
Ultimately, Dell had to give in. It too had to adopt the asset-light business model.
This is from its 2011 annual report...
Third parties manufacture the majority of the client products we sell under the Dell brand. We use contract manufacturers and manufacturing outsourcing relationships to achieve our goals of generating cost efficiencies, delivering products faster, better serving our customers, and building a world-class supply chain.
Dell focused on reducing its fixed cost. The company did this by closing and selling its manufacturing facilities. Dell completely moved towards outsourced manufacturing.
One year later, Dell went private (it de-listed from the stock market) to make further adjustments in its business model.
Dell had realised the importance of going asset-light.
After spending almost six years as a private company, Dell returned to the stock market in 2018.
The latest news... Dell is gaining market share again!
That's the power of the asset-light business model.
In the asset-light model companies should do one just thing - design, manufacturing, or marketing - really well.
Then they should collaborate with others for the rest.
One of our stock recommendations in Smart Money Secrets does this very well.
The company outsources manufacturing to a few selected vendors. It selects these vendors carefully based on their track record and ability to meet its strict quality requirements.
With such an arrangement, it doesn't invest capital to procure land, machinery, or human resources. It doesn't need to.
This allows the company to focus on marketing and building its brand.
This company, along with 2 others, is a part of our premium report - 3 'Click-of-a-Button' Stocks.
Radhika and I have published the premium report about these 3 stocks for our subscribers. We believe these stocks have massive wealth building potential in the long-term.
If you have subscribed to Smart Money Secrets, you can click here to download the report.
If you haven't subscribed to Smart Money Secrets yet, you can sign up here.
Chart of the Day
Nike is the prime example when it comes to the asset-light business model. It designs and sells sneakers but hires contractors in East Asia to produce them.
Gerald Davis, the author of The Vanishing American Corporation calls it Nikefication. An alternative term for the asset-light business.
And when it comes to the stock performance of Nike versus the S&P 500 Index, it's a no-contest.
Nike has simply crushed the S&P 500 index.
Nike Outperforms the S&P 500 Index By a Wide Margin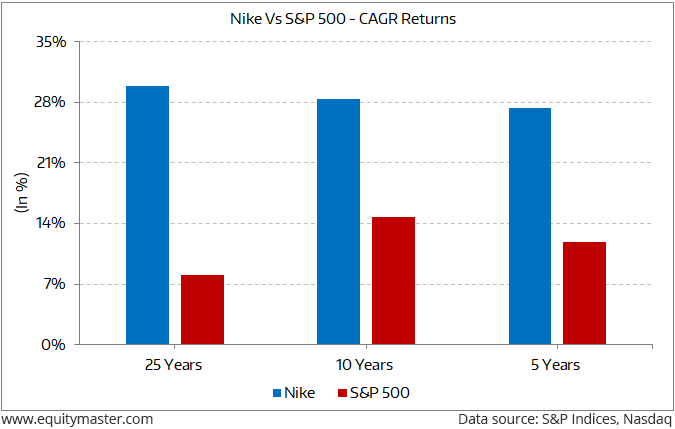 If you consider the 25-year period, Nike has delivered 30% per annum! That's more than 500x.
Similarly, Nike has outperformed the S&P 500 index in the last 5-year and 10-year period as well. The strong performance of Nike reflects the success of the asset-light business model.
Warm regards,


Sarvajeet Bodas
Co-editor and Research Analyst, Smart Money Secrets
PS: Sarvajeet Bodas and Radhika Pandit, co-editors of Smart Money Secrets, are recommending 3 stocks with massive wealth building potential. Click here to know more...
Recent Articles