The Lazy Millionaires Guide to Investing
Apr 11, 2017
In this issue:

» The Global IPO Mania
» Startups Finally Focus on Profits
» ...and more!
Bestselling author Michael Lewis likes to call himself lazy. Difficult to believe coming from someone who's authored six heavily researched books over the last 10 years. But as per him, his laziness serves as a filter, allowing him to focus on only the most important thing.
Then there's Yuval Noah Harari who has written perhaps the most dense and most impressive book in recent times and yet, finds enough time to go on long meditation retreats every year.
Both Lewis and Harari would be proud of what we have achieved in Microcap Millionaires. Because just like these two gentlemen, our approach towards this service borders on laziness.
Our subscribers are not complaining. The service has put in a fabulous performance, returning 153% since inception in February 2014 and outperforming the benchmark index by a factor of 3:1.
In his recent blog, busy vs productive, Morgan Housel makes a fantastic point about how we have become a society where busyness has replaced productivity.
Higher productivity has freed up time from the average American's day. But rather than using that extra time for leisure, or to become even more productive, we've used it to become busy.
And just as in any other field, this bad habit has seeped into the world of investing as well. A lot of analysts these days work themselves to death trying to analyse a company's business model. Yet, have very little to show by way of investment success.
They are essentially committing the same error of not knowing what to focus on and landing with a process that's all over the place. So while they have turned really busy, it hasn't made them any more productive.
One of the big reasons we have been so successful with Microcap Millionaires despite not putting a lot of effort is because we know what to focus on.
And these focus areas have been identified by none other than Benjamin Graham himself.
What's needed is, first, a definite rule for purchasing which indicates a priori that you're acquiring stocks for less than they're worth. Second, you have to operate with a large enough number of stocks to make the approach effective. And finally you need a very definite guideline for selling.
This is precisely what we have been doing month in and month out in our Microcap Millionaires service. We let no stock enter the service unless it's trading at a discount to its book value and we also have very definite guidelines for selling. You could do well to follow similar rules while investing.
Once these rules are in place, you would be amazed at how little time this strategy requires. All you need to do is perhaps spent a couple of hours every week and then let the strategy work its magic.
The approach is lazy no doubt but mighty effective as our track record shows.
To get yourself off to a great start in the lazy world of investing, we have compiled a special report on the top microcaps you can buy today. The report has stocks that pass all the conditions laid out by Graham and should end up doing really well over the next 1-2 years.
Click here to know how you could access this report for free.
--- Advertisement ---
How One Could Make Solid Returns From Least Covered Companies...

We believe that a majority of research firms start tracking companies only after
they have reached a certain level or stage in their lifecycle.

But the truth is one could potentially make bigger returns if he or she gets
in very early in a company's lifecycle.

And how can you find about high-potential companies well ahead of everybody else?

That's what our small cap service, Hidden Treasure, guides our subscribers to do.

Here are the full details about it...
------------------------------
03:15

Chart of the Day

The markets are buoyant these days. The Sensex looks set to go past 30,000 in the short-term. But that's not the best way to measure sentiment in our view.

Fund raising and deal making are great indicators of optimism (or the lack of it). In the case of our market, IPOs are all the rage.

As today's chart shows, this is a global trend. The flood of easy money from the developed world, due to low interest rates, has kept IPO activity strong.
The IPO Mania is a Global Trend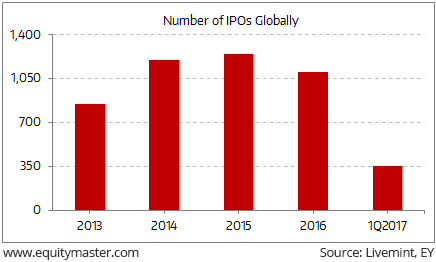 In fact, India has emerged as the top destination for IPO investors. There were 26 issues in the last three months.
This euphoria is directly related to the valuations of the markets. In fact, the Sensex is among the most expensive markets in the world.
The best example of the euphoria is the newly listed Avenue Supermarts (D-Mart). It's trading at nearly 100 times its FY17 expected earnings and about 4 times FY17 estimated sales.
We have cautioned investors regularly about IPOs. Just because there's a flood of money coming in doesn't mean it will stay forever. Such financial flows are called 'hot money' for good reason.
It doesn't take a lot of bad news for foreign funds to panic and pull their funds out of any country. It has happened several times before across many emerging markets.
Besides, investing in IPOs is flawed. The world's best investor Warren Buffett explained why...
"It's almost a mathematical impossibility to imagine that, out of the thousands of things for sale on a given day, the most attractively priced is the one being sold by a knowledgeable seller (company insiders) to a less-knowledgeable buyer (investors)."
Just two months ago, we showed how IPOs underperform the markets in general. This is a loser's game we believe.
It's the big news of the day. Flipkart has raised a record US$1.4 billion. Tencent Holdings, eBay, and Microsoft are the investors. The deal values Flipkart at US$11.6 billion.
Its peak valuation was US$15 billion! This basically confirms what we have been saying for a long-time. Valuations have peaked and are falling fast in India's startup space.
Even the largest firms are impacted. Consolidation is now the buzz word. Flipkart will buy eBay India as part of the deal. It's also in talks to buy its smaller rival Snapdeal.
India's startups including Flipkart are now in a mad rush to stop the cash burn and make profits. Zomato recently reported reducing cash burn by 81% YoY.
These startups have lived off investors' money for as long as they could. Now the party has ended. The bubble has burst.
This is reflected in Sachin Bansal and Binny Bansal, Flipkart's co-founders, losing their billionaire status after Flipkart's valuation fell in its latest funding round.
However, we don't think this is the end of the world for India's startups. We believe, from the ashes of the first generation of startups will rise the next generation.
Hopefully, they will have stronger business models and will create long-term wealth for shareholders.
Indian share markets were trading on a strong note today. At the time of writing, the BSE-Sensex was trading higher by 189 points (up 0.6%) and NSE-Nifty was trading higher by 48 points (up 0.5%). The mid cap index was trading higher by 0.3%, while the small cap index was trading higher by 0.7%.
04:55

Today's Investing Mantra

"You pay a very high price in the stock market for a cheery consensus." - Warren Buffett

This edition of The 5 Minute WrapUp is authored by Rahul Shah (Research Analyst).
Today's Premium Edition.
A Must-Check Before You Trade a Stock
Why share pledging is a critical factor in picking up stocks.
Read On... | Get Access
Recent Articles