Six Stocks that Beat the Sensex Black and Blue
Apr 13, 2017
In this issue:

» Retail inflation at a five month high
» Industrial production falls
» An update on the stock market
» ...and more!
I want to tell you a little story today.
Why?
Because the stock markets are...well...fairly high these days. The BSE Sensex is flirting with the 30,000 mark. And for true blue value investors, perhaps the biggest question running through their minds is whether this is a good time to be buying stocks at all.
And that's what my story is about.
This is not the first time the markets have been so high. Two years back - around January to March 2015 - it was quite similar. The Sensex spent most of its time upwards of 29,000 and even briefly crossed 30,000.
In that pricey environment, we picked six stocks for our Graham-inspired service Microcap Millionaires (MCM). Here's how these stocks performed: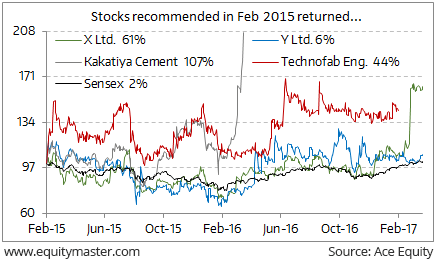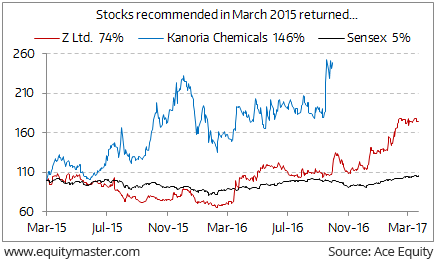 The charts are rebased to 100. The black line in both charts is the BSE Sensex' performance. Starting from February and March 2015, it's returned 2% and 5% till date, respectively.
The rest of the lines peg the performance of all the stocks we picked in MCM at the time. As you must have noticed, the outperformance is massive. They left the Sensex in the dust.
In case you're wondering why I've called three of the companies X, Y and Z, it's because they're still open positions in MCM, so I can't disclose their names to you. The ones I've named are past closed positions (and thus their lines don't go all the way on the charts).
Here's my point to you: Even in expensive markets such as the current one, it makes a world of sense to put in money into good bargain stocks. Over the long term, such picks put together are still likely to turn in great profits.
Of course, there's always a chance that he markets could crash in the near future. Who knows, right?
So you take care of that by putting only part of your money into bargain stocks. If the markets fall, the rest of the cash becomes your gunpowder to shoot many more such bullets.
That's the other important aspect that we take care of at MCM.
By doing just these two things well - i.e. picking bargain stocks and smartly positioning stocks vs cash - MCM has delivered its subscribers an excellent performance.
Overall, the service has returned 153% since inception in February 2014 and outperformed the benchmark index by a large factor of 3:1.
Try out Microcap Millionaires. I couldn't recommend it more highly.
--- Advertisement ---
Big Savings On Our Small Cap Research...

We have some important news for you today...

For a limited time, our small cap recommendation service, Hidden Treasure, will be available for more than 50% discount on its normal price.

With the stock market scaling new heights in the recent weeks, it's an excellent opportunity for you to grab some extremely good small cap stocks and set yourself up for BIG returns from them going forward.

Therefore, we suggest grabbing this opportunity with both hands while it still lasts!

Again, this offer will be open for a limited time only.

So hurry! Get the full details below and sign up right away...
------------------------------
02:00

Chart of the day

Retail inflation rose to a five-month high of 3.81% YoY in March. This is mainly on the back of higher fuel prices. Retail fuel inflation accelerated to 5.56% in March from 3.90% a month ago. Food prices rose 1.93% on the year, slower than a 2.01% annual increase a month earlier.
Retail Inflation Highest in Five Months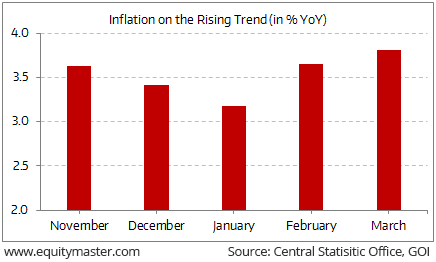 The data vindicated the RBI's decision last week to keep its policy rate on hold amid concern about prices. The RBI kept its key lending rate on hold for a third straight meeting last week. The central bank also considered the possibility of below-average monsoon rains this year, which will again push the food prices higher.
It is important to note that the RBI gradually reduced the remonetisation pace in March, fearing a surge in CPI and WPI inflation due to pent-up demand after notebandi. The increase in currency being circulated was 5.9% week-on-week in January 13. It slowed to 4.6% in February 10, and further to 4% in March 10.
Inflation excluding food and fuel has also exhibited persistence and has been significantly above headline inflation since September 2016. India's policy rates will see a long pause if the inflation moves ahead on the same trajectory and in case monsoon behaves abnormally then even a reversal in rate cycle is a possibility.
But what's the impact of rising inflation on stock returns? My colleague, Ankit Shah has written a brilliant piece on this subject. He writes:
The government is spending a ton of money to boost rural consumption.

The RBI has indicated that it may be done with rate cuts.

As spending returns to normal after demonetisation, cash circulation in the economy will rise.

Early predictions of the monsoon are not very positive.

The trends point to a period of high inflation. Ideally, investors should be in stocks that can weather the storm.

But which stocks can deliver such returns during a period of high inflation?
Talking about the impact of notebandi, the country's index of industrial production (IIP) shrunk 1.2% YoY in February 2017, the lowest level in four months. This is mainly due to a fall in output of manufacturing segment. Manufacturing sector, accounting for over 75% of the index, had shrunk 2% in February 2017. The previous low was a contraction of 1.87% in October 2016.
In January, IIP registered a positive growth of 2.7% despite the impact of demonetization. The negative IIP numbers in February has come as a surprise which indicates the effect of demonetisation continues to persist.
With this, the RBI is in a catch-22 situation. Concerns on the growth front will deter the RBI from raising policy rates anytime soon. On the other hand, rising inflation and a possibility of below-average monsoon will force the central bank to think about raising the interest rate.
After opening the day on a flat note, share markets in India witnessed volatile trading activity and are trading marginally below the dotted line. Sectoral indices are trading on a mixed note with stocks in the Oil & Gas and the banking sector trading in green, while stocks in the metal sector leading the losses.
The BSE Sensex is trading down by 52 points (down 0.17%), and the NSE Nifty is trading down by 17 points (down 0.2%). Meanwhile, the BSE Mid Cap index is trading up by 0.13%, while the BSE Small Cap index is trading up by 0.5%
04:56

Today's investment mantra

"The future is never clear and you pay a very high price for a cheery consensus. Uncertainty actually is the friend of the buyer of long-term values." - Warren Buffett

Editor's note: There will be no issue of The 5 Minute Wrapup on 14th April 2017 on account of Good Friday.
Today's Premium Edition.
India's FMCG Sector: Incumbents vs Challengers
How new players can affect the FMCG sector.
Read On... | Get Access
Recent Articles