Meet the Fund Manager Who Walks the Less Trodden Path
Apr 15, 2017
In this issue:

» He likes midcap companies that are not widely tracked
» He rightly predicted Sensex and Nifty would hit new highs in 2017
» ...and more!
A slight detour before I introduce you to this brilliant fund manager we've been tracking...
I was part of the interview panel when my colleague Rohan Pinto applied to join our equity research team. I remember a particular moment during the interview when Rahul Shah, in his usual measured tone, asked his famous questions: What do you like to read? Who are the three people you admire the most and why? (Read about the neuroscience behind these questions here.)
The mere mention of the word 'read' brought a big smile on Rohan's face. As he talked (and talked, and talked) about his love for books, the people that inspired him, and the investors he admired and studied, we realised we'd bumped into a learning machine...and an obsessive bookworm.
I remember him quoting Charlie Munger:
I believe in the discipline of mastering the best that other people have ever figured out. I don't believe in just sitting down and trying to dream it all up yourself. Nobody's that smart.
The reason I'm sharing this is because sometime last year Rohan came up with a novel idea: I want to develop a way to copy the best investors out there...
Our other colleague, Kunal Thanvi, a very savvy stock picker, also shared Rohan's passion for 'copycat' learning and investing. He was instantly drawn to Rohan's idea.
I'm thrilled to announce that Rohan and Kunal have been working on this exciting project for several months. They've been studying the secret recipes of India's super investors...and even more interestingly...they've been actively tracking and evaluating their recent stock picks. (You will hear more about this in the coming weeks.)
I hope you read their deeply insightful interview with Kenneth Andrade - India's Peter Lynch. And also an interesting conversation with famous value investing guru Professor Aswath Damodaran.
I've been keen to participate in this project. So, today I'm going to talk about yet another Indian super investor who we like to track...Akash Prakash.
Akash Prakash is the co-founder and CEO of Amansa Capital, a Singapore-based fund management company. An MBA from IIM-Ahmedabad, he was ranked among the top 20 Fund Managers in Asia by Asia Money in 1999. In 2004, he was ranked among the top three by Indian corporates in Institutional Investor's 'Best of Buy-Side' survey.
To date, he has a knack for picking winning stocks, one after another. According to Economic Times, many of his stock picks - including Cholamandalam Investment, Edelweiss Financial Services, Bharat Financial, and Ashok Leyland - have more than doubled in a couple of years.
Besides an enviable track record, Akash's investing philosophy resonates with our own in-house approach. Here's some interesting aspects about his investing philosophy...
Investing approach in a nutshell...
Akash prefers 'companies that are well managed and financially disciplined, with a strong growth potential that can be held for multiple years and trade at a reasonable price'. And before making the investing decision, he follows a rigorous research process that spans the entire eco system in which the company operates.
Bottom-up or top-down?
He follows a bottom-up stock-picking approach. This means that he focuses more on individual stocks, and that his investment decisions are not primarily driven by macroeconomic calls. He also doesn't believe in following a sector-focused approach.
Relative returns or absolute returns?
Let me first explain the difference between 'relative returns' and 'absolute returns'. The term 'relative returns' refers to returns as compared to a benchmark index. Most fund managers aim to produce returns that beat a benchmark. Given the intense competition, a fund manager who beats the benchmark by even a few percentage points over three to five years is said to be successful. Because of this intense focus on relative performance, many fund managers tend to follow what Warren Buffett calls 'the institutional imperative' - a tendency to blindly imitate the action of peers.
But what happens when let's say the Sensex falls 25%? A fund manager who produces a 20% fall will appear successful, relatively speaking. And that's the trouble with relative returns.
On the other hand, 'absolute returns' are not compared with any benchmark. Managers focused on absolute returns have a long term orientation and therefore are able to take contrarian bets and not be index huggers. And this is the orientation that Akash follows.
Short-term or long-term?
Akash follows a long-term investing approach. In an interview with ET Now in February 2017, this was his message:
Investors should remain invested and just fill it, forget it and look at it after five years. They will have very strong returns.
Small cap, midcap, or large caps?
Akash invests across the market cap spectrum. But he does have a special liking for midcap stocks.
Popular or contrarian?
Akash likes to take the less trodden path. He likes to go where not many fund managers would go. He particularly likes midcap companies that have limited or no coverage by brokerages.
Let's talk a look at some of his top holdings. The chart of the day shows the top holdings of Amansa Capital in value terms. At Rs 6.5 billion, Federal Bank is the largest holding.
Akash Prakash: Walking the Less Trodden Path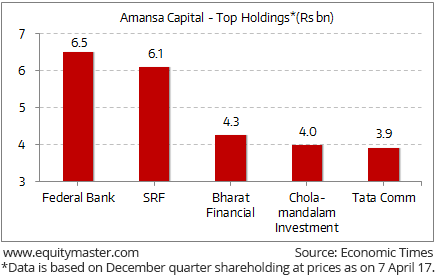 Economic Times estimates Amansa Capital's total holdings to be in excess of Rs 81 billion.
Some of the big winners for Akash Prakash have been Cholamandalam Investment (up 5.6 times since December 2010), Edelweiss Financial Services (up 4.2 times since December 2009), Cyient (up 3.4 times since June 2011), Triveni Turbines (up 3 times since March 2012), among others.
2017, too, has been a big success for the fund manager. Right after the Union Budget this February, he was bang on with his prediction that the benchmark Indian stock indices could hit new highs during the year and stabilise at that level for some time. He was proven right in less than two months with the Indian markets zooming higher in recent weeks.
As per Capitaline data, among the 29 stocks where Amansa Capital has more than 1% stake, twelve have given 20-86%, sixteen are in double digits, and five stocks are down so far for the year.
Now, let me caution you. Do not blindly copy Akash's stock picks. Or for that matter any other successful investor. That's not how copycat investing works. Copycat investing is an art that requires a disciplined and diligent process to imitate successful investors.
And that's exactly what my colleagues Rohan and Kunal are working on. They're building a solid process to sift through the stock ideas and strategies of the smartest and most successful investors in India...and to help you ride along with their success.
Stay tuned for more...
04:20

Chart of the Day

Amansa capital has reportedly large holdings in the financial sector. The S&P BSE finance index has returned over 61% over the past one year. The demonetisation of high value notes in November 2016 did result in some correction in the index. Since then however, the index has recovered.
Strong Recovery in BSE Finance Index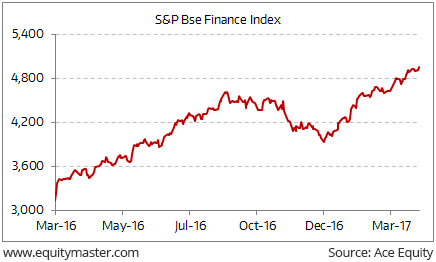 This correction provided great entry points for buying quality companies. We believe that maximum pessimism provides these prices. With the current market valuations at a record high. It is crucial to remain disciplined about the businesses one is buying. Compromising on the quality of the business could prove extremely fatal in these times.
04:55

Today's Investing Mantra

"If I have seen further, it is by standing on the shoulders of giants." - Isaac Newton

This edition of The 5 Minute WrapUp is authored by Ankit Shah (Research Analyst).
Today's Premium Edition.
Today being a Saturday, there is no Premium edition being published. But you can always read our most recent issue here...
Recent Articles