A Little Known Way to Clone India's Super Investors
Apr 24, 2017
In this issue:

» What Happens After You Buy a Stock
» The Common Theme between Roger Federer, Buffett and ValuePro
» Market roundup
» ...and more!
00:00

Chart of the Day
I wrote to you on the merits of cloning a super investor. Warren Buffett.
The results were clear. The cloned group of stocks outperformed the benchmark indices over a time horizon of 15 years.
We learnt that stock picks of these smart minds available in public domain could act as a basic yet effective first level filter that would help in identifying quality businesses.
Chris Mayer is of the belief that one needs to hold on to quality businesses once you own them.
Stick to businesses where time is your friend. There will be lots of ups and downs, but if you buy quality assets that you think are a near cinch to be worth a lot more money in 5 years or ten years, you'll be fine.
Unfortunately, for us, in India, we don't have such an individual disclosure as is available in the US.
However, there is a silver lining.
The regulations require companies to report any public shareholding that is more than 1% to be mandatorily reported every quarter.
Mind you, tracking all these company disclosures is not an easy thing. However, doing this provides you with an access of what these super investors are investing.
Kunal and I believe cloning India's Super Investors could be a great source of idea generation.
This disclosure has some limitations. The companies update their shareholdings only every quarter. Generally, there is a huge time gap between time a super investor may have bought in a stock versus the actual disclosure.
However, there is another potentially rewarding tool available with us to help track these super investors.
Enter: Bulk and Block Deals
Both the exchanges are mandated to report deals that are over a certain set threshold daily.
On an everyday basis, the exchanges release the data for all the bulk and block deals that have happened on its exchanges.
While, over 90-95% of these are mostly noise.
Sifting through the wheat from the chaff could be potentially hugely rewarding for the curious mind.
Let me walk you through an example.
Now, we spoke in detail about Akash Prakash, co-founder of Amansa Capital. A Fund manager who walks the less trodden path.
Akash prefers companies that are well managed and financially disciplined, with a strong growth potential that can be held for multiple years and trade at a reasonable price.
If you have a similar investment philosophy of Amansa Capital and track the firm's activities.
On 15th Oct 2008, one would have found a bulk deal wherein, Amansa bought a 0.56% of a stake in Eicher motors at a price of Rs 201.
| Date | Client Name | Deal | Quantity | Price |
| --- | --- | --- | --- | --- |
| 15-Oct-08 | Amansa Capital | Buy | 156,727 | 201 |
Imagine this, if fundamentals of Eicher Motors at the time passed your earnings quality checks and you stayed invested in the company.
Every Re 1 invested in the company then would have multiplied by 128 times in April-2017.
That's a whopping compounded annual return of over 77%.
Eicher Motors - The Compounding Machine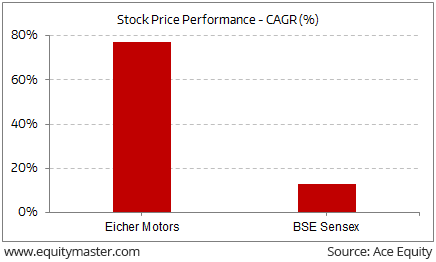 Well, Amansa Capital has stayed put and rode on this multibagger the whole way.
According to the Top 10 shareholders list provided in the Annual Report of Eicher Motors in 2016. Amansa continued to hold around 0.73% of the company.
Now, there are plenty of other examples, wherein tracking such bulk/block deals could have been resulted in huge wealth creation.
The critical aspect here again is to go beyond the stock picks of the smart money and understand their thought process behind buying them.
Our research co-head Rahul Shah often says, "it is all about exploring unrecognized simplicities."
There is another simple yet powerful way to identify promising companies. This person has the best view of what is happening to the business. He proverbially is in the driver's seat of the car.
Kunal has all the details. Watch this space tomorrow.
--- Advertisement ---
Are You Prepared For Sensex 40,000? Read This Today...

Last year, in March 2016 to be exact, our research team identified a hidden underlying current in some of the biggest blue chips of the market which could actually take Sensex all the way up to 40,000 or even beyond...

And when we first made the claim, the Sensex was actually around the 25,000 mark.

Today, in just over a year, the Sensex is hovering around the 30,000 mark. In fact, for a short period on 5th April, it even crossed that barrier!

So, this bull run does reiterate our belief in our prediction that we could see Sensex 40,000 sooner than expected...

The question is...Are you prepared for Sensex 40,000?

Don't delay...

Click here to get full details on one of Equitymaster's Biggest Predictions ever...and how you could benefit from it!
------------------------------
I had the privilege of witnessing professor Sanjay Bakshi cast a magical spell in front of a packed house in the iconic convention center at the Bombay Stock Exchange.
Over 600 people listened in pin drop silence as the professor delivered a lecture on, "What Happens After You Buy a Stock".
Professor reiterated his philosophy of owning quality businesses. According to him investing in a stock is similar to being in a relationship, and as with all relationships, one would go through different phases such as happiness, boredom etc. The success of the relationship will likely depend on various factors.
In brief, he spoke about the need to think in terms of conditional probabilities, biases, benefits of thinking over a long time horizon, evaluating a stock in terms of expected returns, when would you want to sell a stock and more...
For the newbie or intermediate investor, he also suggested four books that are a must read.
One up on wall Street - Peter Lynch
Margin of Safety - Seth Klarman
The Intelligent Investor - Benjamin Graham
The Little Book that Builds Wealth - Pat Dorsey
For those who were not able to attend the talk, worry not. we have you covered. Here is our private class with the professor. The learnings shared by him are timeless.
Happy Reading.
In a recent edition of the Research Digest (Subscription Required), Tanushree wrote about a common thread that connects legends from different fields like Warren Buffett, Roger Federer together.
Munger believes focus and devotion are at the heart of everything Buffett does...and that without that focus, Berkshire wouldn't be the entity it is today. Buffett's focus not only helped his firm's investment returns, but Munger believes the outstanding performance of the Berkshire's CEOs is due to Buffett's focus on their key qualities. Munger writes:

Buffett's decision to limit his activities to a few kinds and to maximize his attention to them, and to keep doing so for 50 years, was a lollapalooza. Buffett succeeded for the same reason Roger Federer became good at tennis.

So the secret to Buffett and Federer's success, it seems, is a disciplined focus on a system that works.
Further, she is of the view that the core framework, ValuePro team uses to evaluate each business. Their highly disciplined focus has helped to pick the best 'Buffett-would-buy' stocks in India over the past eight years.
Now, I along with my team have put together a list of four stocks you could consider buying today.
According to me these are stocks even Buffett would find tempting. These are relatively safe stocks with solid long term business fundamentals.
I strongly recommend this report. You can gain access to it here.
Indian equity markets opened the day on a positive note. At the time of writing, BSE Sensex was trading higher by 82 points and NSE Nifty was higher by 15 points. Both the BSE Mid cap and BSE Small cap indices are trading up by 0.4% and 0.5%, respectively. Barring stocks from information technology sector and healthcare sector, all the sectoral indices have opened the day in green with stocks from realty sector, capital goods sector and banking sector leading the gains.
04:55

Today's Investing Mantra

"When we own portions of outstanding businesses with outstanding managements, our favorite holding period is forever." - Warren Buffett

This edition of The 5 Minute WrapUp is authored by Rohan Pinto (Research Analyst).
Today's Premium Edition.
How to Value Banking Stocks?
Three critical parameters to look at while evaluating banking stocks.
Read On... | Get Access
Recent Articles