How Are You Protecting Yourself against This Roaring Bull Market?
May 2, 2017
In this issue:

» Assessing Investing Opportunities as Earnings and Stock Markets Disconnect
» Will RERA Help You Make Money on Real Estate Stocks
» Market roundup
» And more!
What keeps you up at night?
That's the question the guys over at GMO are asking.
It's a figurative way to ask what political, economic, or market risks worry investors most. The implied question is: How are you protecting yourself against this roaring bull market?
I haven't gone through the entire GMO letter, so I don't know what solution they're offering. But we at Equitymaster have our own cure for investment-related insomnia.
We call it the 70:20:10 rule.
Investors should always have 70% of their corpus invested in large caps, 20% in midcaps, and 10% small caps.
Those with more risk appetite can have a slightly different allocation, but this is sufficient to not only earn good long-term returns from stocks but also limit downside risk.
In our view, it's simply the best protection you can have irrespective of the market environment. In fact, this is the third layer of protection we recommend. Long-term readers already know the other two: Invest in businesses with sound fundamentals and buy at valuations with sufficient margin of safety.
We aren't of the conventional view that, just because an asset class is volatile, it's also risky. This line of thinking can cause a lot of damage to long-term returns. It tends to keep people away from stocks and not benefit from their enormous long-term wealth-building potential.
Now, we're not saying equities aren't risky. They are. But without question, they should be a significant part of your long-term plan. The real risk you should be worried about is the risk of a permanent loss of capital. And the real question is how to minimise that risk.
Our three-layer protection is one of the most effective ways. The large caps provide much-needed stability and resilience to your portfolio, while the mid and small caps add that extra zing to your overall returns.
Do this and you'll have positioned yourself superbly to benefit from the long-term India growth story without exposing yourself to a lot of risk.
It is simply one of the best all-weather protection plans you can get, and we just made employing it extremely easy.
We are offering our four best research services - covering blue chips, small caps, Megatrend stocks, and real-time research on various stocks - at one unbelievably attractive price.
Click here to know more.
You will have to hurry, though, as this is an invitation-only membership with a very limited enrollment period.
--- Advertisement ---
The Secrets of Super Investors

Finally Revealed! The Super Investors of India...And the secrets behind their success. Find out who they are...how they pick stocks.

It's like riding in the sidecar with these super investors and learning how to pick stocks...

Grab Your Copy of this Free Report Now!
------------------------------
02:30

Chart of the Day

The earnings season for the final quarter and financial year FY17 has kickstarted. And while the markets are touching new highs, there is nothing to cheer about India Inc performance.

135 companies have declared results so far. As an article in Business Standard suggests, the earnings growth has slid from 15.6% in FY16 to just 7.2% in FY17, making it the worst in three years. This is despite the lower tax outgo and other income boost in FY15. Domestic market focused companies too have slowed down due to demonetisation.
Earnings in Contrast with Market Trends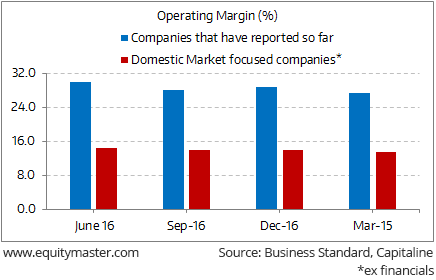 One must note that the actual performance for the last quarter of FY17 has been much below brokerage estimates.
So how can one make money in a rising market, with little support from earning trends and with brokerages getting it all wrong?
I believe a few super investors could provide the clue. These are the guys who've beaten the markets black and blue and have an eye for multi bagger stocks irrespective of the macro environment.
With respect to which super investors to follow, my colleague Kunal and Rohan have could be of great help courtesy their project, The Superinvestors of India.
What more, they are also tracking promoter activity and bulk and block deals to get insights on where the more knowledgeable investors are putting their money.
To know more about these superinvestors and their stock picking approach, download a free copy of - The Super Investors Of India.
While Sensex and stock markets are touching life time highs, here is another asset class witnessing a significant event. Yesterday was a landmark day for real estate sector in India. On May1, 2017, RERA (Real Estate Regulation Act) became effective.
Real estate sector, as we all know, has been marred by lack of transparency, accountability, corruption and clear regulations. With an aim to serve consumers interests and address redressal of disputes, RERA is like a breath of fresh air for the sector.
Some key features of RERA will be sharing of stage wise time schedule of completion of the project. Further, the promoter will need to register a project with state regulatory authority before reaching out to buyers. The registration itself will include a background check for promoters, the past history with regards to delays and execution of projects.
All in all, it's a positive development. But mind you, it will not change the game in a day. A lot of states are yet to have the required infrastructure to implement the act. The transition phase could be long and difficult.
Until things settle, one would do well not to get carried away by the expectations and optimism around RERA. Readers must invest in real estate stocks only after due diligence and research on company's fundamentals and promoters. Having earned 147% returns on a real estate stock recommendation in Hidden Treasure, we know that's the only approach to make money in real estate stocks.
At the time of writing, share markets in India were trading marginally lower. Sectoral indices were trading on a mixed note with stocks in the telecom sector and power sector witnessing maximum selling pressure. Realty sector is trading in the green.
The BSE Sensex was trading down 70 points (down 0.2%) and the NSE Nifty was trading down by 25 points (down 0.3%). The BSE Mid Cap index was trading down by 0.4%, while the BSE Small Cap index was trading down by 0.2%.
04:56

Investment Mantra of the Day

"Be fearful when others are greedy and greedy when others are fearful". - Warren Buffett

This edition of The 5 Minute WrapUp is authored by Rahul Shah (Research Analyst) and Richa Agarwal (Research Analyst).
Today's Premium Edition.
The Dark Spots in the Indian Solar Industry
Will the solar energy revolution offer sunny prospects for domestic solar equipment manufacturers?
Read On... | Get Access
Recent Articles