Tracking India's 'Warren Buffetts'
May 3, 2017
In this issue:

» Taking a Cue from Berkshire's Increasing Cash Pile
» How to Ride India's Economic Growth Story.
» Market roundup
» And more!
The markets are flirting with lifetime highs. The financial dailies are chock-a-block with views from various fund managers. Is it time to book profits, remain invested, or buy more to ride Sensex 100,000 in the next five years? Everyone has a view. And the more the coverage, the more the confusion.
For retail investors, all this information can be overwhelming. You perceive these people as important...believe they have access to knowledge you don't...and assume their views matter because they're on business TV. It is indeed difficult to ignore them.
Yet, with all these intersecting views, it's nearly impossible to know who to follow. Often, the determining factor is hype. Unfortunately, we've probably all burnt our hands following tips from some media-glorified talking head.
So the question is: Should you block out these views and brave the markets on your own?
I don't think so.
Information - and tracking smart investors - can be empowering...provided you know how to separate the wheat from the chaff.
For the success that we claim in our recommendations, a huge credit goes to value investing gurus such as Warren Buffett, Benjamin Graham, Charlie Munger, and Peter Lynch.
These international 'gurus' have been our role models. We did not have to establish their credentials. Their genius was well known before we decided to follow them. And while they weren't exposed to the Indian stock markets - making it impossible for us to clone their portfolios - just imbibing their philosophies has been rewarding enough.
That said, we do envy investors like Monish Pabrai who have the privilege to play in the same markets as Graham and Buffett and can therefore replicate their investments and claim similar fortune and glory.
But what if Warren Buffett were an Indian investor? Would you have the same luck as Pabrai?
Believe it or not, this isn't just wishful thinking. A number of homegrown investors have been just as astute as Mr Buffett in making money across cycles in Indian markets. It's surprising they aren't household names given their consistent success and solid framework for stock selection.
Well, we're glad hardly anyone in the media has bothered to cover them. Because that makes us the first to track what these lesser-known value investors are betting on. And believe me, that's valuable information.
Now, this may sound deceptively easy. But let me tell you, tracking and copying successful investors is anything but. To know who to follow, you have to profile all these investors, check their track records, ensure their process made them money and not luck... Long story short, you have to get into their minds before you even decide if they're worth following.
After months of sifting through information on countless Indian investors and travelling far and wide to meet them in person, my colleagues Kunal and Rohan have finally crystalised their list of Indian investors worth tracking. With a solid foundation in value investing, they will not just look at the information that comes from following these investors...But will filter ideas based on their merit.
The guys even published a series of their interviews with these Indian superinvestors.
Perhaps, like me, you'll be surprised their list includes promoters. But it makes sense if you think about it. No one knows the prospects of a business as well as the insiders do. And while they may prefer not to disclose much information unless they're required to, their buying and selling activity, along with bulk and block deals, is a good indicator of where the business and stock valuations might be headed.
With these tools and strategies...and their solid footing in value investing...Kunal and Rohan are ready to reveal some smart money secrets.
To join them on this fascinating and first-of-its-kind journey, download your free copy of The Superinvestors of India.
--- Advertisement ---
The Secrets of Super Investors

Finally Revealed! The Super Investors of India...And the secrets behind their success. Find out who they are...how they pick stocks.

It's like riding in the sidecar with these super investors and learning how to pick stocks...

Grab Your Copy of this Free Report Now!
------------------------------
02:30

Chart of the Day

Sensex ended a shade below 30,000 to close at 29,977. It currently trades at a PE of 22.7 against its average PE (price to earnings ratio) of around 19 times. With earnings yet to catch up with such steep valuations, does it make sense to have cash ready when the tide turns the other way?

Warren Buffett certainly thinks so. Berkshire Hathaway was sitting on US$86.4 billion in cash at the end of December 2016. This at a time when United States is said to be in one of the longest running bull markets in its history.
Berkshire's Increasing Cash Pile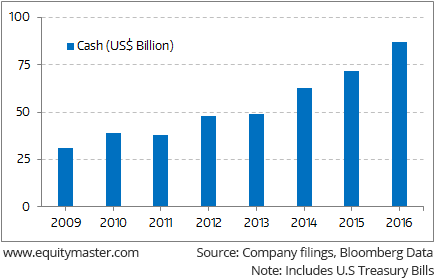 But staying in cash is easier said than done. The fear of losing out on making money is always on the back of one's mind. Unless one has set a strong process, one is likely to get swayed...and ultimately let down by market optimism.
So how does one overcome this destructive instinct? You may get some answers from Mr Buffett himself as 53rd AGM of Hathaway Berkshire gets live streamed by Yahoo Finance on May 6, 2017. Stay tuned for our coverage of the same as well.
As for Indian markets, through Microcap Millionaire, Rahul Shah shows us an easy way to achieve this discipline of staying in cash.
Rahul follows clear and set indicators on how and when to shift between cash and stocks. The team has booked handsome profits on eight recommendations since December 2016. In the process, as money has moved from stocks to fixed deposits, the team is also essentially readying for the next round of a market crash, whenever that happens. When stocks crash, they will be right there waiting to catch them with cash.
The strategy has worked quite well so far. As per the latest update, Microcap Millionaire's total outperformance vis-a-vis the Sensex is a fabulous 108.4% since inception in February 2014.
While markets are full of optimism, things aren't that hunky dory on the macroeconomic front. Fitch retained India's "BBB-"sovereign rating - the lowest investment grade, on the back of India's weak public finances. Although, it also retained a "stable" outlook for the country's ratings.
The agency was positive on the government's reform measures like GST. However, the backbone of the economy - Banking sector remains a dampener. Fitch particularly focused on the contingent liabilities of public sector banks. Overall, Fitch expects India's GDP growth to increase to 7.7% in FY17 and FY18 from its current level of 7.1%. What will this mean for stock markets? The India Letter team has some answers. The team is travelling the length and breadth of the country to identify such stocks that will benefit the most due to India's economic growth.
At the time of writing, share markets in India were trading marginally higher. Barring FMCG stocks, all sectoral indices have opened the day in green with stocks from power sector and realty sector leading the gains.
The BSE Sensex was trading up 62 points (up 0.2%) and the NSE Nifty was trading up by 27 points (up 0.3%). The BSE Mid Cap index was trading up by 0.9%, while the BSE Small Cap index was trading up by 0.4%.
04:56

Investment Mantra of the Day

" Predicting rain doesn't count. Building arks does". - Warren Buffett

This edition of The 5 Minute WrapUp is authored by Richa Agarwal (Research Analyst) and Girish Shetty (Research Analyst).
Today's Premium Edition.
PNC Infratech: Ready to Capitalise on India's Growth Story?
Government focus on Infrastructure spending will boost PNC Infra's growth.
Read On... | Get Access
Recent Articles