The Original Superstars of Value Investing
May 6, 2017
In this issue:

» Buffett sitting on US$86 billion cash, another mega deal in the offing?
» A roundup of the week's stock market action
» ...and more!
00:00

Chart of the day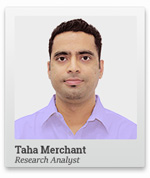 Among the endless hordes of stock market investors, only a handful make the kind of money that dreams are made of.
I'm talking the kind of money that changes lives. Changes the way you drive, eat, sleep, and practically every other aspect of your life.
So how is it these rare few have been able to make a killing when ordinary investors never seem to make any serious money?
Well, one common thread I've seen is that successful investors first and foremost find an investing strategy of substance - one grounded in sound wisdom. Then they work hard to master that strategy.
Then they stick to it. And that's when the magic happens.
Through the ups and down...through the rough and tumble of the market and economy...they tune out all the noise and stick closely to the core principles of their chosen strategy.
That said, I've seen by far the largest pool of extremely successful investors follow the strategy we know as value investing.
And lest you think Warren Buffett is the only living proof that value investing works, you need to meet the rest of the gang...
All of the investors I'll tell you about, in one way or the other, are earliest disciples of Benjamin Graham's school of value investing. The very first batch of its practitioners. The original superstars of value investing, if you will.
And here they are, along with the results they got from their investing:
The Very First Batch of Grahamian Investors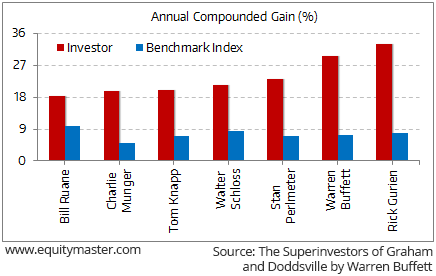 Each of these are records racked up over long periods during the 50s, 60s and 70s - ranging from 14 to 28 years - so you know this is serious stuff. And as you can see, these guys made some serious money.
| | Cumulative return (%) | ...Over Number of Years |
| --- | --- | --- |
| Charlie Munger | 1,157% | 14 |
| Tom Knapp | 1,661% | 16 |
| Walter Schloss | 23,105% | 28 |
| Stan Perlmeter | 4,277% | 18 |
| Warren Buffett* | 2,795% | 13 |
| Rick Gurien | 22,200% | 19 |
*Buffett's record only during his initial partnership years from 1957 to 1969
Source: The Superinvestors of Graham and Doddsville by Warren Buffett
As for some introductions, Walter Schloss, Tom Knapp, and Warren Buffett all worked at Graham-Newman Corporation and dove into professional money management after Graham wound up his firm around 1956.
Bill Ruane was Graham's student at Columbia University.
Charlie Munger was a friend of Buffett's and another investor steeped in the value investing philosophy. And so was Rick Guerin, a friend of Charlie's.
Stan Perlmeter was a partner at an advertising agency, and luckily for him, happened to be working in the same building in Omaha as Buffett. In 1965, he figured that Buffett seemed to have a way better business than he did, so he left advertising and switched to value investing.
But perhaps my favourite is Buffett's description of Tom Knapp in 1984:
Tom Knapp...also worked at Graham-Newman with me. Tom was a chemistry major at Princeton before the war; when he came back from the war, he was a beach bum.

And then one day he read that Dave Dodd was giving a night course in investments at Columbia. Tom took it on a non-credit basis, and he got so interested in the subject from taking that course that he came up and enrolled at Columbia Business School, where he got the MBA degree. He took Dodd's course again, and took Ben Graham's course.

Incidentally, 35 years later I called Tom to ascertain some of the facts involved here and I found him on the beach again. The only difference is that now he owns the beach!
You see, value investing principles are not just fun things to talk and hear about. This is serious stuff. Mastered well and applied with discipline, it can be nothing short of the goose that lays golden eggs.
Back home in India, we too have a bunch of value-oriented investors who've had tremendous success with investing. In the process, they've made pots and pots of money in the stock market.
Who are these super investors?
And more importantly, how do they pick stocks? Which stocks are they picking?
Not much is known about them. They largely fly under the radar of most retail investors.
Luckily for us, my colleagues Rohan and Kunal have spent months working on their 'superinvestor project'. They've travelled India to meet with and pick the brains of these relatively unknown superinvestors.
And now they've published their conversations - along with their own detailed notes and takeaways from these rare interviews - in an exclusive ebook.
Download your free copy of The Super Investors Of India today.
Over 11,000 readers have already claimed their free copy of Rohan and Kunal's new guide. If you are really serious about investing in the stock market, I strongly suggest you do too.
--- Advertisement ---
Before You Buy The Next Stock, Read This...

Our special guide reveals the secret stock-picking strategies of some of the most reclusive and yet, successful investors of India.

We call it, The Super Investors of India.

More than 11,000 copies have already been downloaded in a matter of days...and that number is going up as we speak!

So, before buying the next stock, we would strongly recommend you download your copy and learn the art of stock-picking from the masters.

Click Here To Download Your Free Guide (No Credit Card Required | No Long Forms | Instant Download)
------------------------------
Warren Buffett has a problem of plenty. The cash hoard at his investment vehicle, Berkshire Hathaway is US$ 86 bn and counting. In fact, at this rate, cash on the company's balance sheet could soon touch the coveted US$ 100 bn mark. If a company of the size of Nike or Costco Whole Sale Corp comes up for sale, Buffett could buy it in one fell swoop, not having to raise any additional debt or equity.
Having such a huge stash of cash doesn't look like a prudent capital allocation decision. Had it been some other firm, clamor for returning it back to shareholders in the form of dividends or a buyback would have reached its zenith by now. However, the way Berkshire is structured, the cash is more a boon than a bane. It lets Buffett gobble up America's best companies at fire sale prices.
You see, everyone likes to buy good sustainable businesses at times of panic. Because this is when the markets usually throw up a lot of bargains. However, very few also have the cash to go along with it. This is where Buffett is such a genius. Having the huge cash hoard generated from his insurance business always at his beck and call, he can literally put out the bucket and not the thimble when it is raining opportunities. And the way the markets work, an opportunity could always be just around the corner.
Global financial markets ended the week on a positive note with a boost from European share markets. French indices remained upbeat over the week due to the Presidential elections and were among the top global gainers. The French financial markets had already rallied over 4% in the past week over news that centrist Emmanuel Macron had triumphed over far-right candidate Marine Le Pen in the first round of France's presidential election. Market participants saw the above development as market-friendly as many anticipate Macron's presidency to reduce the risk of Brexit-like shock. Market participants are now looking forward to the final round of the presidential election on Sunday. French Markets ended 3% higher this week. Major global markets including Germany's Dax and Japan's Nikkei225 too surged by 2.2% and 1% during the week on the back of French polls.
US markets ended the week marginally higher by 0.2% this week. The US Federal Reserve kept its interest rates unchanged in its two-day monetary policy meet this week. The central bank downplayed weak first quarter economic growth and emphasised the strength of the US labour market.
The Fed signaled that it's still on track for two more interest rate increases this year. The Fed had raised its benchmark rate by 25 basis points in its March policy meeting to a target range of 0.75 to 1%.
Back home, Indian stock markets closed lower by 0.2% over the last week. The markets saw a record closing high during the week but profit booking later in the week trimmed weekly gains. Banking stocks rallied during the week after the Union cabinet and the President approved an ordinance to help curb the non-performing assets menace faced by the country's lenders
Performance During the Week Ended 06th May, 2017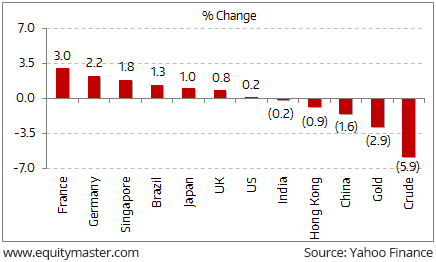 04:56

Investment mantra of the day

"The academic world, if anything, has actually backed away from the teaching of value investing over the last 30 years. It's likely to continue that way. Ships will sail around the world but the Flat Earth Society will flourish. There will continue to be wide discrepancies between price and value in the marketplace, and those who read their Graham & Dodd will continue to prosper." - Warren Buffett in 1984

This edition of The 5 Minute WrapUp is authored by Taha Merchant (Research Analyst).
Today's Premium Edition.
Today being a Saturday, there is no Premium edition being published. But you can always read our most recent issue here...
Recent Articles