Why Some Copycat Investors Make Big Money...and Some Don't
May 9, 2017
In this issue:

» The real life example of why Warren Buffett Hates Hedge Funds
» Today's market Update
» and more
Investors love the wisdom of stock market gurus. Some even follow their every move.
They enjoy the game of copycat investing.
And why not?
Gurus have knowledge, experience, and success.
Most investors don't.
There is indeed some merit in being a copycat investor.
But that doesn't mean every investor who follows the gurus will make big money.
After all, gurus are human, like the rest of us. They too make mistakes.
But there's a big difference between their mistakes and the mistakes of copycat investors.
When the gurus make a mistake, it may not hurt them a lot. It might be just one mistake among their many successes.
That probably isn't the case with most copycat investors.
Very often, they get carried away by a guru's words.
They lose money following the so-called 'experts' on television. They buy stocks based on what they heard on TV.
A copycat hears a rumor about a famous investor getting into a stock.
He jumps in.
The stock goes down.
He doesn't understand why.
The stock goes down further.
He holds on in frustration.
Has something like this happened to you?
What's the problem here?
Most copycat investors don't try to understand why the guru bought that stock at that time.
As Ankit explained yesterday, this is the 'Kattappa syndrome' of the stock market.
A real-life example...
What better example than from the career of Warren Buffett?
The legend admitted recently that he made a mistake buying IBM shares in 2011.
Since then, the stock has delivered about 8%. In comparison, the US market benchmark index has almost doubled.
Consider two copycat investors in 2011.
Copycat investor #1 blindly follows Buffett into IBM.
Copycat investor #2 applies his mind and concludes he can't understand why Buffett bought IBM. So he avoids it.
Does this mean copycat investor #2 was smarter than copycat investor #1?
No.
If IBM did well, then copycat investor #1 would have appeared smarter.
And that is the key, dear reader...
It shouldn't come down to hindsight.
They shouldn't have blindly followed the guru.
Instead, they should have followed a process that would have told them to either follow the guru or not.
I'm willing to bet that most copycat investors don't know of any such process.
And because they don't, they succumb to the 'Kattappa Syndrome'.
But it doesn't have to be that way.
Regular readers know Rohan and Kunal have been very busy recently with their superinvestor project.
They've been identifying, studying, and interviewing some of the most astute investing minds in India.
Rohan and Kunal have been trying to put together a process to follow the gurus successfully.
I'm happy to report they have made a lot of progress. Their project is nearing completion.
Rohan and Kunal believe the process they have developed has what it takes to make big money in the markets.
I'll leave it to them to write to you about it in greater detail. But their premise is simple:
Instead of falling blindly prey to the Kattappa Syndrome, why not take advantage of it?
I can't wait for them to share the details.
Meantime, I highly recommend their free special report, The Super Investors of India.
As I write this, more than 13,000 readers have already claimed their free copies.
Download your free copy of The Super Investors of India now.
--- Advertisement ---
Don't Buy Any Small Caps Till You See This...

If you are thinking of putting your hard-earned money into smallcaps...

Then wait till you read what we have found.

You see, for nine years now, we at Equitymaster have been researching the Indian stock market to identify high-potential small caps for our subscribers...

And we have just released the latest edition of our special report that reveals full details on Three such small cap stocks.

And we believe these could be a great starting point for anyone looking for high potential small cap stocks.

Interested? Just click here for full details...
------------------------------
03:00

Chart of the day

At this year's Berkshire AGM, Warren Buffett tore into hedge funds yet again. In fact, he made perhaps the most condescending remark till date.
If you go to a dentist, if you hire a plumber, in all the professions, there is value added by the professionals as a group compared to doing it yourself or just randomly picking laymen. In the investment world it isn't true. The active group, the people that are professionals in aggregate, are not, cannot, do better than the aggregate of the people who just sit tight.
What he effectively meant was that money spent on plumber is much better spent than giving it to hedge funds for managing. If today's chart of the day is any indication, hedge funds certainly haven't given Buffett any reasons to think otherwise.
The chart compares the performance of a low-cost index fund with the composite return of the five hedge fund of funds selected by Protege Partners, LLC ("Protégé") for the six year period between 2008 and 2014 (results for 2014 are estimated). This is a bet that Warren Buffett had made against a hedge fund manager arguing that over a 10-year period, a low-cost index fund would outperform hedge funds as it is not only difficult to outperform the markets over a long-term period, the huge fees charged by hedge funds give them a huge structural disadvantage.
And if the performance of the first six years was anything to go by, Warren Buffett proved to be extremely prophetic. Not only did the hedge funds underperform, high management and performance fees has meant that the returns that investors took home were abysmally lower than those earned by the index fund. A classic case of managers walking away with hefty paychecks at the expense of the clients.
By the way, don't forget to check out the special edition of our 5 Minute WrapUp tomorrow where my colleague Rohan would share his most important takeaways from the Berkshire Hathaway AGM.
Here's Why Warren Buffett Hates Hedge Funds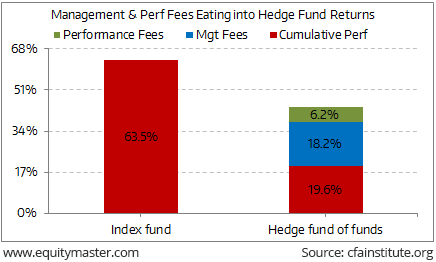 Indian stock markets have opened marginally higher with the Sensex higher by 20 points at the time of writing. BSE Mid and Small Cap indices have also followed a similar pattern. Amongst sectoral indices, metal and realty are the most in favor currently.
04:55

Investment Mantra of the Day

"We recognized early on that very smart people do very dumb things, and we wanted to know why and who, so we could avoid them." - Charlie Munger

This edition of The 5 Minute WrapUp is authored by Rahul Shah (Research Analyst).
Recent Articles