Forget These Headlines and Focus on Underlying Fundamentals
May 11, 2017
In this issue:

» Indian Markets Still Dwarfed on a Global Level
» Valuation Bubble in New Tech and Ecommerce Companies in India
» Market roundup
» ...and more!
Have you seen the recent headlines in the mainstream media?
20 small-cap stocks rally over 100% in xx months (enter month),

Smallcap and Midcap stocks steal the show

15 stocks up 1000% since 2xxx (enter year)

xx multibaggers in FY17, what's in store for FY18? (enter No of multibaggers)
Now such headlines catch investor attention. Such catchy headlines with some stories and interviews of fund managers are enough to stimulate an investor's mind. These headlines are more frequent when the stock market is at a peak. During such times, we see a spate of IPOs. And despite weak fundamentals and business models, companies get a premium valuation.
I ran a screener just to see which small-cap companies are trading at insane valuations despite weak fundamentals. I looked at the performance of the last three years, which includes growth in sales, net profit, and ROCE (return on capital employed). I have not included highly valued companies that have shown consistent improvement in the above parameters. Here's the list.
The Valuation Bubble in Small Cap?
Source: Ace Equity
Now, despite their poor performance, these small-cap companies trade at expensive valuations. During euphoric times like this, investors jump on the bandwagon without looking at the underlying fundamentals. This could be a costly mistake.
Does this mean staying away from small-cap stocks?
As I mentioned earlier, despite trading at a PE of more than 60 times, it is not the time to ignore small caps. All you have to make sure is you invest only in the right stocks with a sufficient margin of safety in valuations. If the business fundamentals of a company don't appear convincing enough, it is best to avoid it.
Talking about business fundamentals, the Hidden Treasure team just released the latest updated version of Junior Bluechips. These are small-cap companies with five crucial blue-chip-like properties. They have essentially separated the wheat from the chaff. In this report, you will find three stocks that satisfy the strictest criteria. You can gain access to the report here.
In euphoric times like these, investors are bombarded with catchy headlines every day. Most of it is irrelevant market noise. This could result in poor, reactionary investment decisions. As Tony Robbins says: 'Losers react; winners anticipate.'
For better investment results, focus on the fundamentals, stay the course, and ignore the noise.
--- Advertisement ---
Identifying Profitable Small Caps in 2017...

Everybody wants to make BIG returns in the stock market. And small cap stocks are certainly one of the best ways to achieve that.

However, given the inherent risk associated with them, not every small cap stock will turn out to be a winner.

That's why we want to show you a proven way to potentially make substantial returns from small cap stocks.

Since 2008, we have guided thousands of subscribers in benefitting from small caps using this exact same approach.

So we are confident this approach could potentially benefit YOU greatly too.

For more details on this approach, just click here...
------------------------------
02:30

Chart of the Day

Despite all of the rising markets and lofty valuations in the Indian market, here's some data that vividly shows how small the Indian markets still are on a global scale. Today's chart of the day pegs the values of some large and well known US companies relative to the combined market capitalization of all listed companies in India.
Indian Markets Still Dwarfed on a Global Level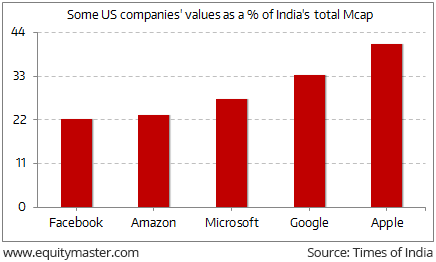 As you can see, just the market cap of Apple alone comes to 40% of all of India's listed companies put together. And if you throw in these five companies together, they're value is one and a half times that of all Indian companies total value.
Just goes to show how much room Indian markets still have to grow and mature over the long term.
Talking about companies trading at insane valuations despite weak fundamentals, none can be a better example than many of the new tech and ecommerce companies in India. We've found many of the valuations accorded to these completely out of sync with fundamentals right from the start.
Without a shred of profits, valuations kept rising like some sort of a magic beanstock.
Alas, magic beanstock's exist only in fairy tales. And as these companies fairy tales are slowly coming to an end, the day of reckoning has arrived for many of its investors who had jumped into them eyes-closed. The most recent being Japan's SoftBank, which had become one of the biggest investors in domestic tech companies. Softbank has just recorded a US$1.4 billion loss in its recent financials. And a big part of this, around US$ 1 billion, comes from ecommerce company Snapdeal alone.
We're still amazed at how so many big investors fell for this game that was so obviously a money losing proposition right from the start.
Now, as you may know, my colleagues Kunal and Rohan have been working on a project. Its aim was to answer the question: Who are India's Warren Buffett and Charlie Munger? Who are India's super investors?
Kunal and Rohan have travelled the country in search of the smartest minds in the Indian stock market. And now we have distilled all the best advice and processes from these successful yet relatively unknown Indian stock pickers into a free eBook called The Super Investors of India.
Click here to download the book now for free.
The Indian stock markets were trading strong at the time writing on the back of sustained buying activity across most index heavyweights. At the time of writing, the BSE-Sensex was trading up by around 111 points. Gains were largely seen in auto and banking stocks.
04:55

Today's Investing Mantra

"The stock market is a no-called-strike game. You don't have to swing at everything - you can wait for your pitch." - Warren Buffett

This edition of The 5 Minute WrapUp is authored by Sarvajeet Bodas (Research Analyst).
Today's Premium Edition.
ACC and Ambuja Cements Gearing Up for a Merger?
What does it mean for Ambuja Cements minority shareholders?
Read On... | Get Access
Recent Articles