Justin Bieber Is Coming to the Indian Stock Markets
May 15, 2017
In this issue:

» Will the Party at Dalal Street Continue?
» Wannacry - A Wakeup Call as India Rushed Towards Digitisation
» Market roundup
» ...and more!
Over the last ten days, two high-voltage events have been the focal point of many a lunch table conversations in our Nariman Point office.
One was the mega event at the CenturyLink Center in Omaha, Nebraska, that drew a crowd of more than 40,000 attendees.
It was the annual general meeting of Berkshire Hathaway. Every year, the world's greatest super investors, Warren Buffett and Charlie Munger, take questions from shareholders and journalists...and share their wit and wisdom to an enthralled crowd of savvy value investors.
My colleague Rohan Pinto, a diehard Buffett fan spent the first weekend of this month tuned into the live webcast of Buffett's AGM. If you haven't already, I recommend you read his key takeaways from the Berkshire AGM 2017.
The other magnanimous event I was hinting at was Canadian pop star Justin Bieber's much-hyped maiden concert in Mumbai. Like Buffett's AGM, Bieber's concert is reported to have been thronged by a swooning crowd of 45,000 fans, many of them teenagers accompanied by their parents.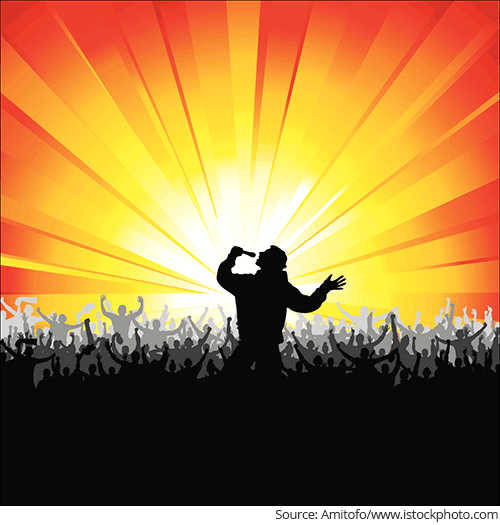 Nothing could discourage the ardent Beiber fans, also known as 'Beliebers'.
Long queues at the venue...
Endless hours of waiting in the sweltering May heat of Mumbai...
Exorbitantly priced tickets (some as high as Rs 76,000)...
Nothing! 'Beliebers' were ready to do anything to get a glimpse of their favourite pop star perform live on stage.
And then the fiasco unraveled...
The 23-year old heartthrob was caught lip-syncing his own songs.
While some fans recognised the dud, and were vocal in expressing their disappointment, a majority still appear to live in denial.
Yesterday morning, I woke up to the following WhatsApp message from one of my research team colleagues...
It's amazing how some people can spend 6k to 75k on a lip-synced performance...and get offended...and defend the guy who made them look like complete idiots...human psychology is such an interesting subject.
What followed was an hour-long chat about the human mind, selective perception, and what drives people to do what they do.
I believe Justin Bieber is not solely to be blamed for the lip-syncing fiasco. His fans are equally at fault.
They put him on a very high pedestal. They set huge expectations. They paid a massive premium. And they forgot that Bieber was just a 23-year old boy, and not 'Baahubali'.
When you have unrealistic expectations, you get an unrealistic, lip-synced performance.
I see this pattern repeat quite often in the Indian stock markets. Having followed the stock markets for more than a decade now, I've been witness to quite a many Justin Bieber lip-syncing fiascos.
One of the biggest Justin Bieber lip-syncing fiascos in the Indian stock markets was the 2009 Satyam scam.
Ramalinga Raju, the chairman of the erstwhile Satyam Computer Services (now Mahindra Satyam), was considered one of the torchbearers of India's new economy.
But in January 2009, after the Sensex had crashed more than 50% from its January 2008 peak, Mr Raju confessed to one of the country's biggest corporate frauds.
One of the reasons for the fraud was the immense pressure to meet quarterly expectations. The company 'lip-synced' false numbers so that profit expectations could be met. But eventually, things blew out of proportion. However, to sustain the faith of the euphoric crowd, Mr Raju decided to keep lip-syncing the numbers. Finally, when the music stopped and bluff become known, the stock crashed and investors saw as much as 98% of their investment wiped out.
Only when the tide goes out do you discover who's been swimming naked. - Warren Buffett
Coming to the present...
Indian stock markets are at an all-time high. The BSE Sensex is above the 30,000 level. There's growing optimism among retail investors. Conviction levels are rising fast. There are huge expectations of corporate growth and earnings picking up. There's a slew of big-bang IPOs lined up for the current year.
While we're quite bullish about the Indian stock markets, we're not going to throw caution to the wind.
We know from over two decades of experience that sooner or later, the optimism will give way to euphoria...and investors will resemble frenzied Bieber fans.
We may appear boring, at times even stupid, when we don't join the cheering and swooning crowd. But we rather look boring, than be fooled by a lip-synced performance.
--- Advertisement ---
Our Latest FREE Report Reveals: The Investing Strategies Of India's Super Investors

About a year ago, we decided to identify India's Most Successful Investors...

The goal for this project was simple - To find out everything we can about their proven investing strategies and to bring it all to our valued readers, like you.

Now, after months of analysis and meeting numerous Super Investors across India, you have an opportunity read all our findings...Absolutely Free.

But you need to hurry because this Special Report is available ONLY for a few more days...

Click Here To Download The Free Report

(16,000+ Readers Have Downloaded Their Copies Already...Hurry!)


------------------------------
02:00

Chart of the Day

The year was 2007. Sensex witnessed 47% year on year gains. It looked like there would be no end to the party. Some people even borrowed money to invest in markets, hoping to ride the future rally. And ended up getting scorched.

Lehman crisis struck. The music stopped. There were no big warnings or time to make sense of what had happened...or what was going to happen. By December 2008, the markets had fallen 52% YoY.

The reason I'm revisiting history is because I feel a sense of deja vu. It's 2017. The markets are touching new highs. Markets are awash with funds. Experts are justifying high valuations. The reasons are far-fetched - from GST to Make in India to a cashless economy. And retail investors seem to be falling for it.

One must note that currently, in most of the cases, it is liquidity driving the valuations, and not fundamentals. And this is exactly the time when one must allow fear to substitute greed.

Also, this is precisely the time when it is most difficult to overpower greed and stay disciplined.

Not for Rahul Shah though. In Microcap Millionaires, Rahul has set a process in place that allows no chance for the biases to creep in. And courtesy this process, some money has moved from stocks to fixed deposits. So, while he is exploiting the optimism by booking in profits, he is also prepared for the next round of a market crash, whenever that happens. When stocks crash, the Microcap Milliionaire team would be right there waiting to catch them with cash.

But how will that influence performance? As per the latest update, the total corpus (including the fixed income component), is up a strong 151.2% since inception (which was in February 2014). This is overwhelmingly better than the returns achieved by the Sensex, which is up by 42.8% during the same period. This takes the total outperformance vis-a-vis the Sensex to a fabulous 108.4%.
Time to Be Fearful?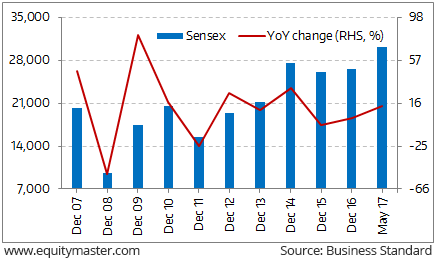 This weekend, my WhatsApp was flooded with messages about a massive ransomware attack, caused by virus WannaCry. I dismissed it as a hoax until I saw newspaper headlines screaming how 150 countries have been a victim of this attack, India being one of them and at a high risk.
The virus has not affected me in any way. I have been lucky... But may not be so next time.
This cyber threat was a wakeup call, now that Indian economy is facing a violent digital push.
Indian economy is amid a great structural change. One of the most of important change taking place is digitization. Digital payments and mandatory Aadhar PAN linkage is the part of the process. While the intent behind the move seems good, there is not enough infrastructure, digital literacy and security in place to ensure a smooth and safe transition.
The government taking extreme measures to curtail cash transactions in the name of fighting crime, terrorism and tax evasion. And this blind rush to control people's money is alarming. Your 12-digit unique identification number issued by the Indian government to every individual resident of India - compulsory could put your privacy, money and personal security in grave danger.
As per media reports, already over 13 crore Aadhar account details have been leaked. The star cricketer MS Dhoni himself has been a victim of such misuse.
The threat to data security has never felt so real before. Unless the basic issues are taken care of, digitzation of India would be something executed in a rush and repented at leisure.
And by the way, this is not the only way be may get hurt by the big government. To know more, I strongly recommend you to read Vivek Kaul's India's Big Government - The Intrusive State and How It is Hurting Us.
After opening the day on a positive note, Indian share markets have continued their momentum and are presently trading in the green. Sectoral indices are trading on a positive note with stocks in the metal sector, banking sector and healthcare sector leading the gains.
The BSE Sensex is trading up 134 points (up 0.5%) and the NSE Nifty is trading up 42 points (up 0.5%). The BSE Mid Cap index is trading up by 1.2%, while the BSE Small Cap index is trading up by 0.8%.
04:55

Today's Investing Mantra

"It's far better to buy a wonderful company at a fair price than a fair company at a wonderful price." - Warren Buffett
Today's Premium Edition.
Liquor is Bad. But What about Liquor Stocks?
A quick look at the liquor industry in India.
Read On... | Get Access
Recent Articles